WSOP

2012 Main Event Final Table: "The October Nine"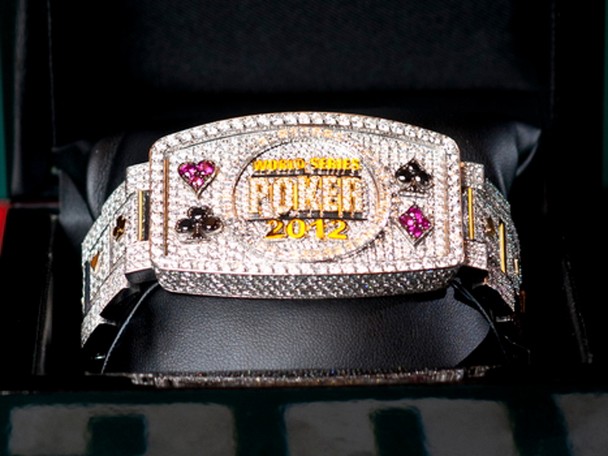 The 2012 Main Event Final Table is now set. Seven of the nine players will win over a million dollars, and the champion will take home over $8.5m.
Play will reconvene on October 29 and play down to a final three with the bracelet to be awarded on Tuesday October 30. US Presidential elections make this year's players the "October Nine" as the event has been brought forward from November.
Andras Koroknai from Hungary is the only non-US player which means the US Treasury will reap a sorely needed bonanza tax windfall this year. Barbara Enright's status as the only female player to make a Main Event Final table remains intact. Elisabeth Hille and Gaelle Baumann were sent to the rail in 11th and 10th place respectively.
The online poker industry will be disappointed that the marketing opportunity of a female player with a shot at winning the Main Event has not happened. There are no major poker celebrities and there is no Darvin Moon style people's champion to root for either. The finalists are almost entirely players with a solid record of live and internet poker success.
The final table payout structure rises steeply, providing opportunities to exploit players who are trying to fold their way to the next payout point.
| | |
| --- | --- |
| 1st | $8,527,982 |
| 2nd | $5,292,889 |
| 3rd | $3,797,558 |
| 4th | $2,850,494 |
| 5th | $2,154,616 |
| 6th | $1,640,461 |
| 7th | $1,257,790 |
| 8th | $971,252 |
| 9th | $754,798 |
The average age of the remaining players is just over 31 which makes it a slightly older table than 2011 when 22 year old Pius Heinz moved from his starting position as second shortest stack to beat Martin Stazko for the title.
$35.5m of the total $62m prize pool has already been paid out. Taking out 9th place money of $754k, which is the minimum every player will earn, leaves $26.5m to be played for at the final table. Each players expected value of this prize pool is simply the percentage of the total chips in their stack times the remaining prize pool. The final nine, chip counts, percentage of the chips in play and dollar expected value based on chip counts are:
| | | | | |
| --- | --- | --- | --- | --- |
| Seat 6: | Jesse Sylvia | 43,875,000 | 22% | $5,87m |
| Seat 8: | Andras Koroknai | 29,375,000 | 15% | $3,93m |
| Seat 5: | Greg Merson | 28,725,000 | 15% | $3,84m |
| Seat 1: | Russell Thomas | 24,800,000 | 13% | $3,32m |
| Seat 4: | Steven Gee | 16,860,000 | 9% | $2,26m |
| Seat 9: | Michael Esposito | 16,260,000 | 8% | $2,18m |
| Seat 7: | Robert Salaburu | 15,155,000 | 8% | $2,03m |
| Seat 2: | Jacob Balsiger | 13,115,000 | 7% | $1,75m |
| Seat 3: | Jeremy Ausmus | 9,805,000 | 5% | $1,31m |
Jesse Sylvia – West Tisbury, MA (43,875,000 in chips)
Jesse is a professional online cash game player who grinds up to 60 hours a week playing live and is a Team Pro on 888 Poker. He has cashed once in a WSOP event winning $2,954 in last year's $1,500 6-Max No-Limit Hold'em tournament. He is 26, originally from Martha's Vineyard and now lives in Las Vegas.
Andras Koroknai – Debrecen, Hungary (29,375,000 in chips)
This 30 year old player won the WPT LA Poker Classic for $1,788,040, so he needs to finish 5th or better to set a personal best. His home is Debrecen, the second largest city in Hungary, which has buildings dating back to the 13th century.
Greg Merson – Laurel, MD (28,725,000 in chips)
Poker refugee Greg Merson left Laurel, Maryland to set up home in Toronto after Black Friday. At 24 he is very much a new school online grinder, but this year has seen him achieve success in live poker. He has had an incredible World Series so far having already won his first bracelet, taking down the $10,000 NLHE Six Max event for $1.1m.
Russell Thomas – Hartford, CT (24,800,000 in chips)
An actuary from Hartford, Connecticut, with a serious poker hobby, Russell has cashed in three previous WSOP events. He made the final table of the $1,500 6-Max Event and won $84k for his 5th place finish.
Steven Gee – Sacramento, CA (16,860,000 in chips)
The oldest player left at 56, but no stranger to the WSOP, Steven has already won a bracelet in the 2010 $1,000 NLHE event taking home $472,479. He turned professional in the late 1970s, but gave up the game to become a software project manager. In 2007 he took up live poker again, playing in Las Vegas casinos. He lives in Sacramento, California.
Michael Esposito – Seaford, NY (16,260,000 in chips)
Forty-three year old New Yorker Michael Esposito is the other old school player at the final table alongside Steven Gee. He played 7 Card Stud cash games and tournaments on the East Coast before switching to No Limit Hold'em. His biggest cash to date came in a WSOP circuit event in 2005 in Atlantic City. He won $47k with a 9th place finish.
Robert Salaburu – San Antonio, TX (15,155,000 in chips)
Robert Salaburu is one of the least experienced live tournament players at the table and this will be by far his largest ever tournament prize. He started playing online cash before switching to tournaments and dropped out of college to take up poker full time. Black Friday forced him to start playing live poker and set up a small car lot business to replace his online poker income. He is 27 from San Antonio, Texas.
Jacob Balsiger – Tempe, AZ (13,115,000 in chips)
Jacob is the youngest player left at age 21, and is a Political Science student at Arizona State University. This is his first ever WSOP so his guaranteed winnings of over $750k together with his limited poker experience make him the potential dream winner.
Jeremy Ausmus – Las Vegas, NV (9,805,000 in chips)
Originally from Colorado, Jeremy Ausmus is now a Las Vegas resident and professional live cash game specialist. Black Friday saw him switch from online poker to live games, and develop his live tournament skills. At the age of 32, he already has 14 WSOP cashes under his belt and $1.2m in live tournament winnings excluding the money he will make from the Main Event. Eight of his WSOP cashes have come in this year's events.