WSOP

New Jersey: Independent Review and New Player Guide

Everything an online poker player needs to know about WSOP's New Jersey poker room, and how it stacks up to the competition.
Updated March 3, 2015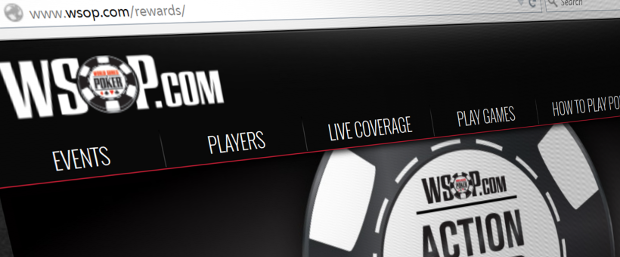 Reasons to choose
WSOP
New Jersey:
The iconic

WSOP

brand is one you can trust, and has exclusive promotions tied to the summer World Series tournament.
$10 free no-deposit bonus with no strings attached. Plus a $400 bonus on your first deposit.
Backed by Caesars, one of the largest gaming companies in the world. The

VIP

program is tied to the Total Rewards program and you can deposit and withdraw at the Cage in Caesars properties.
The largest independent online poker room in New Jersey, with cash game traffic almost the same as the party/Borgata network.
New Player Bonuses and Incentives
No deposit bonus: $10 free, no strings attached
WSOP $10 free offer to all new players is one of the best no deposit offers in New Jersey. To claim, you just sign up and verify your account. You might need to wait up to 72 hours for the money to be credited.
Once you receive it, it's yours to do what you want with—play cash games, tournaments or sit and gos. And all you need to do to withdraw the money is earn a single reward point—that is, pay 50c in rake. No other strings attached!
Sign up today to claim your free $10 »
Or see how WSOP's offer compares to other "no deposit" bonuses »
Deposit match bonus: 100% up to $400, high clearance rate
WSOP will also match your first deposit with a bonus of up to $400. This money sits in a special "bonus" account, and you earn it by playing cash games and tournaments. The bonus releases in chunks of $10 every time you earn 100 status points (the equivalent of paying $50 in rake at the tables).
While the clearance requirement is higher than on other New Jersey sites, combined with the VIP program it is still a pretty good deal: As you work off a $400 bonus you will reach Platinum tier, which gives you 6% rakeback on top of the 20% rakeback you'll get while clearing the bonus.
You also have 60 days to clear it, which should be enough time for many players to clear the full $400 (you'll need to rake just over $33 a day).
Sign up and deposit today to claim your bonus up to $400 »
Or compare WSOP's deposit match bonus with its competitors »
VIP

Program

As you play, you earn WSOP status points at a rate of 2 APPs for every dollar paid in rake. You enroll automatically in the club once you rake $1 in a month (that is, 2 APPs). If you are below that level, you instead get access into an exclusive $250 freeroll. The first tier is Copper level, which gets you entry into a $1000 freeroll.

WSOP.com revamped its VIP program in January of this year raising the rakeback equivalent for all but the highest level.

The real rewards start at Silver—where you generate the equivalent of 8% rakeback. Here is where the program gets good: WSOP points can be converted into real money. This money goes into your bankroll, and can be withdrawn at any time—there's no playthrough requirement or other hoops to jump through.

Moving up in tiers increases the rate you accumulate WSOP points by way of a multiplier. There are eight tiers based on monthly accumulation of points, and three that work on an annual basis.

Sign up to join Copper tier today and start earning rewards »
Tiers
Below are the different tiers, the number of APPs needed to reach the tier, and what that works out at a daily rate (in a 30-day month and 365-day year).
| | | | | | |
| --- | --- | --- | --- | --- | --- |
| Tier | APPs | Rake/month | Rake/day | Multiplier | Rakeback |
| Copper | 2 | $1 | $0.03 | - | - |
| Copper+ | 20 | $10 | $0.33 | - | - |
| Bronze | 40 | $20 | $0.67 | - | - |
| Bronze+ | 100 | $50 | $1.67 | - | - |
| Silver | 200 | $100 | $3.33 | 4x | 8% |
| Gold | 400 | $200 | $6.67 | 5x | 10% |
| Platinum | 1200 | $600 | $20.00 | 6x | 12% |
| Diamond | 3500 | $1750 | $58.33 | 7.5x | 15% |
| Elite (annual) | 50,000 | $25,000 | $68.49 | 10x | 20% |
| Super Elite (annual) | 250,000 | $125,000 | $342.47 | 12.5x | 25% |
| Seven Stars (annual) | 400,000 | $200,000 | $547.95 | 15x | 30% |
See how this VIP scheme stacks up against other online poker rooms »
Extra Perks
In addition to instant cashback, Action Club members get entry into a $2000 weekly freeroll. The top 20% pay out. The tournament starts on Sunday each week.
You can also pair your online status with Caesars' Total Rewards program in their brick and mortar casinos. Maintain Platinum or Diamond status for four consecutive months, or reach an annual tier, and get the same status in Total Rewards.
You can also convert your WSOP points into Rewards Credits, which can be used for accommodations, shows and dining in Total Rewards casinos.
Deposit Methods
The easiest way to make a deposit at WSOP NJ is to use the instant check feature, also known as an ACH payment. They typically have no fees and can accommodate both deposits and withdrawals, but must be used with a checking account.
To transfer funds electronically from your non-checking bank account to WSOP NJ you can use the online banking transfer method. However, there is typically a $10-$50 transaction fee associated with this method.
WSOP NJ also accepts Visa and MasterCard. While it's difficult to find a Visa card that will work with any online gaming site, players have had a decent amount of success depositing with MasterCard.
For those that don't want to expose their banking information or credit card numbers to an online gaming site, they can use the virtual payment processor NETELLER to make deposits.
And for those that prefer to use cash, they may do so by using PayNearMe to deposit cash at any 7-Eleven location in New Jersey. Cash can also be used to fund your online poker account at WSOP NJ by making a deposit at the Caesars Atlantic City casino cage.
Need more info? Learn more about how to deposit at New Jersey online poker rooms with our free guide.
Withdrawal Methods
When it's time to take your money off the site, WSOP NJ offer several ways for you to get your cash.
If you use an instant check to fund your account, withdrawing your money back to your bank account is usually the easiest and fastest way.
Players can also use NETELLER to withdraw their funds, but be aware that while this may be a convenient method it is not necessarily the most cost-effective. Be sure to check the schedule of fees before withdrawing using this method.
If you are nearby the Boardwalk in Atlantic City, you can always stop in and pick up your money from the cage at Caesars Atlantic City. Be aware that you must process this transaction online in order to be able to pick up the money in person.
If none of these methods appeal to you can always request your money be sent to the your address on file via a paper check.
Still confused? You can learn more about withdrawing money from New Jersey online poker rooms in our exclusive guide.
Software Platforms
WSOP NJ has the capacity to allow users to play from their computer, iPhone, iPad and android devices.
Almost any modern computer will run the WSOP NJ client. If you are able to run Windows XP or later, and have 50 MB of available hard drive space, your computer will probably be compatible.
Mac users will need the Mac OS X 10.6.8 with a minimum of 4GB DDR2 667 MHz of memory.
You can download the WSOP NJ client for your computer here.
For mobile iOS users, you can play on an iPod touch 4 or iPhone 4 or later. For tablet users, an iPad 2, iPad Mini or iPad with retina display are supported. All mobile Apple devices must be running iOS 6.1 or later.
You can download the WSOP NJ app from the Apple App Store for your iPhone here and for the iPad here
Android users will need to have an Android 2.3 or above operating system along with 256 MB of RAM to run the WSOP NJ mobile software.
You can download the android app for WSOP NJ.