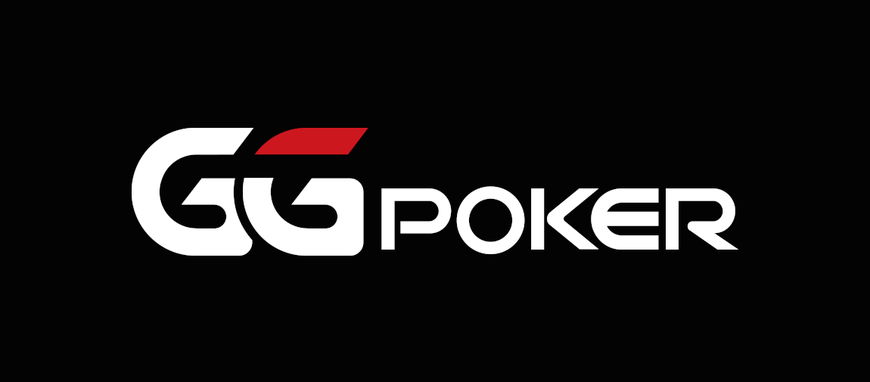 Top line: "GGPoker has announced a new $30,000 daily invitational "flipout" tournament called GGCare to give money back to "unlucky" players."
Key takeaways:
The new promotion will amount to almost $1 million a month in added value for players on the GGPoker site. That value is likely to increase through 2021,

PRO

was told.
Currently, the system looks for triggers on all cash games, including Hold'em, Omaha, and Short Deck ring games.
Players do not need to be present when the tournament runs and prizes will be paid out automatically when the event finishes.
The number of chips a player will receive will be determined by how unlucky a player was the previous day.
GGCare forms part of their standard suite of promotions, which now rewards $7 million a month through a mix of leaderboards, races, freerolls, and other giveaways.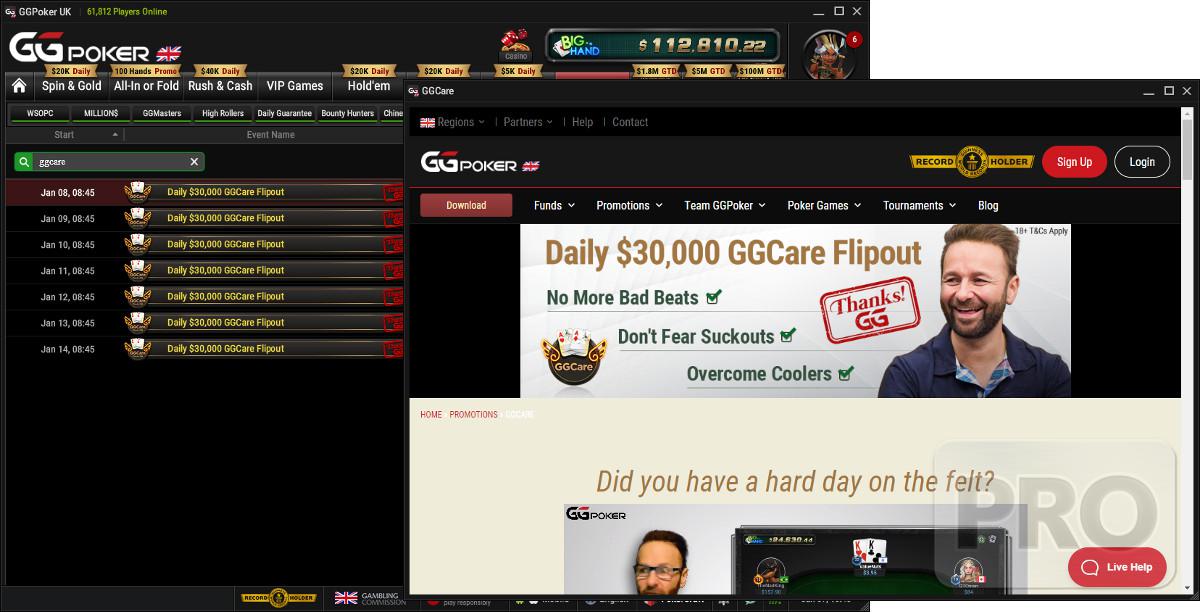 ---
Top line: "GGPoker has unveiled Flip & Go, a new type of MTT that takes the concept of "flip" tournaments and layers it with a string of interesting new ideas to create a unique new format."
Key takeaways:
GGPoker launches hybrid flip tournament which starts forced all-in and switches to a regular game once in the money.
GGPoker has added three new ideas to this concept to morph it well beyond Full Tilt's original concept.
Players spend from one up to ten buy-ins to enter the tournament, increasing their stack size.
The flip section is played as Pineapple, where players are dealt three cards and discard one before the flop.
There is also a preflop "side bet" where players gain more chips if they are dealt certain three-card starting hands.
Buy-ins range from 1 cent to $25, and guaranteed MTTs are scheduled every hour.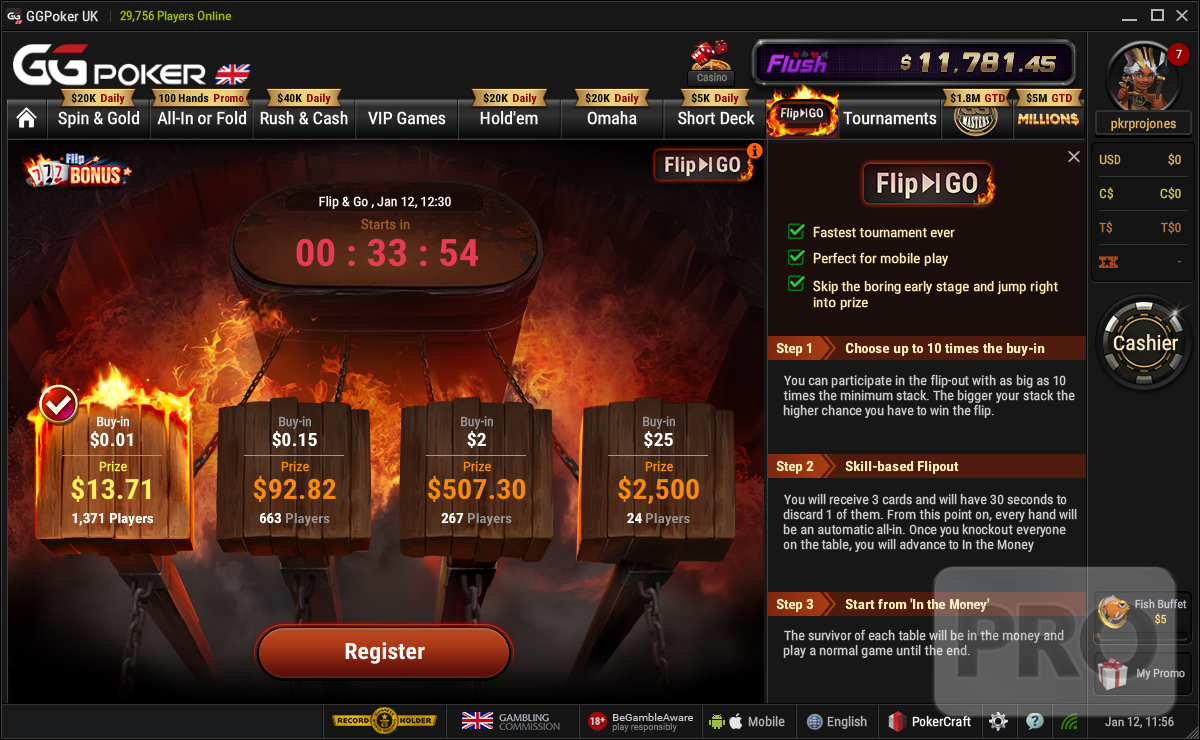 ---
Top line: "GGPoker has quietly released a new mobile app, ClubGG, allowing players to set up their own poker clubs and play with friends."
Key takeaways:
The app is available for download in both the Google Play Store and the Apple App Store in most countries, including the US.
It puts an end to the drought of a home game feature that GGPoker had lacked. Until now, it was the only major online poker room that did not allow players to create club-based private games.
Like other social poker apps, ClubGG allows club owners many customization options over the standard game configurations. These include All-in Insurance, Run it Multiple times, and even a Minimum

VPIP

% a player must maintain to stay in the table.
The app also provides security functions to hosts to prevent in-game cheating by giving features such as same-IP restriction,

GPS

restriction, an option to mute chat, anti-ratholing, and more.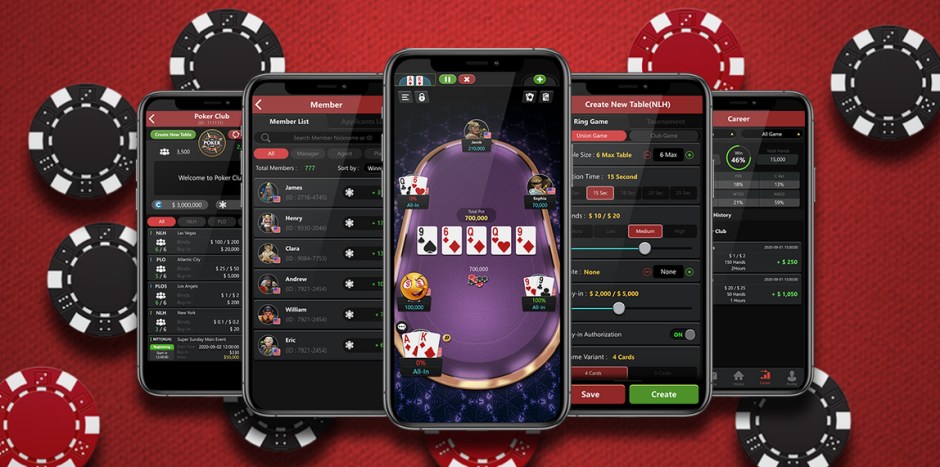 ---
Top line: "The Pennsylvania Gaming Control Board (PGCB), in its recent board meeting, approved NSUS Group — the parent company of GGPoker — for an Interactive Gaming Manufacturer license in Pennsylvania."
Key takeaways:
The license allows the

NSUS

Group to bring its software technology necessary for running interactive gaming — online poker and casino games — to a regulated PA online gambling site.

NSUS

had to wait a long time as the approval came fourteen months after the company applied for it. It is valid for an initial term of five years.
However, this does not mean that GGPoker's launch in Pennsylvania is imminent.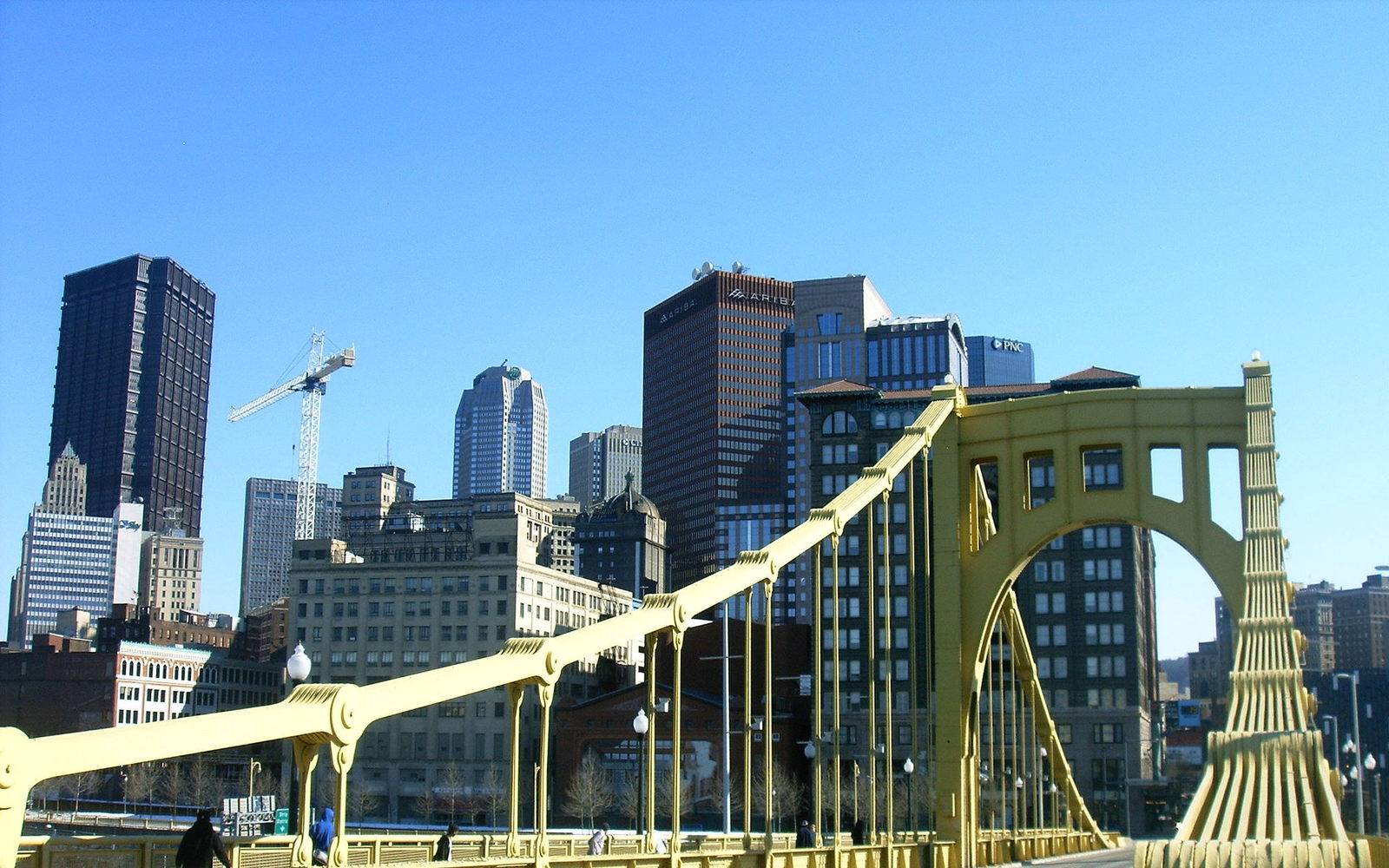 ---
Top line: "GGPoker, the flagship skin on the GGPoker Network, has obtained a license from the Isle of Man Gambling Supervision Commission for online gambling services."
Key takeaways:
Notably, GGPoker is only using its new gaming license for GGPoker.com, its skin that covers "rest of world" players.
GG operates the separate GGPoker.EU for European players and, to date, this still falls under its Curaçao gaming license.
For players in some EU nations, playing on sites licensed outside the EU requires them to pay income tax on winnings.
In June 2020, GGPoker secured a license from the Malta Gambling Authority (

MGA

) for a B2B gaming license.
Last week, parent company

NSUS

Labs was approved for a manufacturer license in Pennsylvania.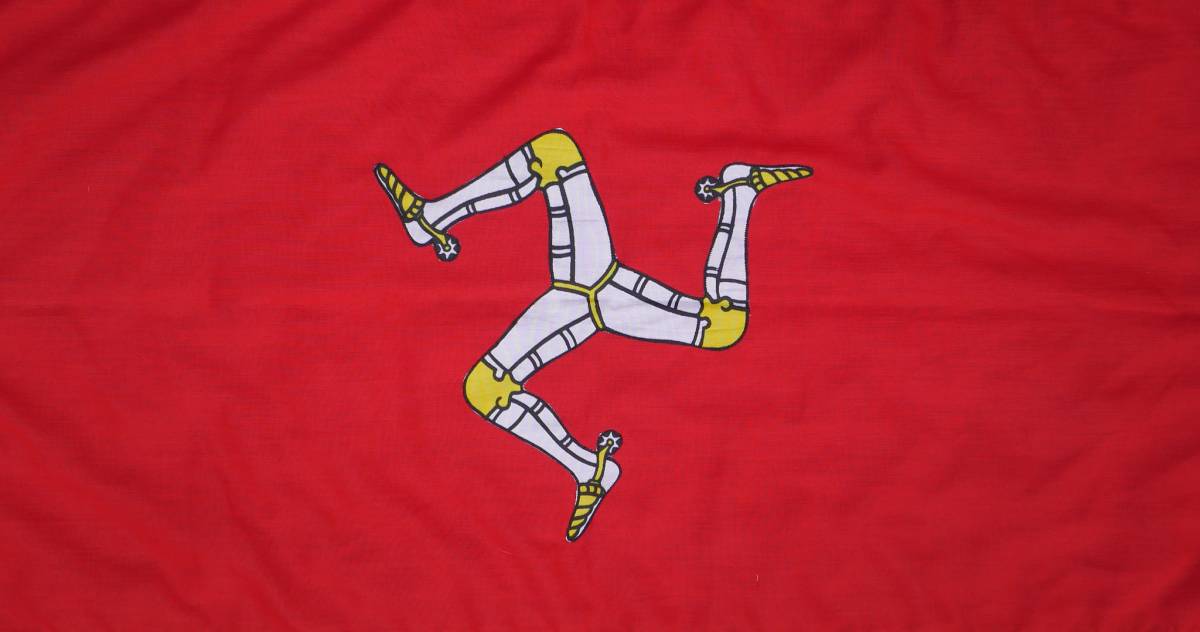 ---
Top line: "The first major clash of the year in the global online poker industry is about to unfold. GGPoker has revealed its third major poker series for 2021 — the GG Spring Festival and it comes with an earth-shattering $150 million in guarantees."
Key takeaways:
The series is scheduled to coincide wholly with PokerStars' $100 million

SCOOP

festival, running from April 4 to 25.
The series brings another milestone for GGPoker, who raised the bar even higher and will host its biggest series to date.
The GG Spring Festival will include a total of 110 events, each of them split into three-tiers: Low, Medium, and High, adopting the idea from PokerStars' renowned

SCOOP

and

WCOOP

festivals for the first time.

---
Top line: "The world's second-largest online poker room GGPoker will be expanding its Omaha offerings by introducing Five Card Pot Limit Omaha."
Key takeaways:
Also called PLO5 or 5 Card Pot Limit Omaha, it is played similar to the standard version except that every player is dealt five cards instead of four.
The operator has already earmarked $5000 for this format to be given away every day throughout this month via daily leaderboards. The rake has been set at 5%.
Alongside Five Card Omaha, the operator will also be debuting N-Stack tournaments, a format invented by PokerStars.

---
Top line: "The record for the world's largest online tournament series, an accolade held by PokerStars, is now all of a sudden looking in danger."
Key takeaways:
More than $185 million in prize money was awarded at last year's

SCOOP

, making history for the highest prize money paid out in a single tournament series.
It appears that GGPoker's ongoing GG Spring Festival is heading to surpass that record, something that, just a few months ago, would have seemed an impossible task.
Now in its second week and more than halfway through the series, the GG Spring Festival continues to run strong, attracting huge turnouts every day.
As per

PRO

counts, more than $84 million has been dished out over 181 tournaments.
Guarantees are being crushed at over 25% and if this pace continues to run, the festival may end up producing close to $190 million.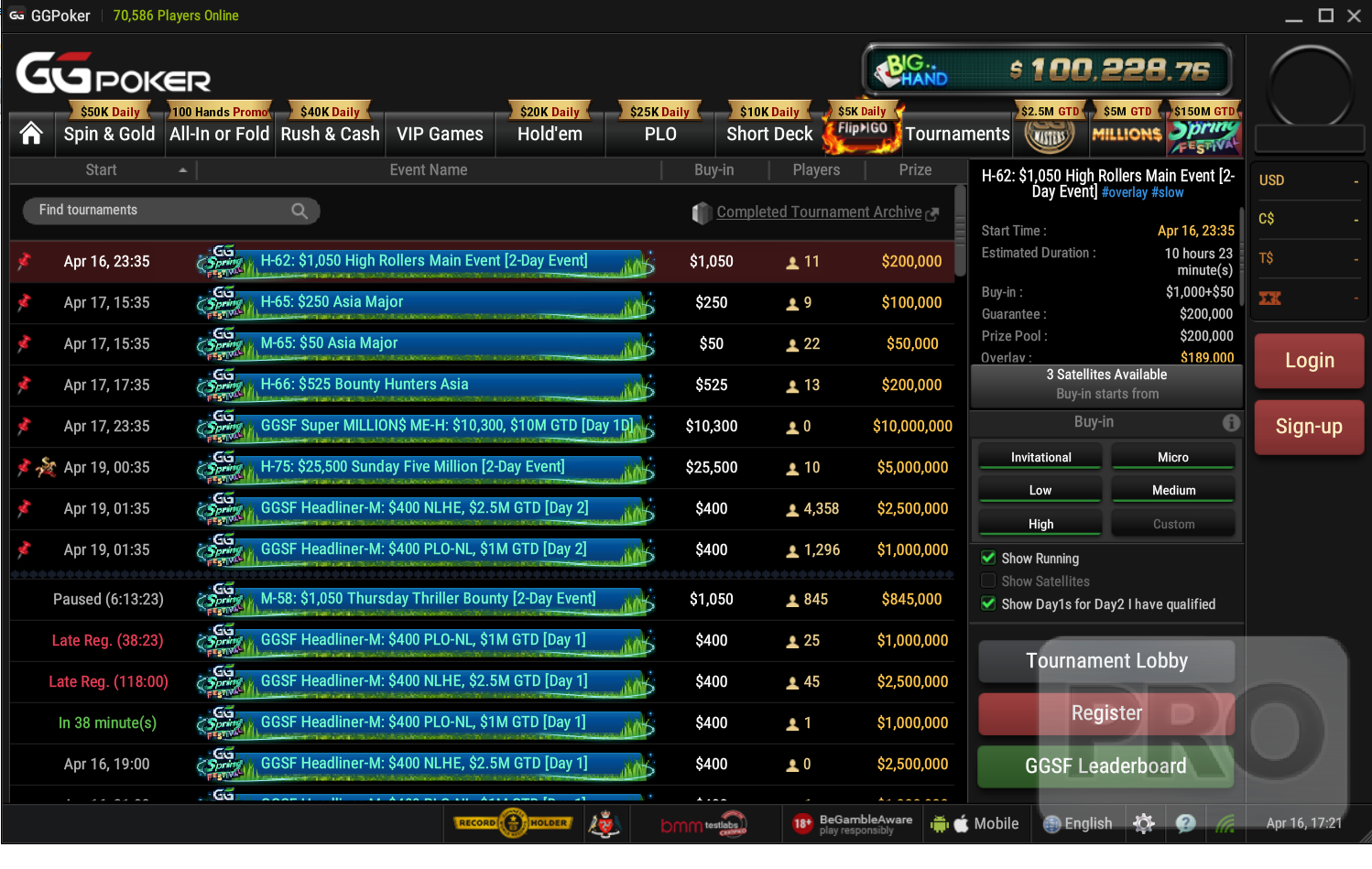 ---
Top line: "The last of the tournaments are still running but registration on the mammoth $150 million-guaranteed, three-week-long, GG Spring Festival (GGSF) running on the world's second-largest online poker room GGPoker has finally closed."
Key takeaways:
335 tournaments, more than half a million entries, and guarantees smashed by 24%; the final prize pool has swelled to a jaw-dropping $176,724,946 — making it, by far, the largest tournament series ever hosted on the GGPoker platform.
The

GGSF

eventually ended up $9 million short of breaking PokerStars' record.
The $10 million guaranteed Main Event attracted 6803 entries, falling short by over 200 entries.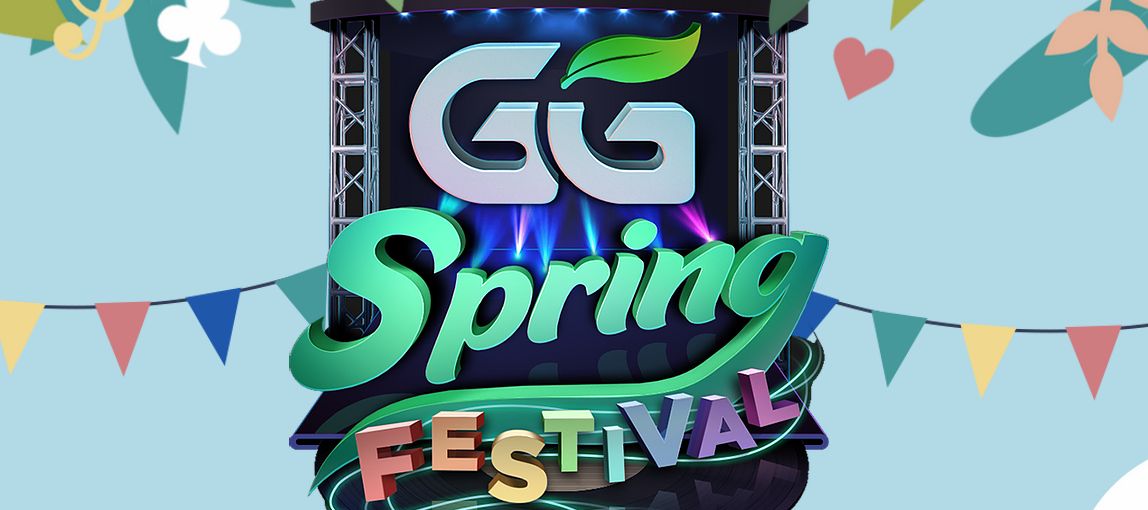 ---
Top line: "The World Series of Poker (WSOP) has announced a mammoth schedule for international players on the dot-com network GGPoker, which encompasses a month-long Super Circuit Online Series and an international WSOP Online 2021 with almost three-dozen bracelet events."
Key takeaways:
GGPoker will host a $100 million-guaranteed Super Circuit Series awarding 20 rings — two of which will go to cash game players.
The operator will also host the international portion of

WSOP

Online again, this time with 33 bracelets on offer.
It will also offer satellites to the Main Event in Las Vegas for the very first time.
This suggests the end of a long-standing partnership with 888 to offer exclusive

WSOP

satellites.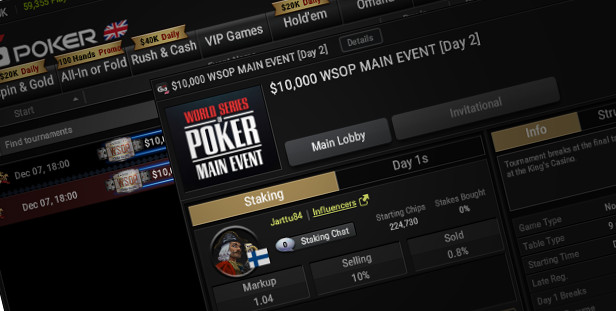 ---
Top line: "The world's second-largest online poker room GGPoker has launched a six-handed variant of Spin & Gold tournaments, the operator's ultra-popular lottery sit and go (LSNG) product."
Key takeaways:
The 6-max Spin & Gold tournaments went live today following a server maintenance update and are currently available at three buy-ins levels: $1, $10, and $100.
The operator says that the new Spin & Gold tournaments have been added "in response to player demand."
With twice the number of players, the prize money is also two times higher than the regular three-handed: Ranging from four times the buy-in than the usual two times to a rare one in ten million jackpot prize worth 200,000 times the buy-in.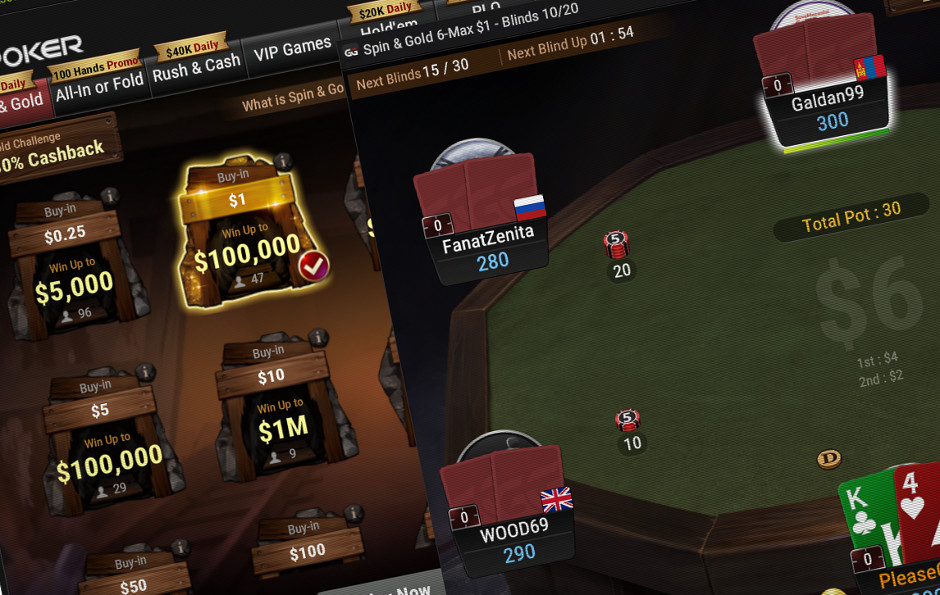 ---
Top line: "The latest major online poker festival on the GGPoker Network, the 2021 GGPoker WSOP Super Circuit Online Series, has concluded, and it has paid out almost $105 million in prize money."
Key takeaways:
The

WSOPC

Ring Events accounted for nearly $26.5 million in prize money and 10 out of 21 seven-figure prize pools during the entire festival. On average, more than 8600 players entered to take a shot at earning one of the elusive rings and more than 154,000 entries were attracted in total.
The operator has not slowed down either. After yet another nine-figure milestone, the new month kicks off right away with another promotion called Boosted Week.
"Even after handing out more than $100M in prizes during the

WSOP

Super Circuit Online Series, GGPoker doesn't rest on its laurels — Boosted Week turbo-charges the guarantees in our daily tournaments," Paul Burke, Head of Public Relations at GGPoker told

PRO

.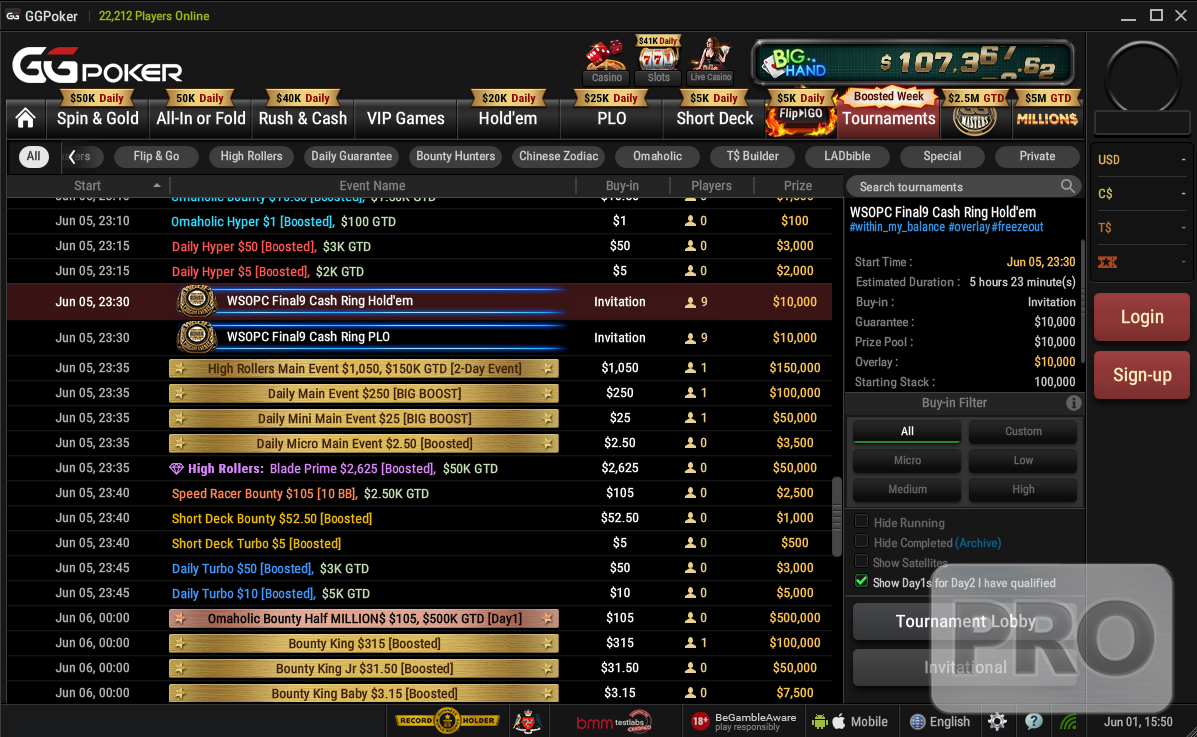 ---
Top line: "GGPoker has revamped its industry-leading feature, Smart HUD, adding new stats into their built-in heads-up display (HUD)."
Key takeaways:
Smart

HUD

has been active in the client since 2018 but has since gone through a recent rework to provide more functionality to players.
Among the new stats include continuation bet percentages on the flop and turn, as well as showdown stats on the river.
It represents a shift away from grouped stats like Luck Factor to more straightforward statistics describing specific frequencies.

---
Top line: "GGPoker has unveiled a new tournament concept, dubbed Battle Royale: Sit & Go Survival, that blends various ideas from modern poker tournament design into a cohesive package that could prove to be very successful among both casual and experienced players."
Key takeaways:
The twist comes in the form of the tournament's structure, which is split over three stages.
Each stage borrows various ideas from other tournament formats, brought together in a single cohesive package.
The result is a smart new tournament format that should appeal to a broad spectrum of players.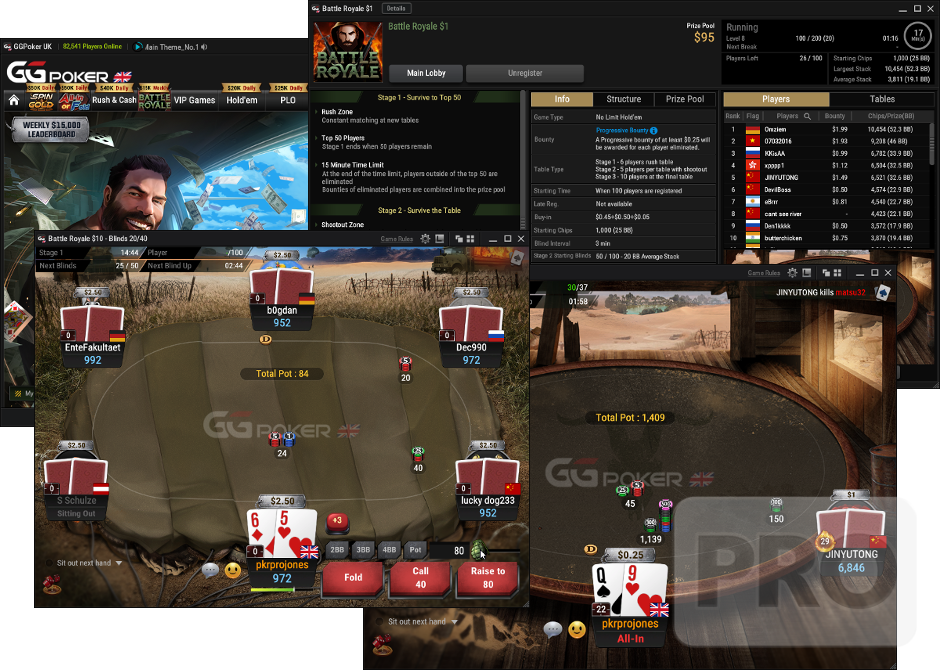 ---
Top line: "On the back of the successful Asia Poker League (APL) hosted on GGPoker earlier this year, the live tour's online edition has once again returned to the world's second-largest poker room."
Key takeaways:
The

APL

Online Series kicked off last Friday and runs for another two weeks, guaranteeing the same 80 million in Chinese Yuan (

CNY

) as it did in the previous edition.
While a majority of the Trophy events are denominated in

CNY

, 15 of these events are named after an Asian city, with buy-ins and guarantees denominated in local currencies totaling a half dozen.
In US Dollars, the prize money is equivalent to 12.5 million — almost as big as the recently concluded Powerfest series on partypoker.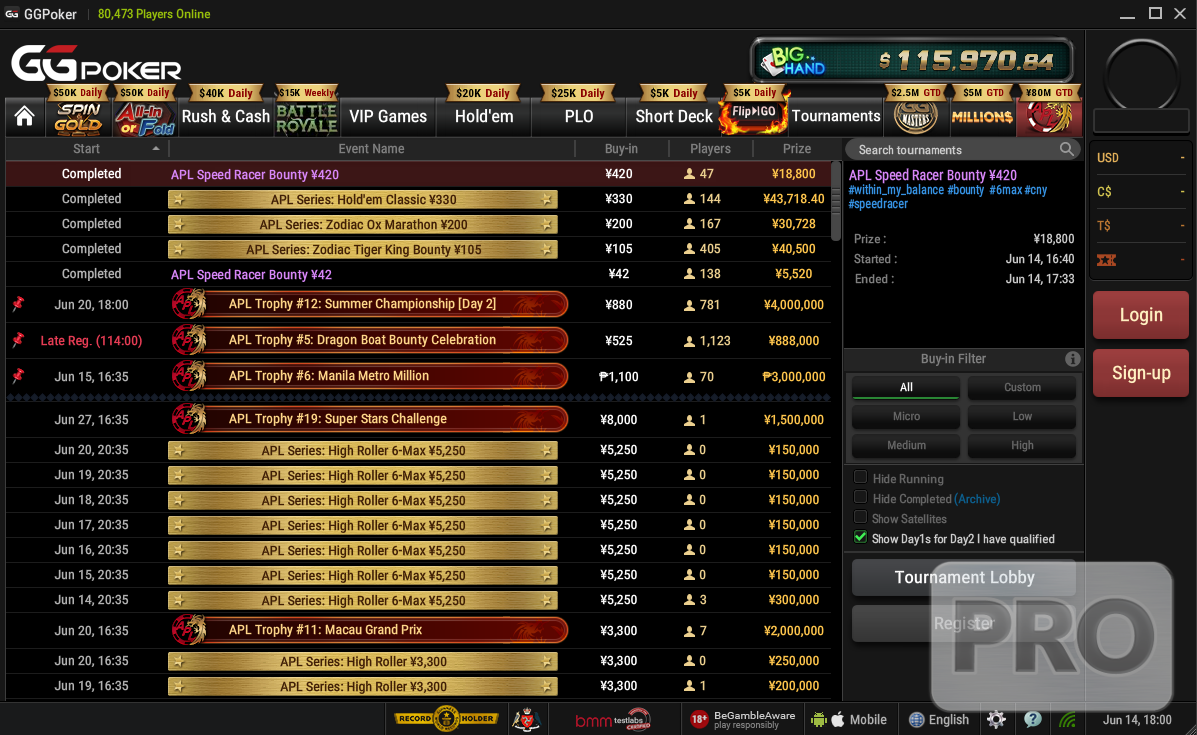 ---
Top line: "GGPoker's new tournament format, the 100-man Battle Royale, ran 992 times from its launch on Thursday through the weekend, data from GGPoker provided to PRO reveal."
Key takeaways:
The game blends various concepts from existing formats and smartly packages it into a "last one standing" brand.
On its opening day, thousands flocked to the game, with tournaments popping off with very little delay.
"We've been particularly pleased with the high percentage playing multiple games."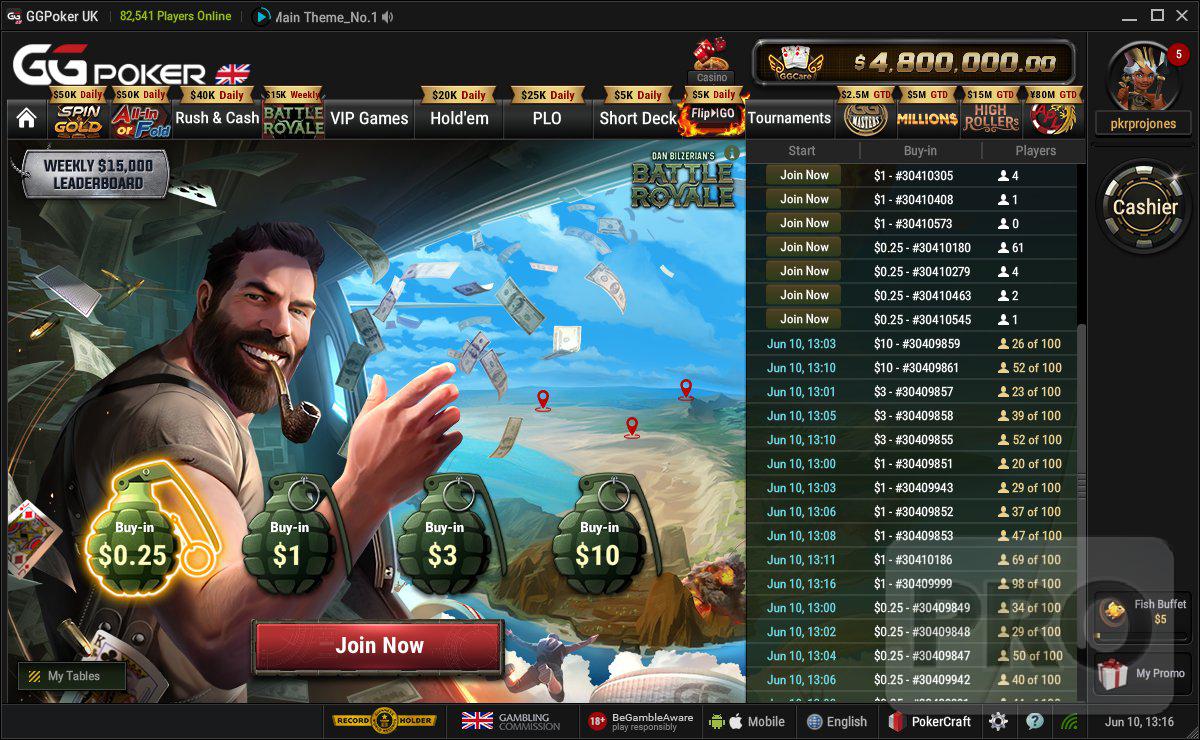 ---
Top line: "GGPoker has entered the e-commerce world with the launch of its merchandise online shop called GGStore, PRO can exclusively reveal."
Key takeaways:
GGStore went live this week without fanfare and is fully functioning.
To date, it is stocked with a range of clothing apparel, including hoodies, t-shirts caps, and, in a sign of the times, face masks.
It marks the first time GGPoker merchandise is being sold online via an e-commerce store.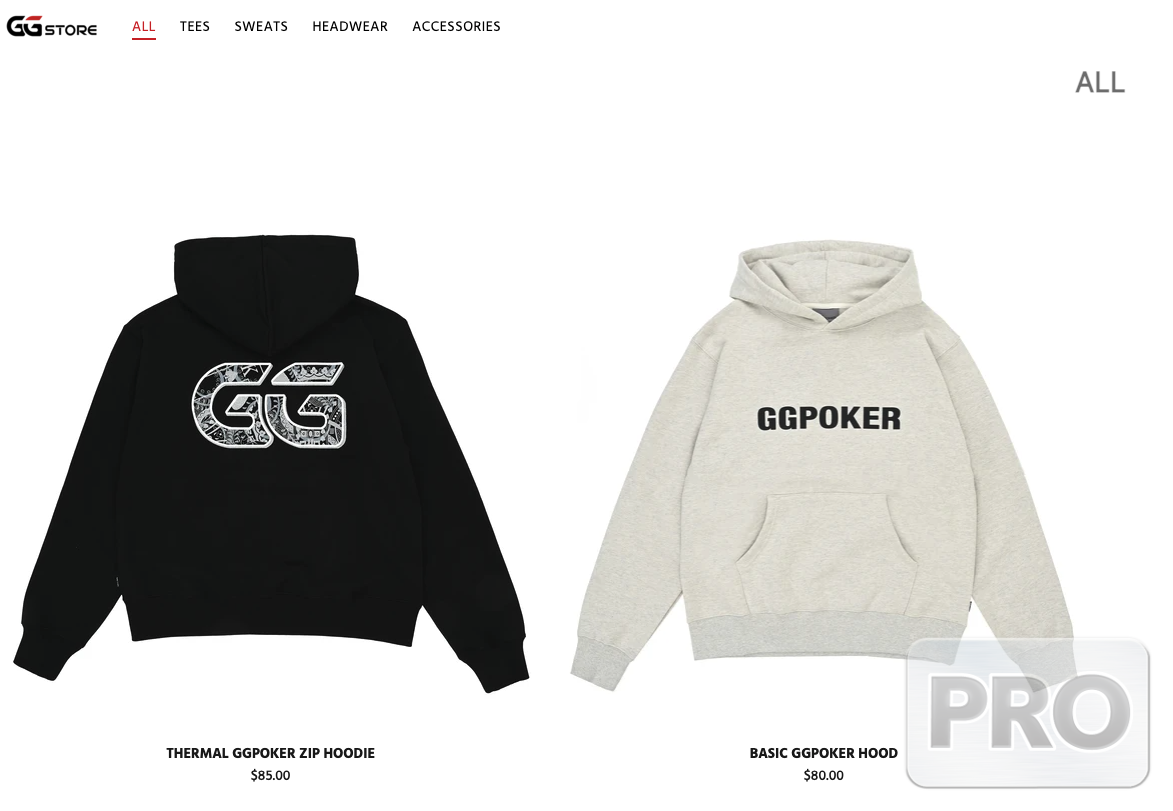 ---
Top line: "GGPoker Network, became known to the world only a few years ago, has overtaken behemoth PokerStars to become the world's largest online poker room."
Key takeaways:
The latest cash game figures, tracked by independent monitor GameIntel and available exclusively on

PRO

, show that GGPoker is averaging over 5000 concurrent cash game seats.
Meanwhile, PokerStars' cash game traffic has dipped below 5000 at 4981, allowing GGPoker to dethrone the 15-year-long crown holder for the world's leading online poker room.
The last time an operator with a focus on regulated markets was sitting atop the global online poker market, was back in the pre-

UIGEA

2006 era.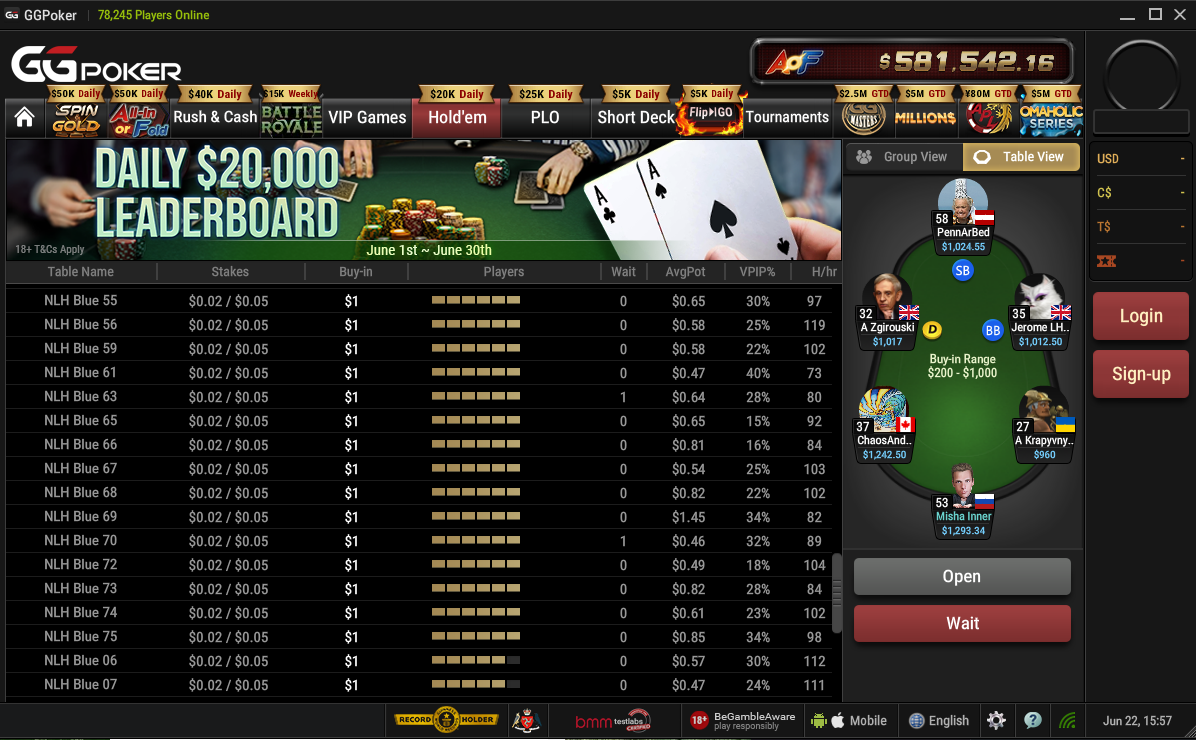 ---
Top line: "GGPoker has revamped its popular Flip & Go tournament format, adding multiple flip stages to each of its buy-ins."
Key takeaways:
Although the format has undergone various tweaks since its launch earlier this year, this makes it the first major overhaul to the game format.
The changes were implemented on June 28, following the operator's monthly software maintenance update and just days after the operator launched Battle Royale, a unique 100-player Sit and go format.
Along with the changes, GGPoker has also doubled the daily leaderboard for the

MTT

format from $5,000 to $10,000.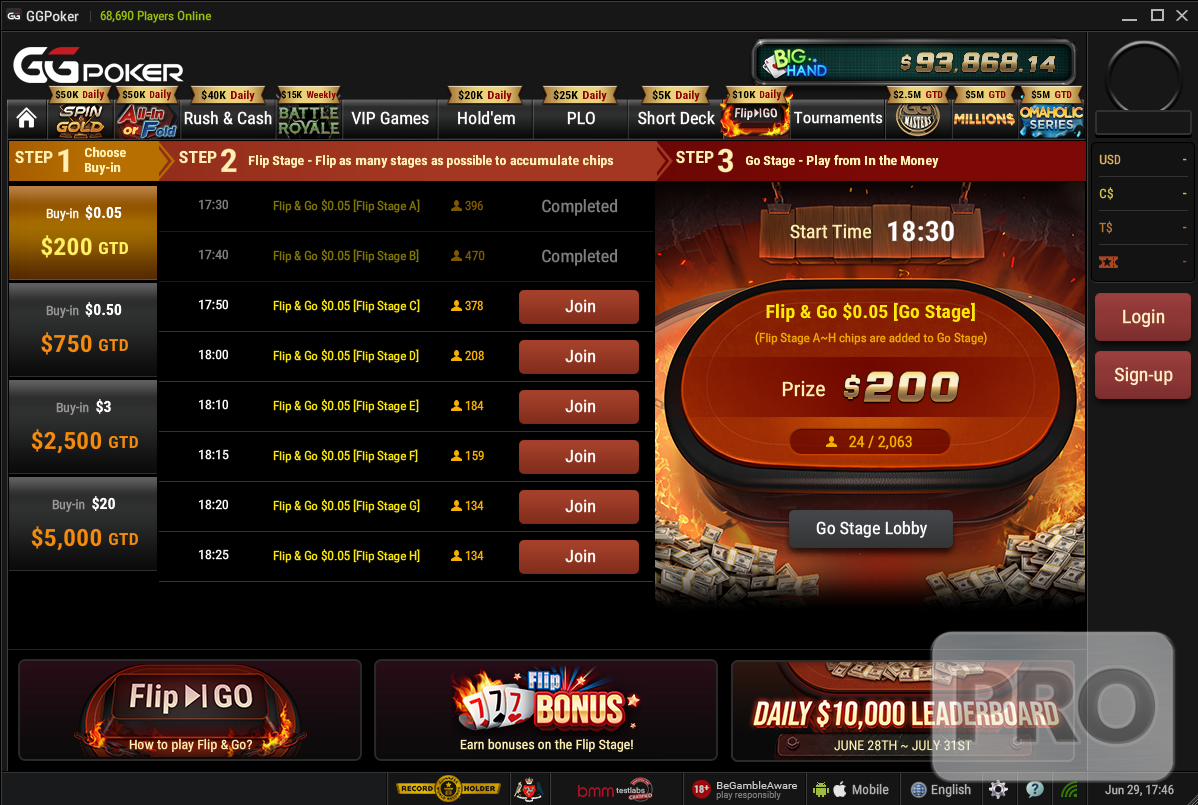 ---
Top line: "The popularity of the Short Deck format has certainly not faded — at least not on GGPoker. The rising star has launched a new tournament series dedicated entirely to the 36-card deck game, thought to be the first of its kind among major online poker operators."
Key takeaways:
The first-ever Short Deck tournament series on GGPoker Network takes place from Sunday, July 4 spanning eight days.
71 tournaments are part of the schedule with cumulative guaranteed prize money of $1 million.
This is the first time that any operator in the industry has run a Short Deck exclusive series.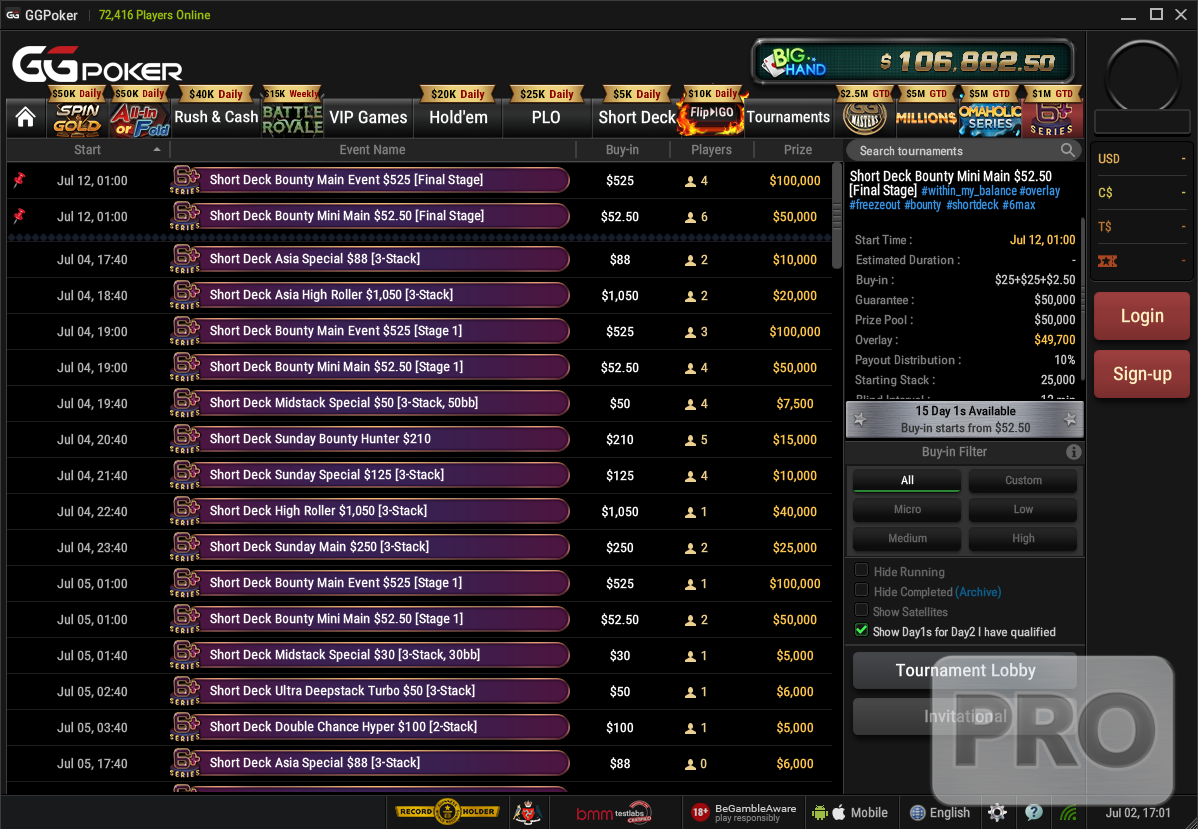 ---
Top line: "Rising online poker operator GGPoker has announced yet another online poker festival is returning for the month of July."
Key takeaways:
The second-ever online edition of the Battle of Malta Online Series takes place from July 11 to 25 and boasts 18 Ring Events.
Throughout the entire series, $25 million in guarantees await to be conquered.
It is the third festival in as many weeks to take place on the fastest-growing online poker network, following in the footsteps of the Omaholics Series and Short Deck Series.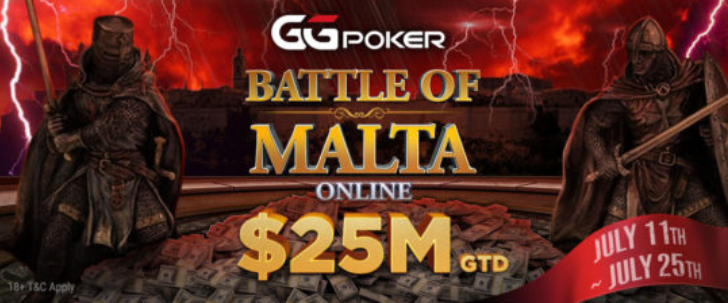 ---
Top line: "GGPoker has announced further measures on how it intends to apply the turnover tax as part of the new German online poker regulation."
Key takeaways:
In comparison to other major competitors, GGPoker has decided to shift the collection of the tax levy from the buy-in to the cash-out stage and pass on a bigger part of the burden on the player.
GGPoker's interpretation on how to collect the tax duty stands in stark contrast to the measures taken by other competitors such as PokerStars, partypoker, Unibet, and 888poker.
According to the player notification, the operator believes "that this approach will help to spread the tax burden more to the winning players and keep the overall offer sustainable for German players".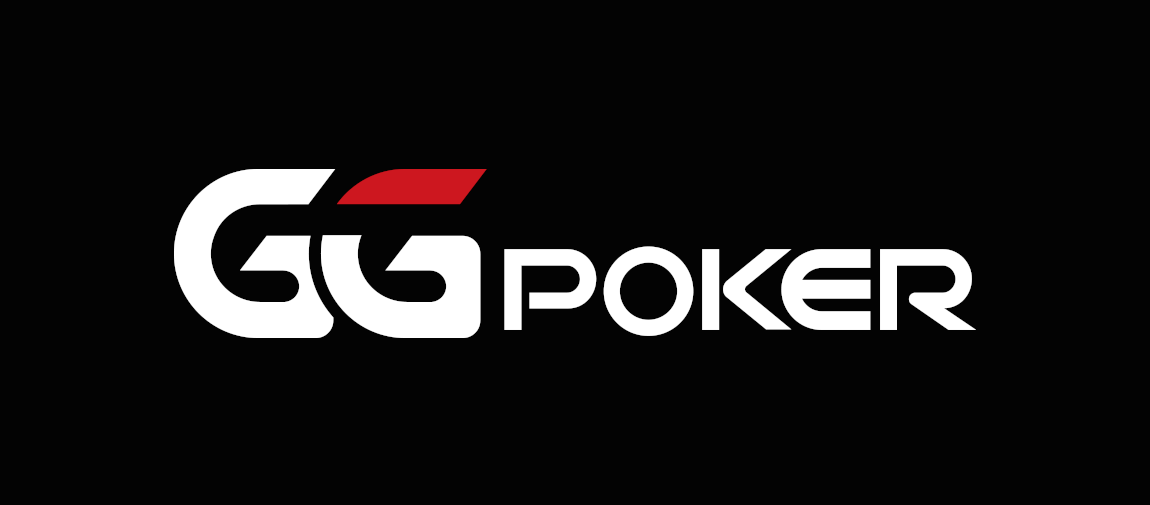 ---
Top line: "New online poker giant GGPoker has confirmed to PRO that they plan to launch in the regulated Dutch market, which is slated to open in October."
Key takeaways:
If granted a license, GGPoker could well be among the first online poker rooms to be fully licensed and operate legally in the country.
GGPoker has a significant advantage over others — it has not been fined by the regulator and it pulled out from the market along with other European countries in late 2019.
Along with GGPoker, Holland Casino Online is also likely to launch online poker once the market goes live.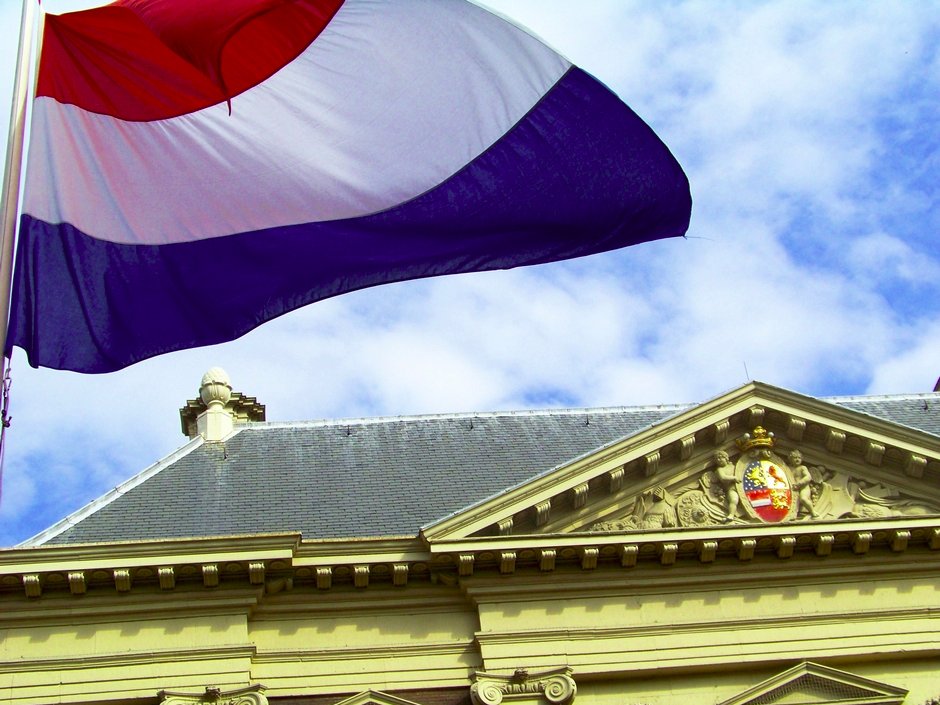 ---
Top line: "The innovations at global online poker operator GGPoker continue to thrive. The operator has now introduced a new All-In or Fold sit and go variant, adding yet another format to its ever-growing portfolio of games."
Key takeaways:
*The new four-handed All-in or Fold SNG variant builds on the existing cash game variants in Hold'em and Omaha, which features the same four-handed format and offers additional jackpot bingo prizes. *Three different buy-in levels are available for both Hold'em and Omaha variants upon launch: $0.50, $5, and $25. The levels last one minute and the Hold'em variant provides eight big blinds at the start while the Omaha version only offers five big blinds.
Furthermore, it has tweaked the newly launched Battle Royale variant, reducing its minimum entries from 100 to 30.
It marks yet another step towards the bid for GGPoker to become the undisputed number one in the world of online poker through innovations and major promotions.

---
Top line: "GGPoker has officially launched in the regulated market of Belgium. As previously announced, the site went live on Saturday, July 31, opening its door to Belgian players nearly two years after it pulled out of the market."
Key takeaways:
Although various online poker licenses have been issued in the past, only four online poker operators are currently active with GG becoming the latest after PokerStars, Entain/partypoker (under the bwin brand), and Unibet.
GGPoker in Belgium is operating under the domain ggpoker.be, sharing the player pool with the rest of the world.
The fastest growing online poker network acquired a license last month after inking a deal with the local partner Deba Square.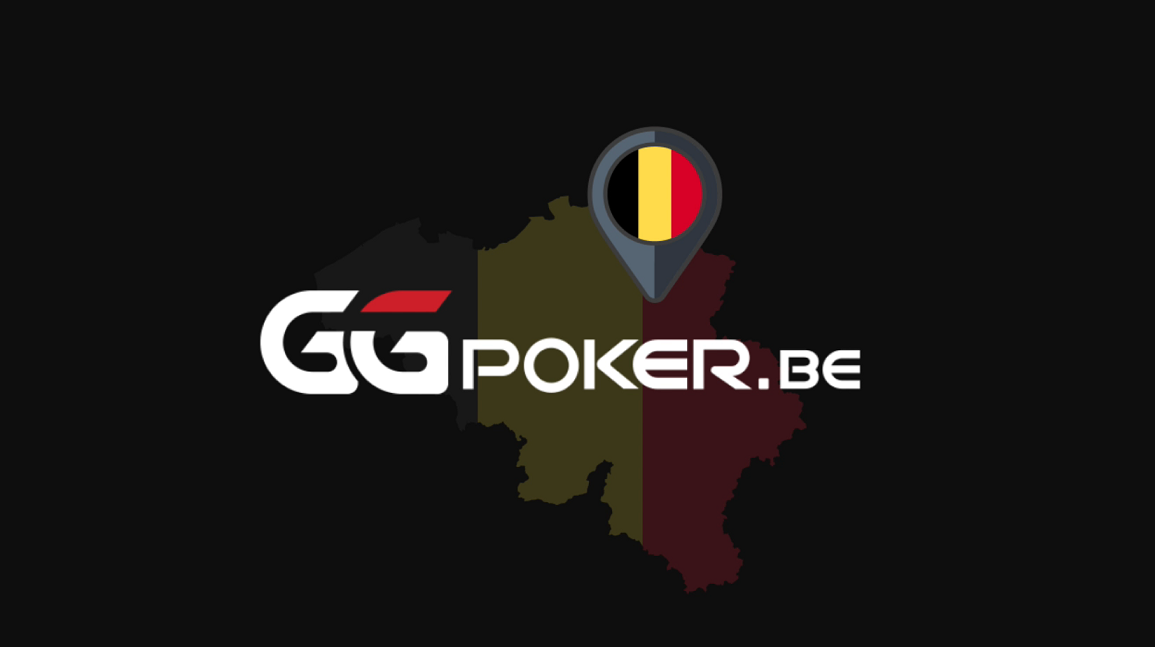 ---
Top line: "GGPoker is expanding its network further, announcing a partnership with the Playground Poker Club to host its online poker room."
Key takeaways:
Live poker at Playground remained on hiatus for more than 500 days due to the ongoing COVID-19 pandemic and is set to resume on August 11.
Playground was previously working together with the World Poker Tour and partypoker to host live and online competitions.
With the addition of the new Playground-branded skin, the number of operators under the umbrella of the GGPoker Network grows further.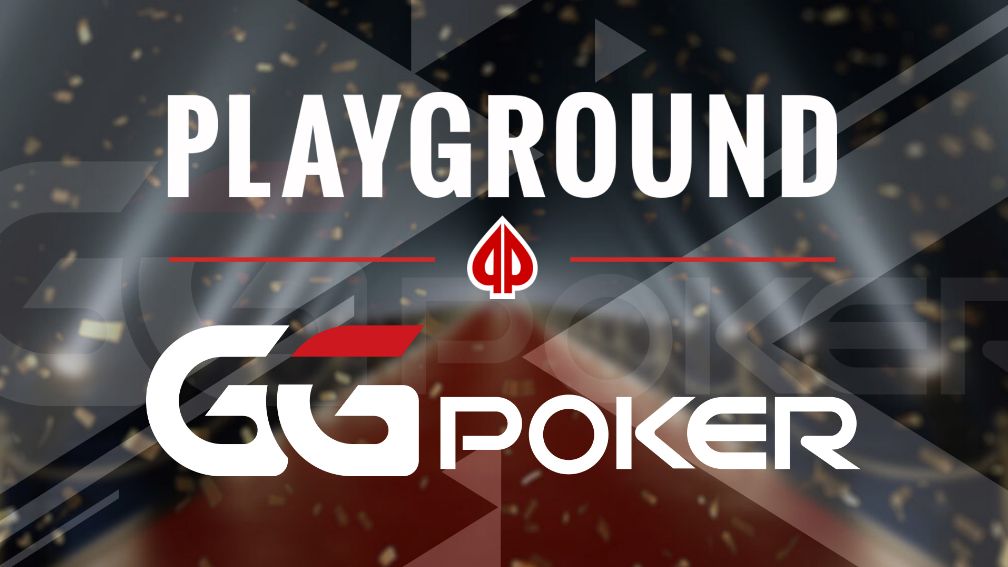 ---
Top line: "Online poker room GGPoker has acquired a license to offer online poker in Ukraine, becoming the third operator to be approved in the Eastern European country."
Key takeaways:
It marks the operator's continued expansion into regulated markets, with concerted licensing efforts in half a dozen European jurisdictions.
It will not launch until subsequent legislation clarifies taxation rules.
Vbet and PokerMatch also received online poker licenses in recent months.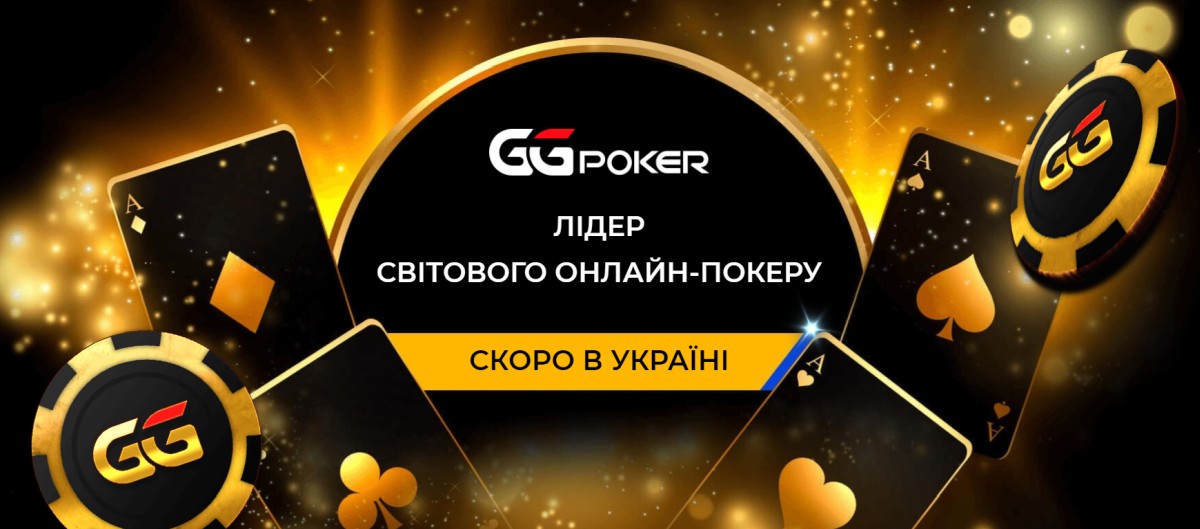 ---
Top line: "Leading online poker operator GGPoker will be hosting a second edition of the Super Million$ Week and the third high-stakes series of the year."
Key takeaways:
The Super Million$ festival features guarantees of nearly $17 million and runs from September 12 spanning a week.
The start of the festival coincides with the final day of the ongoing

WSOP

Online Bracelet Events and continues the close partnership between both brands.
For the first time, the high-stakes series will also award four

WSOP

Circuit rings as well.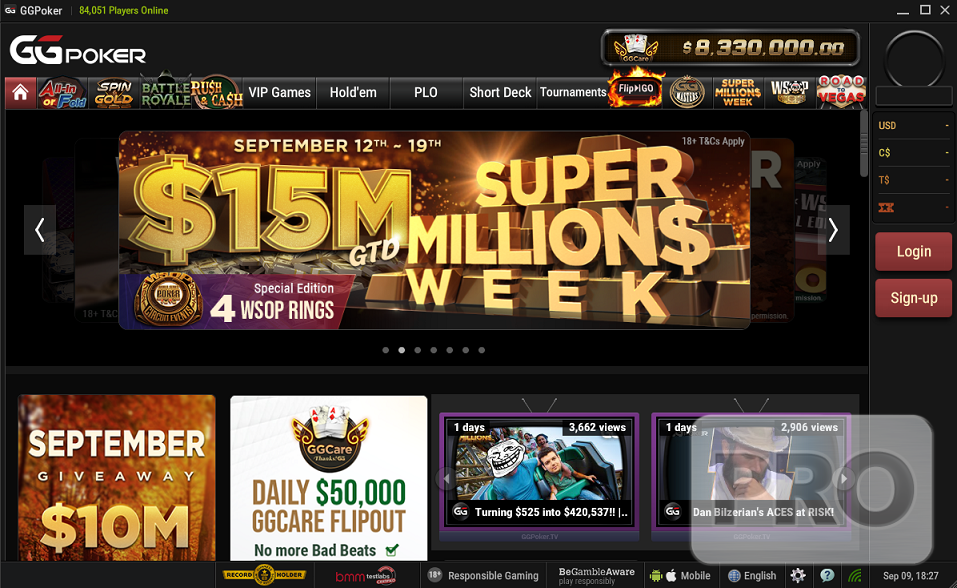 ---
Top line: "The curtains have finally fallen on the international portion of the WSOP online bracelet festival held on GGPoker. After over six weeks of action, all of the 33 coveted gold bracelets have been awarded."
Key takeaways:
As per numbers compiled by

PRO

, a total of $90 million in prize money has been dished out to those who have made it into the money.
A staggering 127,969 entries were recorded throughout the 33-bracelet event schedule that kicked off on August 1.
Three out of 33 bracelet events attracted over 10,000 entries. The largest attendance came in the opening event #1 The Return with an entry fee of $50. attracting 30,810 entries across a dozen Day 1 flights. It built a prize pool of $1.4 million.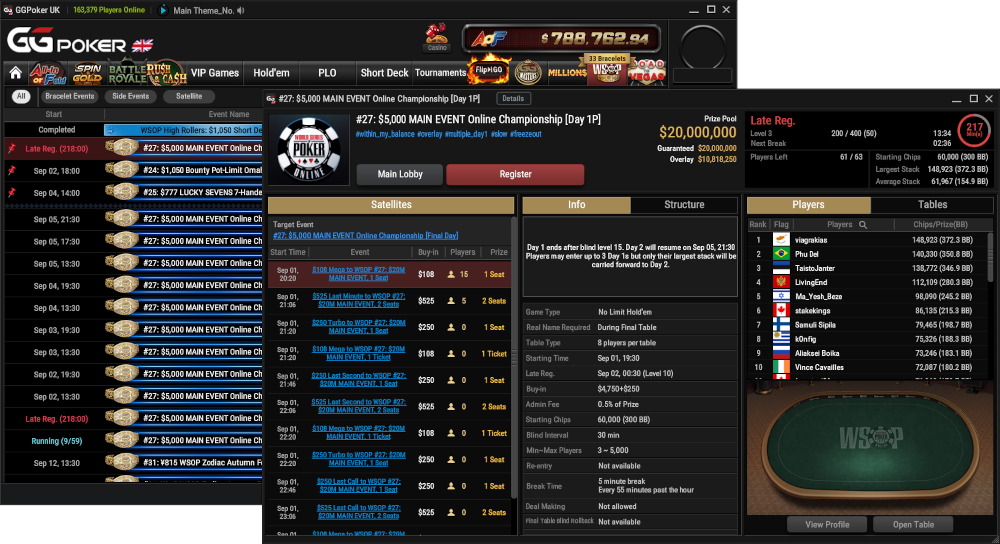 ---
Top line: "In a recent server update, the world's current leading online poker room GGPoker has made various changes to its regular promotions."
Key takeaways:
It has added GGCheers — an innovative program that rewards players who have won a big pot.
Operator also introduced Bad Beat Jackpot and has also launched Rush & Cash Friday promotion.
It also made various tweaks to the daily leaderboard prizes and has revamped the Spin & Gold lobby, the operator's lottery-style sit and go (

LSNG

) product with a special ElkY edition.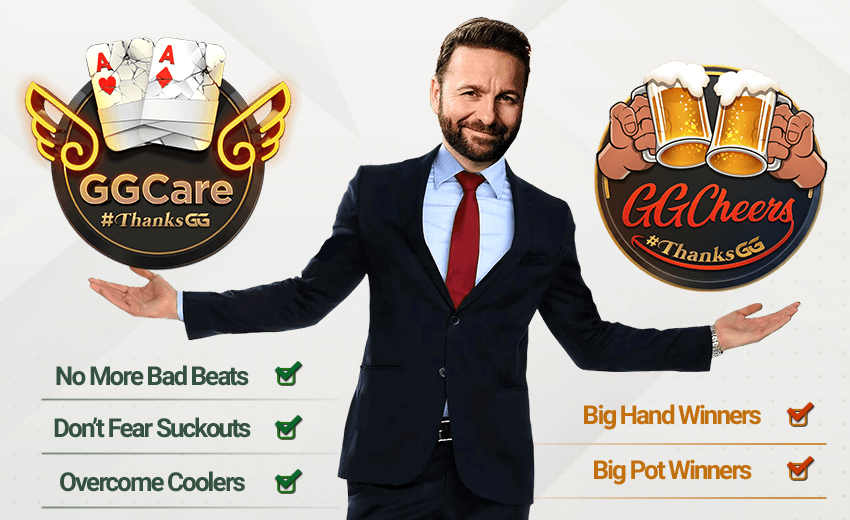 ---
Top line: "The Dutch online gambling regulator has released the list of ten operators that have received a license to offer online poker and casino games in the Netherlands from October 1."
Key takeaways:
GGPoker is among the ten on the list, and

PRO

understands that it expects to be ready to launch online poker on Friday.
Holland Casino is also expected to go live with an online poker skin on the international iPoker network.
One other operator, Bet365, may also launch online poker on iPoker, though their immediate launch plans are not yet known.
All other operators are now expected to exit the market on Friday.
At most, then, it seems that players will have the choice of three operators and two networks.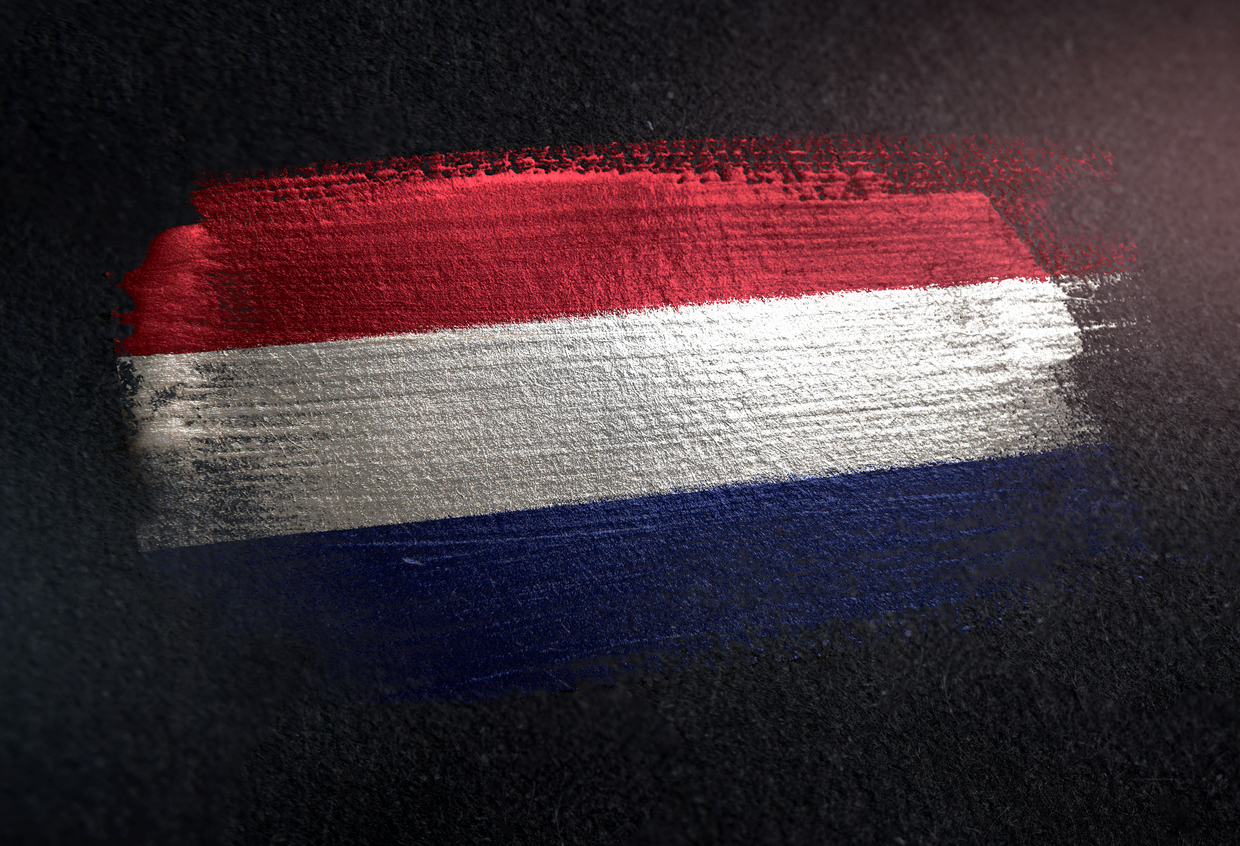 ---
Top line: "GGPoker's hiring spree continues this month, as it adds popular professional American poker player Jason Koon to its ever-growing list of ambassadors, while also announcing a new Belgian roster of pros."
Key takeaways:
Koon joins the likes of Daniel Negreanu, Bertrand 'ElkY' Grospellier, and Fedor Holz as the core ambassador team.
The prominent poker pro will not only represent the site but also will take on an advisory role for

VIP

and high-volume players.
GG has also unveiled Team Belgium, comprising a group of popular Belgian poker streamers and pros.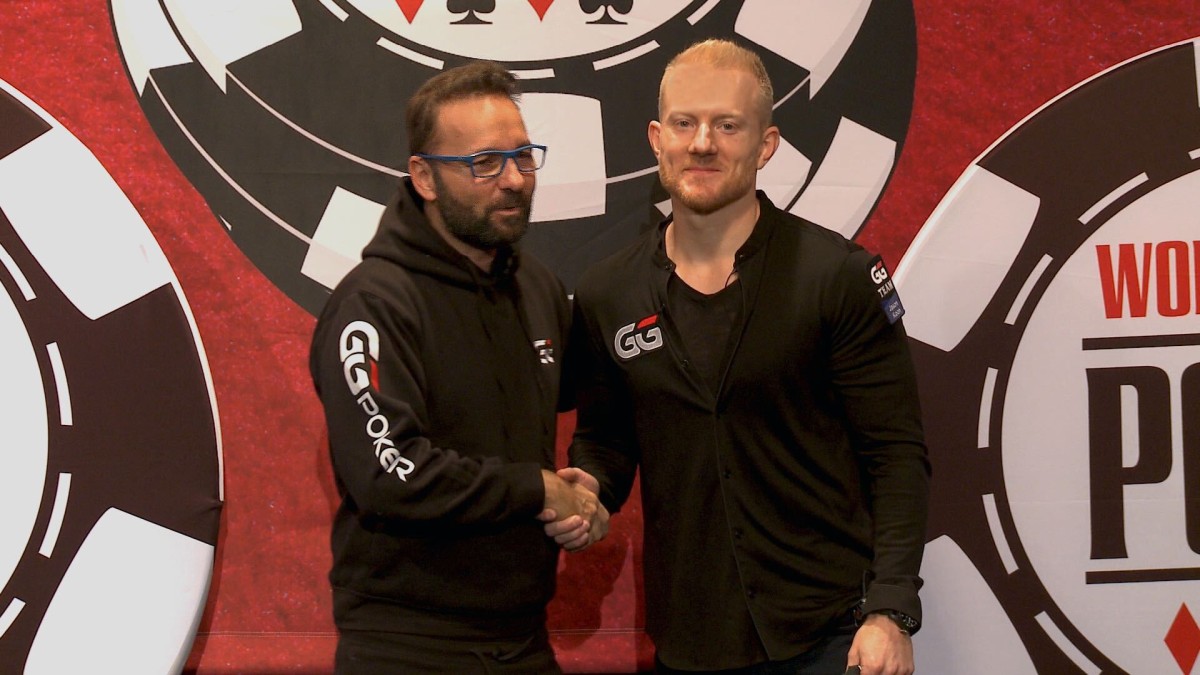 ---
Top line: "Leading online poker room and network GGPoker has launched Road to WSOP Europe campaign, expanding its exclusive satellite program to now include both WSOP Las Vegas and Europe tours."
Key takeaways:
Started last Sunday with no fixed end date, players on GGPoker can qualify for the

WSOPE

Main Event via qualifiers for as low as €25.
The €10,350

WSOPE

Main Event runs in December promising a €5 million guarantee.
"

WSOP

Europe is always one of the best live events on the poker calendar, and the only way to win your seat online is through GGPoker," said John Scanlon, Director of Live Events & Sponsorships at GGPoker.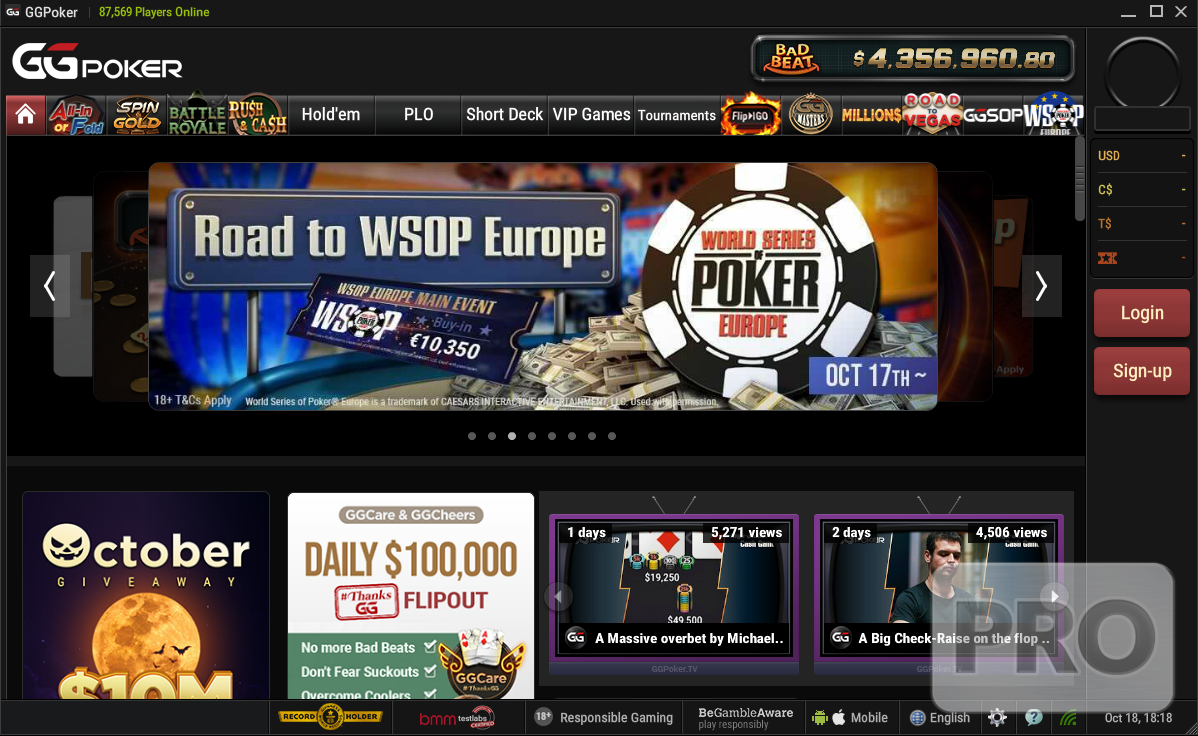 ---
Top line: "After a rocky start in the first days of the regulated market opening, GGPoker has this week trumpeted its full launch in the Netherlands after what it called a soft-launch period since October 1."
Key takeaways:
Two operators launched online poker in the Netherlands earlier this month after receiving approval from the regulators.
However, early technical issues, including problems with the centralized database for self-exclusion (

CRUKS

), hampered the launch.
Its iOS online poker app was approved for listing in the Apple App Store in the Netherlands.
The operator has also signed on as a shirt sponsor of local football club Almere City. GGPoker will appear on the uniform's shirt sleeve and be displayed on

LED

billboards at the local stadium.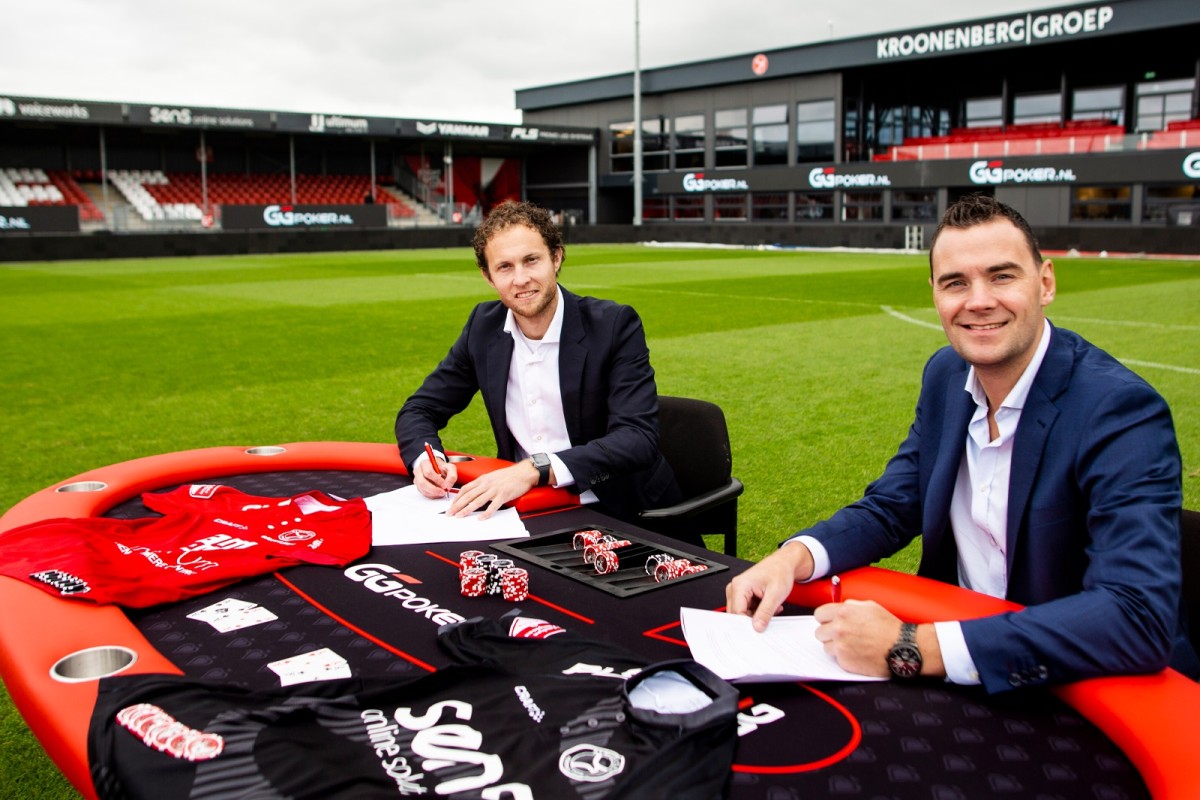 ---
Top line: "The Good Game Series of Poker (GGSOP) on GGPoker has returned for its second edition."
Key takeaways:
GGSOP

is the operator's low-stakes online tournament festival that closely resembles the

WSOP

Online festival but with buy-ins set a fraction.
For its second iteration, over $7.25 million is guaranteed spread across 54 events.
Buy-ins are exactly as seen last year starting at $2.50, going up to $50 for a majority of the events, peaking at $150 for the highest stakes tournaments.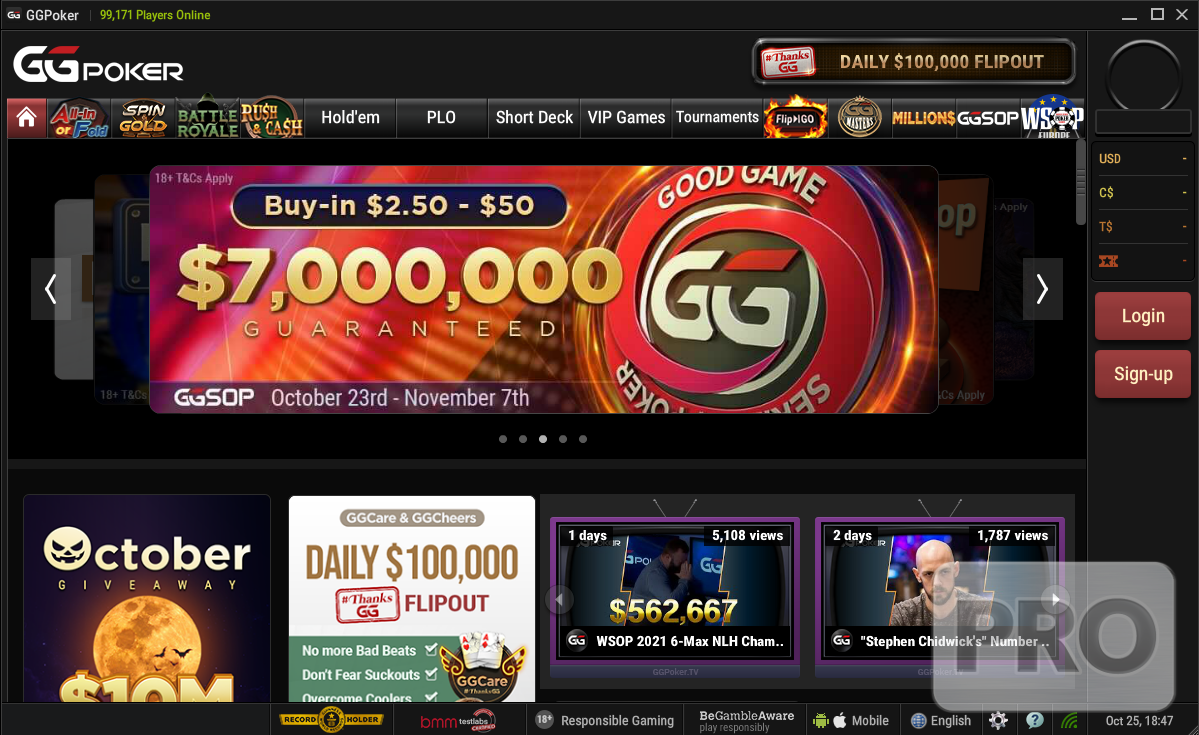 ---
Top line: "Innovative online poker operator GGPoker has teased a new feature, "Ask Fedor," while unveiling its newest online tournament series."
Key takeaways:
The new feature appears to be a personalized built-in coaching tool where the GGPoker's eponymous ambassador will be analyzing players' hand history and rate their play.
The feature is expected to make its debut in the operator's upcoming high-stakes Super MILLION$ Week running from December 5.
The festival guarantees over $17 million across 38 events.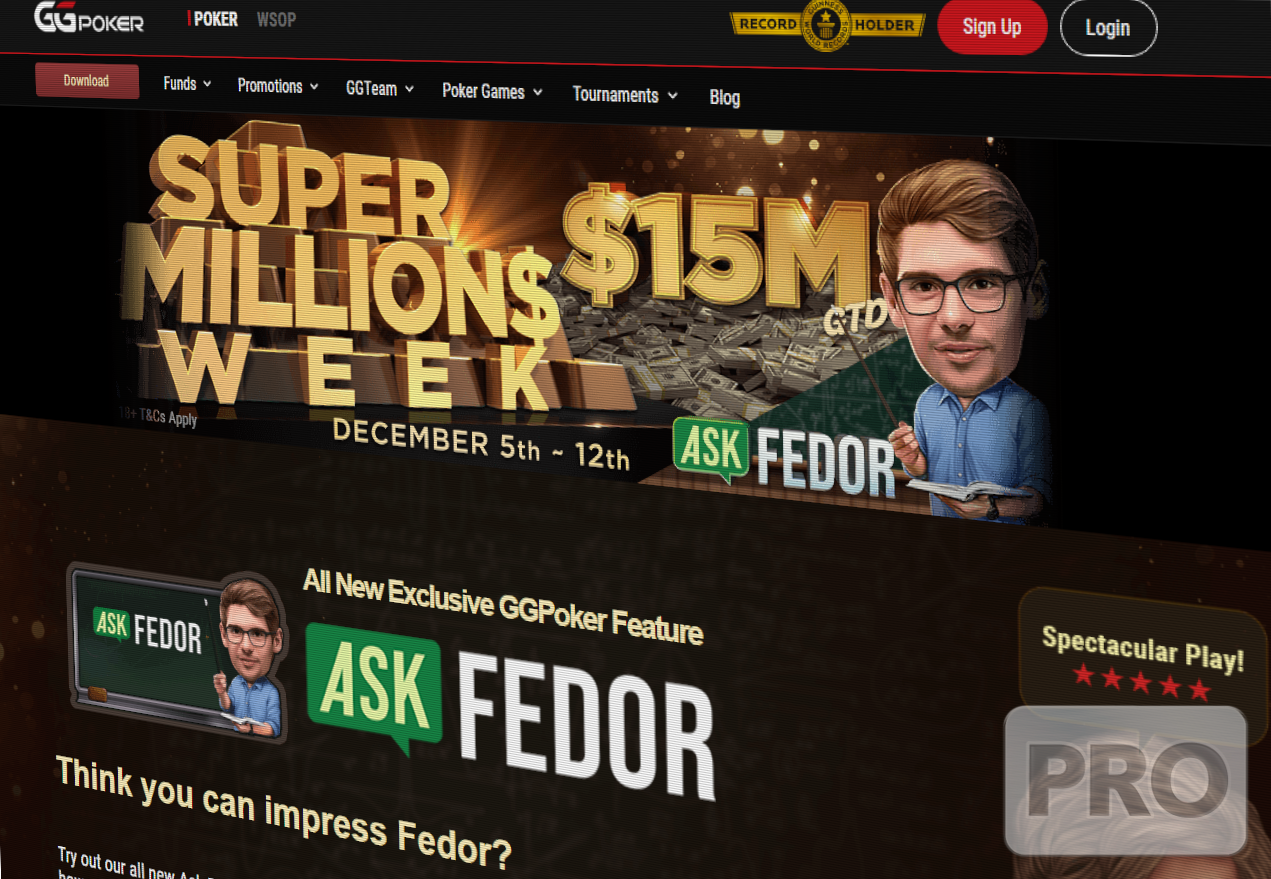 ---
Top line: "GGPoker has launched a regulated online poker room in Romania. It becomes the operator's fourth GG-branded online poker room licensed in a European country, and the seventh on the wide GGPN network."
Key takeaways:
It is understood to be the sixth online poker room currently active in the country.
GGPoker has partnered with Skywind Group, an Isle of Man-based business-to-business provider of casino content and iGaming solutions to bring its services into Romania.
The pair have formed a joint venture, WindGG, and opted to launch the game on the PlayGG.RO domain.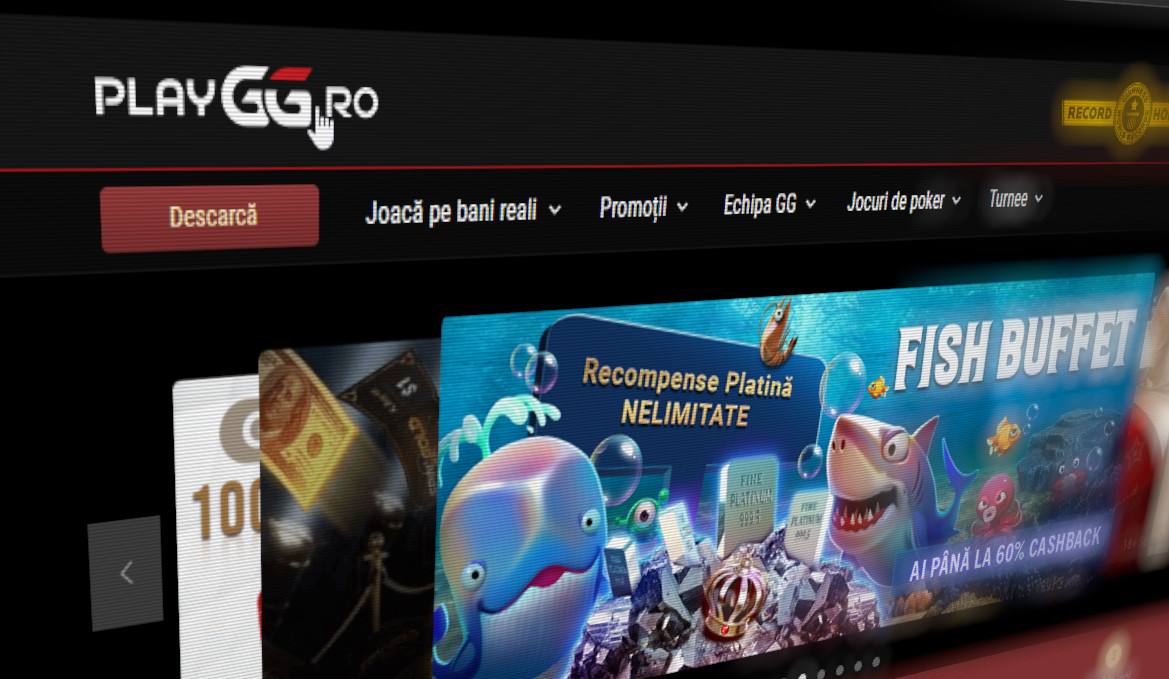 ---
Top line: "GGPoker's subscription-based private club app ClubGG has partnered with new live tours to extend its reach beyond the World Series of Poker."
Key takeaways:
The platform is now offering the chance to qualify for the upcoming US live tours including the popular Mid-States Poker Tour (

MSPT

), RunGood Poker Series (

RGPS

), and Card Player Cruises (

CPC

).
Hundreds of seats are being given away to these regional tours — all scheduled to run in 2022 between January and February.
Launched in January this year, ClubGG is GGPoker's take on private club-based social poker apps, allowing users to create their own home games and play with their friends.
The app recently transitioned into the subscription-based model.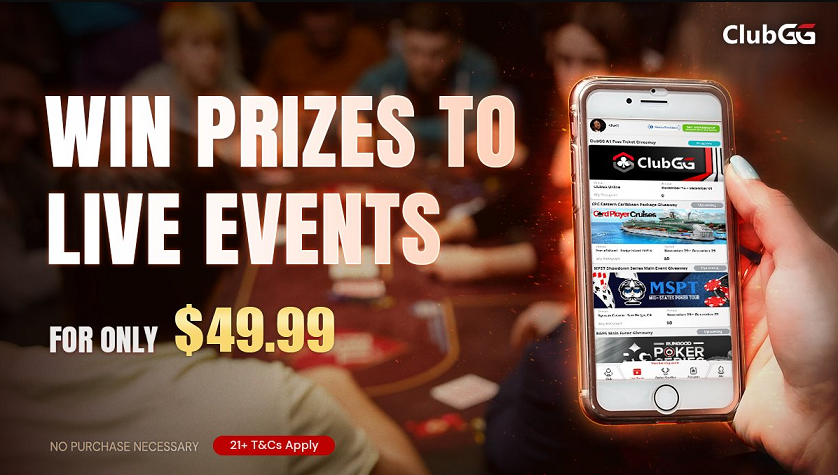 ---
Top line: "GGPoker has expanded its reach in the newly launched Dutch gambling market as it partners with the country's largest poker community, the Open Nederlands Kampioenschap Poker (ONK), or Dutch Open Poker Championship."
Key takeaways:
It marks the operator's second local partner in the country since its regulated market launch in October.
The deal will see GGPoker advertised as the event's sponsor, while players can qualify for live tournaments via the online platform.
GGPoker has been very active in creating local partnerships in the Netherlands and other markets they operate in.
Due to local regulations, the series does not offer any monetary prizes for participants. Instead, players can win prestigious titles and get sponsorship deals.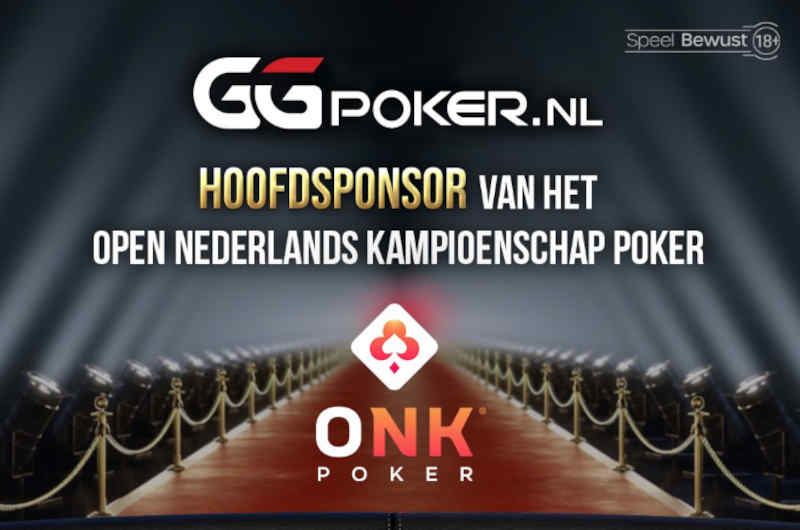 ---
Top line: "The close-knit partnership between leading operator GGPoker and the World Series of Poker continues with the second edition of the WSOP Winter Circuit."
Key takeaways:
The second installment of the

WSOPC

series kicked off last Sunday and runs until the new year with another $100 million in total guaranteed prize pools.
GGPoker has also launched a free-to-play

WSOPC

edition of the GGPoker Live Trivia quiz show with five weekly $10,000 prize pools up for grabs.
Throughout the last two years, GGPoker and the

WSOP

have established a close-knit partnership, during which the rising online poker operator has hosted several WSOP-branded festivals.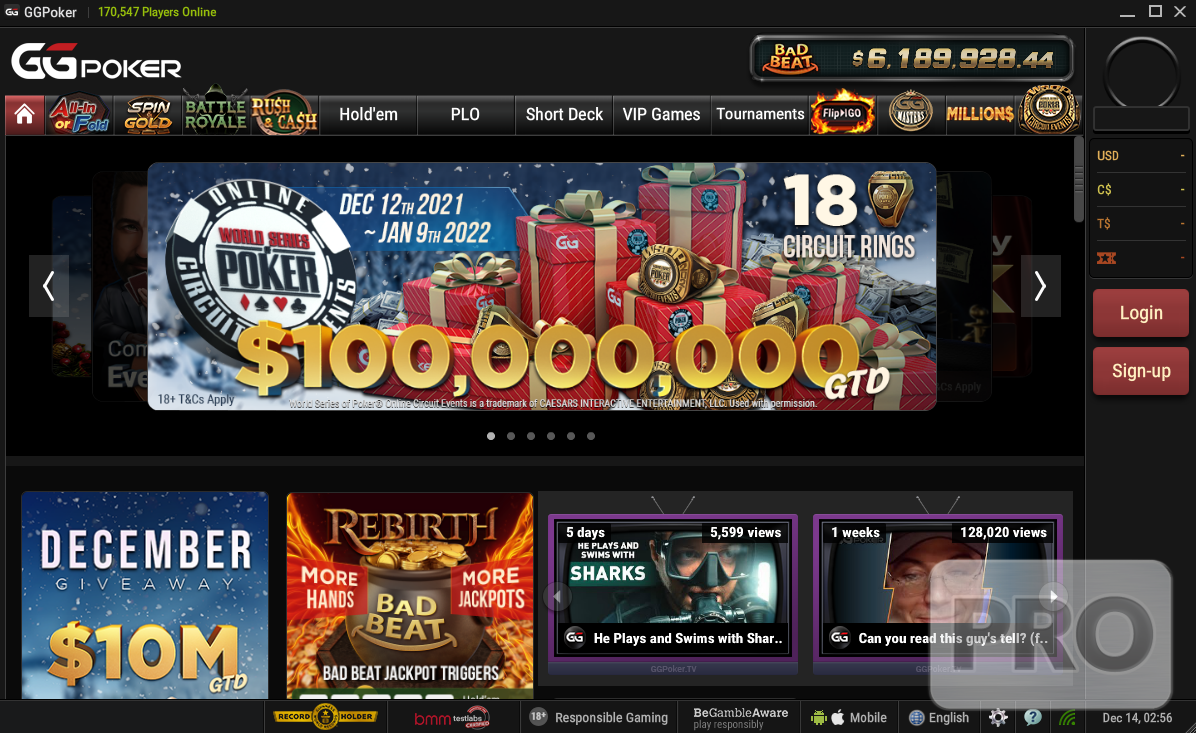 ---