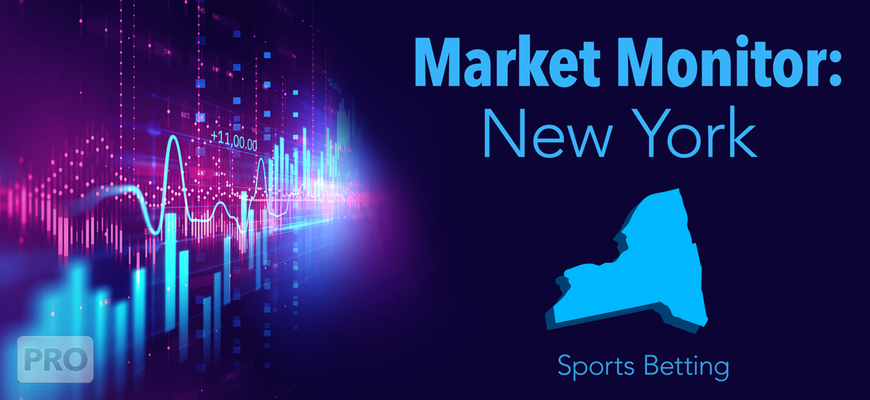 Key Takeaways
New York online sportsbooks broke records in October 2023, with a total handle of $2 billion.
FanDuel stood out, collecting $892 million in bets, marking a 50% growth year-over-year.
Rush Street Interactive showed significant growth, increasing its handle from $50 million to over $100 million.
Total market revenue also hit a new high of $166.3 million, with FanDuel generating half of this.
New York online sportsbooks hit an all-time high in both handle and revenue in October, the latest figures from the NY State Gaming Commission (NYSGC) show.
In total, licensed operators collected $2 billion in handle, the first time to reach that watermark in the market's 22 months. It represents robust growth of 14% on the prior month and 30% on October 2022.
FanDuel's results stand out. It took in $892 million in bets, setting a new high for any licensed operator in New York. It has grown almost 50% year-over-year. 44% of all bets placed on NY sportsbooks were on FanDuel last month, its largest market share.
DraftKings, however, had a strange down month. Handle dipped to $652 million, down month-over-month. It is still up year-over-year by a solid 22%, but it is the largest gap between the top two in handle seen in the market. Its market share was 33%, its lowest in six months.
The other standout in handle last month was Rush Street Interactive. It took in so many bets last month — from $50 million in September to over $100 million in October — that it was rightly promoted into our top tier of NY sportsbooks. Indeed, it leapfrogged BetMGM to claim the fourth-largest sportsbook operator by handle in October.
Revenue figures paint a similar picture. The market grew to an all-time high of $166.3 million last month, up 14% year-over-year, though only nominally ahead of the prior market high set in September. A full 50% of market revenue was generated by FanDuel, which enjoyed its best month to date with $83 million in revenue. DraftKings reported $59 million for a market share of 36%.
Rush Street's revenue of $3.3 million puts it far below BetMGM, so while it managed to attract a lot of bets last month, it did not maintain the sort of margins the other sportsbooks enjoyed.