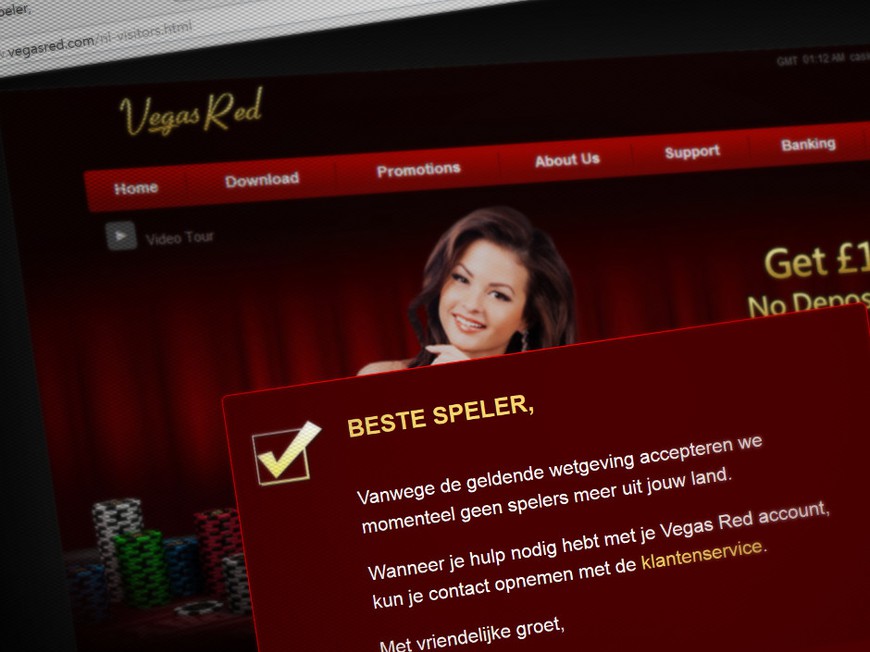 Dutch gaming regulator Kansspelautorteit has handed down a fine of €200,000 to Imperial E-Club Limited for operating seven online sites that partially targeted the Dutch market.
Imperial E-Club Limited operates various online gaming brands including VegasRed, TitanBet and Titan Poker, Europa Casino, Casino Tropez and Casino Bellini.
According to the regulator, an investigation ran between June 2012 and October 2013 identified Europa Casino as focusing on the Dutch market, with a website available in the Dutch language.
Following a warning issued to the company, the Dutch language option was removed from Europa casino, but other sites owned by the company continued to target Dutch players. It mentioned specifically the support of PayPal in the Netherlands, and the lack of "Netherlands" in the list of excluded countries, as reasons for issuing the fine.
"Imperial broke the law by offering games of chance without a license," the issued statement from the regulator reads. "In illegal gambling, there is no control over the fairness of the game of chance, and players are not adequately protected from gambling addiction."
As of Wednesday, Imperial's sites are now closed to Dutch players. Accessing its websites from within the country tells players (in Dutch) that, "due to current legislation we no longer accept players from your country."
High Fines
The €200,000 is the largest so far metered out by the Dutch Authority. It justified the high fine due to the extent of gambling offers available to Dutch customers across a range of sites and services.
Online gambling is technically illegal in the country, though new regulations to liberalize the market and open it up to foreign operators will go into effect in 2015 and the regulator is accepting preliminary expressions of interest for online gaming licenses.
The Dutch regulator has publicly warned operators that any future license application will be put at risk if they continue to target Netherlands citizens. Back in February, it laid out its plan to start issuing fines to companies.
Compliance
It stated at the time that it would use three criteria to decide where to focus its resources: Sites that use a dot-NL domain, sites in the Dutch language, and operators advertising on local radio, television and print media. Fines in excess of €700,000 can be issued.
Previous fines issued by the Dutch Authority include €150,000 fines to Global Stars, Mansion and Onisac.
Operators not wishing to jeopardize their licensing application have responded in a variety of ways. Some have shut down Dutch language options on the sites, others told affiliates to stop promoting the site to Dutch visitors; William Hill went to the extent of closing all Dutch operations.