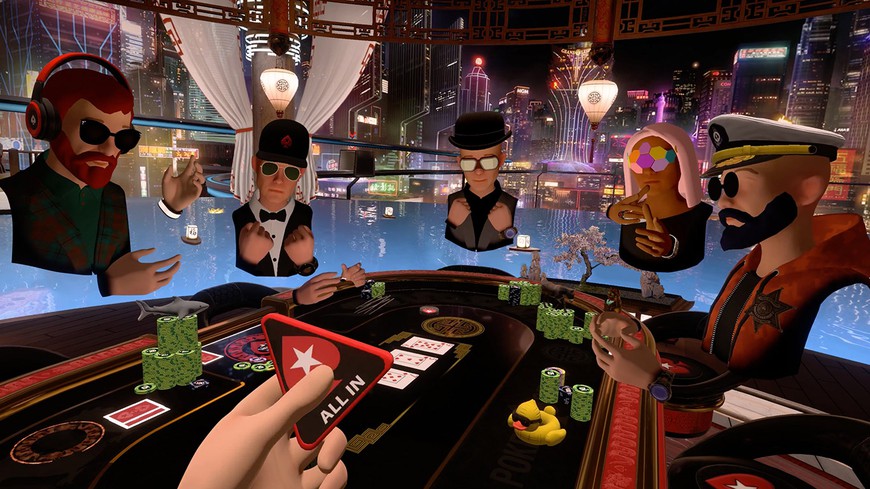 Just a day after PokerStars launched its new cash game innovation, Fusion, the world's leading online poker site has launched yet another new product called PokerStars VR.
PokerStars VR is a free-to-play, immersive social virtual reality poker game that aims to bring together the elements of live and online poker. Players can literally interact with other players on the table (through an inbuilt microphone), read their tells, handle cards and chips, order food and drinks, even smoke a cigar, just like at an actual table.
On November 8, the product went live and is now available for download and can be accessed for free in all countries where PokerStars operates. Players wanting to experience PokerStars' virtual reality product can download it through the Oculus and Viveport stores, as well as through Steam, a leading digital content distribution platform. A virtual reality headset with touch controllers such as the Oculus Rift or HTC Vive is required to be able to experience the game.
The product was first unveiled back in August during the EPT Barcelona for a private demonstration which was attended by PRO. It was also previewed at EuroGamer Expo (EGX), the United Kingdom's biggest video games event. Since development began, PokerStars had invited more than 150 players to test out its new product in a closed beta test.
"When we showcased the product it was amazing to see people really enjoy and become engrossed in the game," said Severin Rasset, Director of Poker Innovation and Operations at PokerStars.
"We wanted to venture into the world of virtual reality because we believe it is an exciting avenue of technology to explore and something that our players would appreciate. I highly recommend that everyone tries out the game as it can only truly be understood and enjoyed by experiencing it."