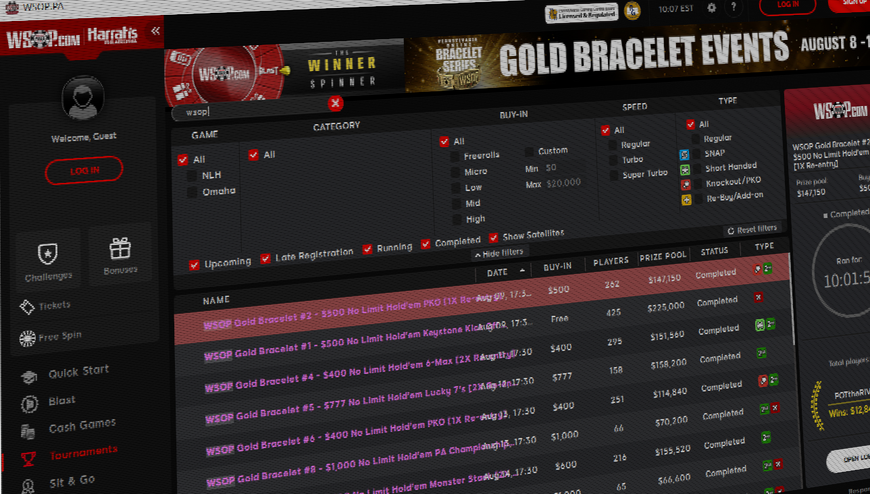 Key Takeaways
August 2022 was the worst month for the year-to-year growth rate of Pennsylvania's online poker market since the pandemic.
Casino appears to have been unphased by the pandemic — posting a double-digit year-to-year growth rate for the past 16 consecutive months.
If Pennsylvania did join

MSIGA

, it would be a boon for online poker in the state.
She held that Wolf, who is term-limited and leaves office in January 2023, was continuing "to monitor how the expansion of online gaming in recent years has affected the gaming industry and Pennsylvania residents.".
Shapiro and Mastriano do not appear to have made any statements on the status of online poker in Pennsylvania while on the campaign trail.
Wolf could move to have the state join the compact before he leaves office if Mastriano wins the gubernatorial election in November.
PokerStars PA had the state all to itself when the market launched in November 2019.
The year-to-year growth rate in April 2022 — one year after BetMGM and Borgata launched — stood at only 22.8%, and it slipped to 8% the following month.
Pennsylvania's online poker market was 14.3% smaller year-to-year in August, the most recent month for data released by the

PGCB

.
The rate has been slowing in 2022 — it stood at 22.1% in August.
PokerStars would have benefited the most from such a move because it could have combined its player pool in the state with those playing on PokerStars NJ.

WSOP

NJ and 888poker NJ — the New Jersey contingent of the

WSOP

.com/888 Network — never once led their rivals in terms of monthly before the Garden State joined

MSIGA

.
The sharpest decline since the pandemic in the annual growth rate for online poker in Pennsylvania illustrates why the state must seriously consider joining a multi-state gaming compact.
Officials within the administration of Democratic Governor Tom Wolf remain coy about the state possibly signing the Multi-State Internet Gaming Agreement (MSIGA). So, too, have the gubernatorial campaigns for the two men running to succeed Wolf — Democrat Josh Shapiro and Republican Doug Mastriano.
But data from the Pennsylvania Gaming Control Board (PGCB) show online poker hasn't enjoyed the sustained growth that online casino gaming has had — posting a double-digit year-to-year growth rate for the past 16 consecutive months.