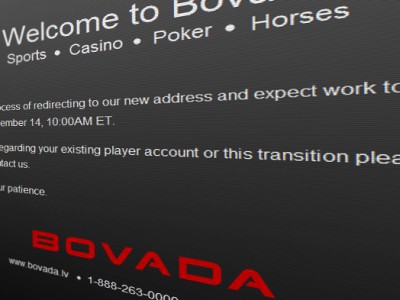 Bodog players in the United States have been informed that they will be transitioned to the new brand – Bovada.lv – when the new site launches on Wednesday.
First announced in July, the Morris Mohawk Gaming Group (MMGG), the exclusive Bodog licensee for US customers since 2006, will not be permitted to use the Bodog name from 2012 onwards. In preparation for this, players will be transitioned over to the new site later today.
The cunningly named Bovada.lv – a portmanteau of Bodog and Nevada, hosted on a Latvian domain name that suggests Las Vegas – currently shows a holding page, but the site is expected to go live by 11am ET. Using similar typography and the familiar Bodog red and black, the site is not short on hints of its heritage.
"Your account and balance has automatically been transferred to the new website and you are able to log in to the site using your existing account details and password," assures the email sent to customers. "MMGG will continue to operate as it has for over 4 years, just under its new name, BOVADA."
It is expected that the new site will continue it's licensing under the KGC. The player pool is now shared across three jurisdictions, Bodog.co.uk licensed in the UK that will serve ROW players, and Bodog88, licensed in the Philippines, that serves the Asian market.