2009 Partouche Poker Tour Cheating Allegations Further Tarnish Tour's Legacy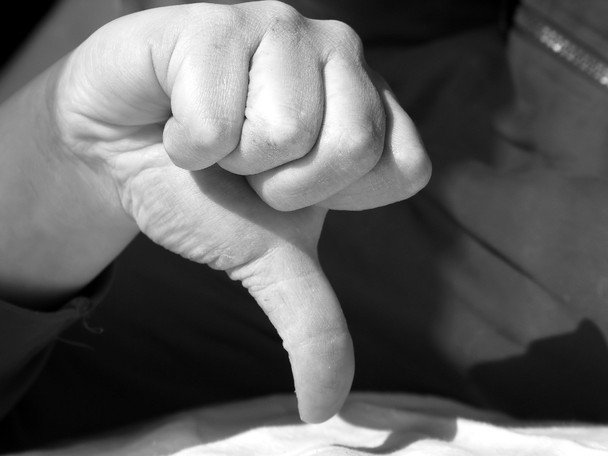 A video compilation of final-table footage taken from the 2009 Partouche Poker Tour Main Event contains serious collusion allegations against the top two finishers from that event, Jean-Paul Pasqualini and Cedric Rossi.
An eight-minute video, compiled by French poker-playing author Nordine Bouya, first appeared on the French poker site Poker en Ligne and quickly spread elsewhere.
The video , edited down to show action from several different hands, shows about 18 hands where Pasqualini and Rossi are alleged to have communicated their hole-card holdings to each other via a pre-arranged signal system, touching body parts as follows:
Ace: Top of Head (Scalp)
King: Forehead
Queen: Eye
Jack: Nose
Ten: Mouth
Eight/Nine: Neck and Chin
Arms: Small Pair
The video shows multiple hands where the two players declined to give action to each other following the purported signals, including three different hands where Pasqualini held Q-10 and made the same repeated, complex motion of scratching underneath his sunglasses, followed by dragging an index finger across his lips.
However, the most damning hand from the video occurs roughly halfway in, where a short-stacked Pasqualini holds A-K, while Rossi waits across the table with A-A. During the hand, Pasqualini raises and touches his scalp and then forehead, allegedly indicating A-K: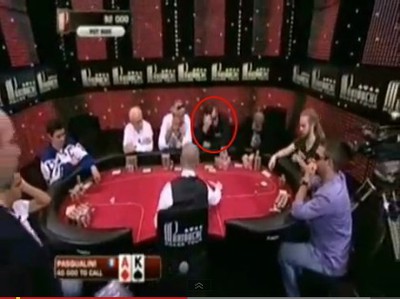 Rossi then re-raises and puts both hands on his scalp, allegedly indicating his A-A monster: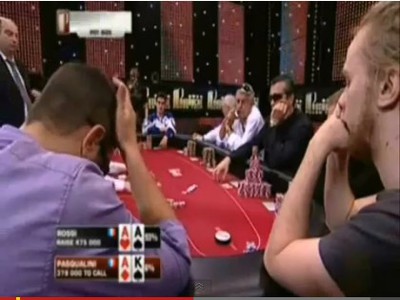 Pasqualini pauses, then inexplicably smiles as he folds his A-K without seeing a flop, despite being short-stacked: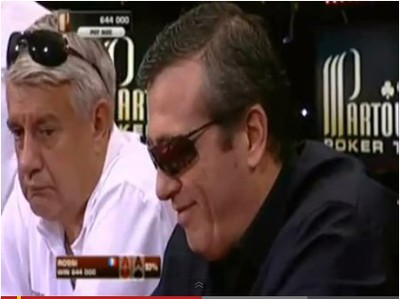 The hand, in which Pasqualini would have been expected to get his chips into the middle and exit via the cooler over 80% of the time, allegedly allowed him to remain in the hunt, after which he went on a hot streak which carried him all the way to the title. Pasqualini eventually collected about $1,430,000 for the win, with Rossi in second for about $870,000.
Cheating allegations were nothing new for the now-defunct Partouche tour, the same event from which accused German cheater Ali Tekintamgac was booted from the 2010 final table for allegedly concocting a signal system using a couple of fake news bloggers, who would stand behind Tekintamgac's opponents and attempt to peer at their cards.
Several damning, related allegations have also appeared in a discussion thread on the 2+2 forums following the video's release. According to a poster called "Wylke":
I have worked in a Partouche casino and collusion was usual in tournaments. Nothing was ever done to the reg even when the cheating was clear and reported by the dealers.
A potentially sadder tale involves official third-place finished Gianni Giaroni, an older player making a once-in-a-lifetime run who is now reportedly deceased. Another 2+2 poster, "Chuck Bass," chimed in with this hearsay tale:
I heard from a reliable source that the old Italian guy who got 3rd in this 09 tourney was convinced he was being right away and tried to protest to the organizers, who basically told him to gtfo and accept his 3rd place money. Didn't know he's died already and never got to hear he was right. sick stuff.
The drama has turned into one of the larger ongoing stories on the small French pokerenligne site, which has to date dedicated five separate features to the allegations.
Pasqualini has already issued a heated response in which he asserts that he and Rossi didn't even know each other, to which primary accuser Bouya countered with a quote taken directly from Pasqualini's victory interview in which Pasqualini declares his joy in winning while playing alongside his friend Cedric (Rossi).
Bouya's presentation of the video, while convincing in its alleged cheating particulars, remains troublesome in other ways. The video's overt racist tones, including outtakes and music from the classic Francis Ford Coppola film "The Godfather," is a clear shot at Pasqualini's and Rossi's heritage.
Both Pasqualini and Rossi are French citizens, but are from the island of Corsica, with its mix of both French and Italian roots.
Bouya, while asserting that he's also been personally cheated by Pasqualini and Rossi, is also working on a poker book while promoting a another book which he recently authored.