Pokeit Takes Poker Tracking to the Cloud—and Brings Mixed Games with It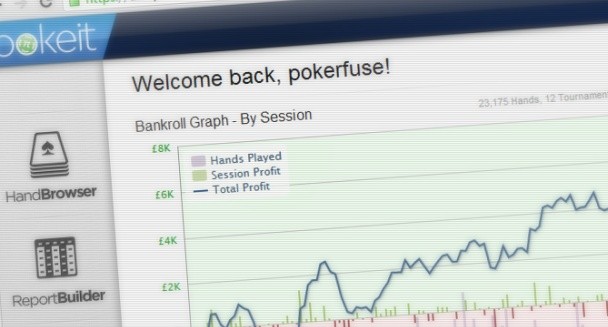 The Goliaths of poker analytics—PokerTracker and Hold'em Manager—have both been in full PR mode competing to launch their next generation products: Hold'em Manager's HM2 launched in late 2011, and PokerTracker's PT4 is still in public beta testing and expects to launch soon.
But on the sidelines, a new competitor has emerged with a fresh take on tracking and analyzing online poker hands.
In development and private beta testing for over two years, Pokeit (pokeit.co) is the brainchild of Chaz Littlejohn and Bryon Zandt, two North Carolina graduates and poker players who took on the task of rethinking how we track our poker results.
Instead of large desktop applications and database servers that customers must install and manage, in Pokeit all the data crunching is done on Pokeit's servers and all reporting and graphing is done online. Except for a small software client that monitors for new hand histories and uploads them, the entire experience is done in the browser.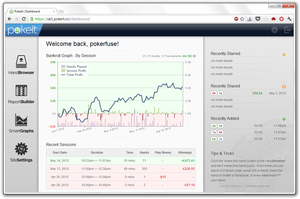 There are clearly both big advantages and notable limitations of this approach. It means that customers are free to play on any computer, without the burden of having to set up a Postgres database server or large tracking clients. All crunching of data is done on online servers so your computer doesn't bog down in any processing. And you also don't have to worry about data backups.
In addition, because you aren't tethered to local data, you are free to browse your results from any computer, including mobile devices like phones and tablets. Sharing hands is natural with features plumbed into the web client.
The downside is that everything in the "cloud" means that there is less access to data in-game—currently there is no HUD overlay or mucked hole cards display. For low-volume or recreational players, this may not be an issue; for high volume players it probably means that you can consider Pokeit an interesting additional service rather than a replacement. If or when a HUD does come built in to the Pokeit client—and I've been assured it's on the schedule—then it could be a real contender for all players as a primary tracking solution.
One key target demographic with Pokeit is mixed game players. Alongside the usual Hold'em and and Omaha support, Pokeit also handles Stud variants (including Razz), Draw (5-card and Triple Draw) and Badugi. This makes Pokeit a unique product offering that should attract a lot of attention from Stud and mixed rotation pros.
The Pokeit Desktop Client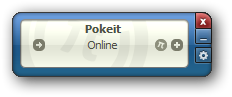 To get started, you first need to download and install the small Pokeit Client. Downloads are available for both Windows and Mac.
Taking up just 50kb of memory when idling, the client does one thing and one thing well: It sits monitoring for new hands and when it finds them, it uploads them securely over HTTPS. Being light on resources, it will sit happily in your taskbar doing its thing, and soon you'll forget that it's even there.
Their goal is to support hand histories from every site, and every game. It will also import hand histories from Hold'em Manager 1, HM2, PT3 and PT4 file archives.
In my extensive testing—which included 150k hands across eight different sites, spanning over 18 months, for different Hold'em variants in cash and tournaments—Pokeit handled things admirably. Although it did have some problems initially, the Pokeit support was very fast fixing the import issues—and because everything is done in the cloud, they were notified of bugs automatically and had fixes out without me having to report anything to them.
As it stands now, all my hands are now imported successfully into Pokeit—and this includes old history formats that are no longer valid. And because of the automated error reporting to developers, it will mean Pokeit will be fast in fixing issues in the future as the ever-fickle poker sites decide to change up their hand history formats. If client updates are needed, the software updates itself automatically when you load it up.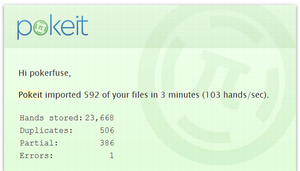 When a big import completes, you get a nice email informing you what happened and how long it took. My hands imported at roughly 75-100 hands/second—and that includes reading the file, processing them, and uploading them.
As you play live, Pokeit uploads the hands in the background—either directly from the poker client hand history folders or from an PT or HM archive if you are also using these clients—and the hands will be available often within a couple of seconds in the web browser. This means you can actually look up player stats and hole cards in the browser as you play.
The Web Client
There's no two ways to say it: The browser interface is beautiful and a pleasure to use. There has clearly been a huge amount of care put into designing and creating the tool.
Alongside the dashboard, which shows you your lifetime bankroll graph, recent sessions played, and quick links to share new hands, there are currently three main sections available: Hand Browser, Report Builder, and Smart Graphs. Each offers a specific functionality, but all tools interlink to create a cohesive experience.
The Hand Browser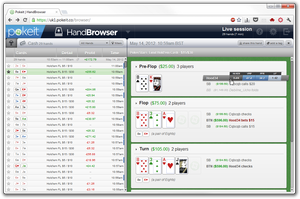 As you would expect, the hand browser is a way to browse through all the hands you've played. You can use quick filters to narrow down the list, but it is quite happy showing 100k+ hands all together. However, if you scroll to hands that are more than 30 days old then it will take a few seconds to pull them up, as older hands are archived.
To the right you get a nice graphical display of the hand, and hovering over players brings up a mini-HUD with VPIP and PFR information for the player. All hands are private by default, but can be shared on forums or social networking sites. You are given a public link (like this one) that can include your HUD stats.
The only real complaint I have with the hand browser is the need for a more compact graphical view of the hand, so that when you are playing you can see the action at a glance (as well as cards at showdown) without having to scroll.
Report Builder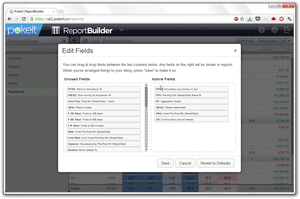 From here you can run various reports, like aggregate win/loss reports based on sessions or months, player reports, or review hero's play with hole card and position reports.
Player-related stats reports can be customized, and most of the stats you expect to find are there, including street-by-street continuation bet and aggression statistics. You can view all players, limit this to top 25 players by volume, or just "heroes" (for cross site comparison of your own results).
However I did find a few spots lacking—sessions stats, for example, include no rake data. There is also no way to break things down by times of day or days of the week, and there is no sorting by columns in any reports.
What's there is good and the interface is slick. Hopefully report offerings will be expanded in the future.
Smart Graphs
Probably one of the nicest features is the integrated graphing. Bankroll graphs combing tournament and cash game results along with bonuses and rakeback, and results can be filtered by date an game type. Individual session profit is shown in mini-bar charts to highlight big sessions.
You can also zoom into the graph with a slick click-and-drag, and a user can click on individual sessions to load up the hands in the Hand Browser or report. Full filtering is also supported.
More than the Sum of its Parts
Beyond the desktop client and three individual tools, the whole experience is smooth and enjoyable, there are nice touches everywhere to show the time and care that's gone in to the package.
On good example is currency handling: Hand histories in multiple currencies are handled gracefully, all converted into one base value and then all data is displayed based on the user's settings. This by default is determined by your country location but can be switched in settings. Exchange rates are all handled automatically by the system.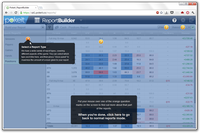 Another example is the help system that's present throughout the client. It provides handy tooltip hints to the main parts of the screen. Things like hero screen names are all detected automatically, and a consistent user interface makes it easier to find tools to share, print and download hands and charts. And because no plugins are required—everything is coded in HTML5—the website should work with all modern web clients, including those on mobile devices like the iPhone and iPad.
As with anything web-based, there is always a risk of data theft and concerns over privacy. Pokeit assures that all data transfer is done over HTTPS, and they have "multiple layers of data protection on their servers to protect against hacking and other nefarious activity." All hands are private by default and there is no sharing of data between Pokeit accounts.
Conclusion
As with a lot of software as a web service, Pokeit's prices are based on the amount of data you use and is paid on a monthly subscription basis. Pokeit is completely free and unrestricted for up to 50,000 hands, and more space is given for referrals. If you plan to use Pokeit seriously you will need to purchase a premium package: Prices start from $5/month for up to 1 million hands up to $20/month for 10 million hands. There is no restriction on game types or stakes.
Pokeit is a very interesting new offering and deserves attention for breaking some real new ground. The support for so many game variants should make its adoption a no-brainer for Stud, Badugi or Mixed Game players.
For more casual players who currently do not track results, they should definitely check out the free option so they can start understanding their data. If they start playing a lot more hands, they may consider a premium option or switching to one of the bigger tracking solutions.
For exclusively Hold'em or Omaha players who are content with Hold'em Manager or PokerTracker, Pokeit probably won't get you to ditch your existing software: Until it has an integrated HUD and a few more reporting features you will still be tethered to a local software solution.
But even then, as a tool for only $5/month it should interest many as an addition rather than replacement: Its automatic backup and platform-agnostic data access, easy sharing and mobile access on-the-go make Pokeit a tempting extra. And if a HUD is developed, it would be a tempting alternative.