Black Friday Processor Ira Rubin Continues Appeal from Prison Cell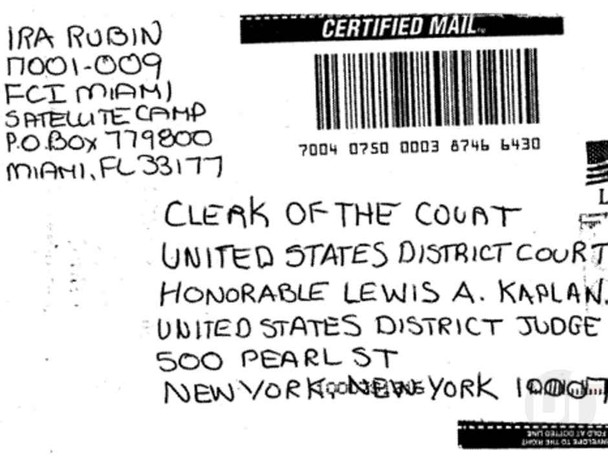 Convicted "Black Friday" online payment processor Ira Rubin continues to battle against the three-year sentence handed down in 2012, with Rubin recently filing a handwritten notice of appeal.
Rubin, who received the longest term of all Black Friday sentences handed down to date, and was also ordered to forfeit $5,000,000, first filed an appeal last August, alleging that he received inadequate counsel and that the sentence received actually exceeded the recommended range.
Rubin's first appeal asked that his sentence be set aside because his former attorney, Richard Finkel, allegedly:
Failed to argue mitigating factors at sentencing;
Failed to assert that the government and

DOJ

breached the plea agreement;
Failed to file an original notice of appeal per Rubin's request.
Rubin also alleged that the sentence he received was in excess of sentencing guidelines, this despite his previous criminal history, hiding of assets derived from his offshore payment-processing operations, and that he was captured in Guatemala before being extradited to the US.
Rubin's first appeal was summarily dismissed on September 25, 2012, with prosecutors declaring it frivolous. Nonetheless, Rubin, who is incarcerated at the Miami Federal Correctional Institution, has continued his appellate battle.
The latest developments have former counsel Finkel departing from the case, with Judge Lewis A. Kaplan approving Finkel's withdrawal in early December. At the same time, Rubin sent a handwritten notice of appeal to Kaplan from his prison cell, notifying the government of his continuing plans to appeal.
Rubin also declared his attempt to try defend himself (pro se), and Kaplan's office responded to Rubin's initial letter by sending him instructions on applying for a federal court-appointed defender. Rubin has since filed to have a public defender appointed, with one expected to be assigned to him in the near future.
Rubin pled guilty in January 2012 to three of nine counts related to processing illegal payments for online poker companies, including conspiracy to violate the UIGEA, conspiracy to commit bank and wire fraud and money laundering.
According to the indictment unsealed on April 15, 2011, Rubin "lied to banks about the nature of the financial transactions they were processing" and created "phony corporations and websites to disguise payments."
At his sentencing, Judge Kaplan stated the extended sentence was justified given the "extremely high threat" of him recommitting crimes upon his release, adding that he was sure to "cook up some new scheme that in all likelihood will be illegal."
He also labelled him an "unreformed con man and fraudster" who was "brazen, quite deliberate and deceptive" in defying US law.