Partouche Poker Tour Reneges on €5m Guarantee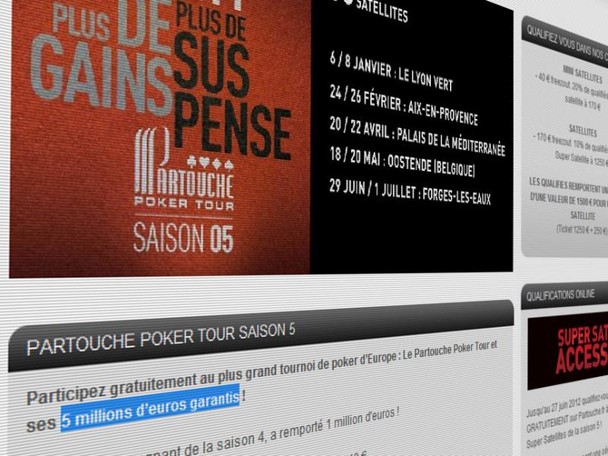 The Partouche Poker Tour (PPT), self-stylized "biggest poker tournament in Europe," has informed players today that the prize pool for its Main Event is only €4.3m, not the €5m originally guaranteed.
The €8500 buy-in tournament, a culmination of many satellites and super satellites held across casinos in France, was originally sold as having a €5m guaranteed prize pool; that is, Partouche will ensure at least €5m is awarded in prizes regardless of the number of entries.
However, players in Cannes today for the fifth annual poker series have reported that the total prize pool is only €4.3m, not the €5m promised. 580 players entered, the same number as the previous year.
Tournament organizers claim that such guarantees were never made. Web pages have been altered to remove any mention of the guarantee, but historic web caches from Google indicate the original text.
On the official sales page of the Partouche Casino and Spa, host of the tournament, it originally stated in bold at the top, "Participez gratuitement au plus grand tournoi de poker d'Europe: Le Partouche Poker Tour et ses 5 millions d'euros garantis!"
It went on to detail how players could buy in to satellites with the promise of such a prize.
Another page announcing Sam Trickett's final table victory at last year's main event, finished with the paragraph:
See you next year for season 5 of the Partouche Poker Tour, this time with a guaranteed prize pool of 5 million Euros! Qualify throughout the year in our 40 casinos.
The paragraph has since been removed from the live version. However, still live now on partouche.com is an image proudly proclaiming "€5 million," and on partouche.be it still states clearly:
Offering a guaranteed prize pool of 5 MILLION EUROS, the Partouche Poker Tour once again affirms its place as Europe's top tournament. Secure your seat on Partouche.be or in our Belgian casinos in 2012.
iGamingFrance contacted Maxime Masquelier, Head of Partouche Poker Tour, to express the discontent on behalf of players.
"For a buy-in of €8,500 I think we can be proud of the final figure," Masquelier responded. "At no time did we say that €5m was secured when it is guaranteed in writing."
He added that, although some sister sites owned by Partouche may have reported a guarantee, the PPT site itself did not officially communicate this. However, as linked above, historical pages contradict this, and also show evidence of attempts to cover up original statements.