Hero Poker Closes Poker Room on Merge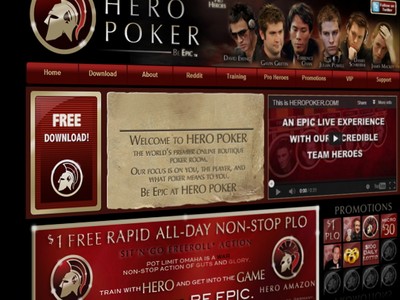 Update: Since the publication of this story, David Jung has posted that points and tournament tickets will not now be transferred. Players are advised to cash in their points.
It was announced today that Hero Poker will be closing its room on the Merge Network effective today.
David Jung, CEO of Hero Poker revealed in a post on 2+2 that Hero players will be transferred to one of the "preferred Merge partners."
However, unlike the closure of other recent Merge skins, all "VIP point balances and tournament tickets will be [transferred]" to players' new accounts.
The closure of the room on the Merge Network does not spell the end of Hero Poker. Jung commented: "I expect to do a full update within the next couple of days on where Hero is going, but for the moment, I'd like to focus on ensuring that our existing players are able to transition properly."
Jung, well regarded among many in the poker community for his dedication to customer service, provided the following perspective as to the motivation behind the closure:
Simply put, Hero and Merge weren't going the same direction any longer and it just didn't make sense on both sides to continue, sometimes in business and most times in life, things work out like this, but again, the priority has been the players and in this respect, Merge has put the players first in this transition process as well, so I'm thankful for that.
Hero is the latest in a growing number of skins that have halted operations on the Merge Network following the resignation of its CEO Anthony Taylor In September. Bluff Room and FeltStars both closed their doors in October prior to the announcement that Merge was eliminating all player-to-player transfers and moving many of its skins to the Jazette Cashier.
In November a group of Merge skins pulled out of the Poker Maximus III tournament series at the last minute. Skins that did not participate in the series included RPM, Hero Poker and Black Chip Poker. Black Chip later left Merge and moved its players to the Winning Poker Network.
Last week, PDC Poker—a Merge skin owned by Carbon Poker—shuttered its doors and migrated its players to Aced Poker, also on the Merge Network and also owned by Carbon.
Just days ago RPM announced that it was halting operations on the network as well.