A group of Pennsylvania Senators are pushing for an online gambling tax rate that mirrors the tax rate land-based casinos pay to the state. Doing so would have many negative implications, including the promulgation of black market online gambling sites.
Since they don't have to pay taxes, and with no oversight ensuring they're not comingling player funds with operating funds, black market sites thrive in jurisdictions that impose high tax rates on licensed operators. They do this by offering better payback rates and a constant stream of promotions regulated sites burdened with high tax rates simply cannot compete with.
When tax rates are high the black market thrives
The evidence for this coming to pass is overwhelming (see here, and here).
In regulated European jurisdictions there is a direct correlation between tax rates and channelization, which in layman's terms means, the number of players moving from black market sites to regulated sites.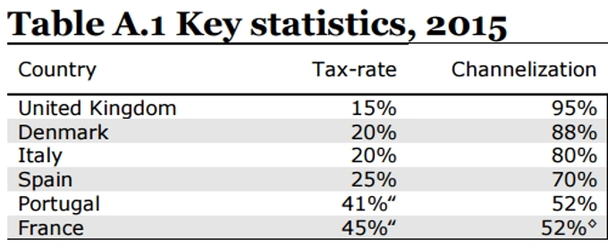 Fighting with one arm tied behind your back
It all boils down to this: a high tax rate creates an uneven playing field.
Imposing a 54 percent tax rate on licensed operators insures licensed Pennsylvania online operators will have to contend with a thriving black market – a situation that's been avoided by NJ's online gambling market thanks to a reasonable tax rate of 17.5 percent.
There are a whole host of reasons this happens.
If taxes are too high licensed online gambling operators:
Will invest and reinvest less in their platforms and products, leading to subpar platforms, fewer games and less research and development.
Will spend less money on marketing, slowing consumer awareness about the dangers of unregulated online gambling and allowing black market sites to launch misinformation campaigns when it comes to "legal" online gambling in the state.
Will spend less money on promotions, allowing black market sites to constantly undercut their promotions.
Would be forced to pass costs onto the customer, resulting in poor returns to players.
Would have to make cuts in other areas, including staffing. This would not only kill jobs, it would also lead to damaging things like inexperienced and understaffed customer support departments.
Each one of these things tempts players to choose black market sites.
Of course, what black market sites don't want you to know is they are often operated by unscrupulous individuals, and in some cases North Korean hackers, and offer little in the way of consumer protections, particularly when it comes to the safety and security of your money, which has up and disappeared dozens of times over the years, most recently at Lock Poker.
The end result: a black eye for land based casinos
Having a threadbare catalogue of online offerings; an overloaded and slow customer support department; sparse marketing; and games with poor returns is not a recipe for success.
In addition to creating an environment where black market operators will thrive, the impacts of a high tax rate will damage the perception of the associated land-based casinos and harm their brands.
Make no mistake about it, what happens at ParxCasino.com will reflect on Parx Casino. If players feel they're being nickeled and dimed online, or if they have a bad customer support experience, they will associate it with the land-based casino.
In the end, they won't just choose to spend their online gaming dollars at black market sites, they might take their land-based casino dollars to another casino, or a casino in a nearby state.