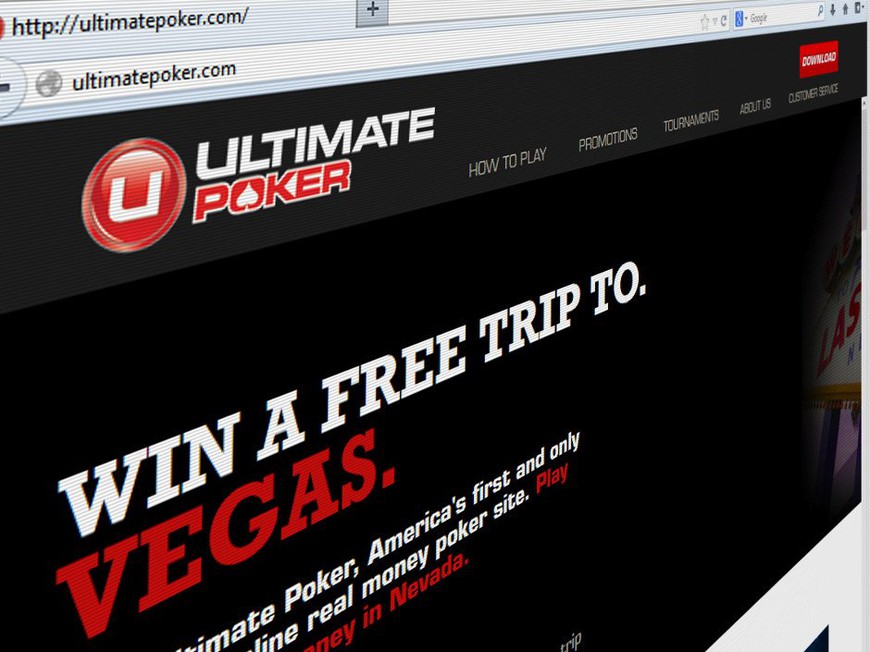 UltimatePoker.com, which will today claim the coveted prize of first regulated online poker site in the United States, has published its rake table. And if there's one thing to take away, it's that Ultimate Gaming has certainly paid close attention to the current international market leader in online poker.
Rake tables have only been published for No Limit and Fixed Limit Hold'em. No Omaha nor any other games are on the cards, at least at launch. Pot Limit Hold'em is mentioned in the poker games section of the website and elsewhere, though not explicitly in the rake table.
No limit games will be spread from NL2 up to NL1000 (1c/2c up to 5/10). Limit games will start from 5c/10c and go up to 10/20. These maximums match the limits we see in regulated Spanish poker rooms—although in that case, the restrictions are imposed by the regulator, rather than voluntarily by the operator. Keeping the levels low makes sense for any poker room ahead of launch before it can gauge the interest and demand of its players.
An interesting titbit: Mentioned on the website, but not in the rake fee schedule yet, is the possible inclusion of 5BB no limit games. This is currently offered on 888poker, where they are called "all in or fold" tables, and the only permissible buyin is 5 big blinds. As the name suggests, it is effectively a preflop push/fold game, although stack sizes do grow. It has proved somewhat popular among players, but the format is particularly susceptible to collusion, and has not been adopted by any other top-tier poker networks.
The rake tables, as mentioned, bare a strong resemblance to PokerStars. Firstly it uses "pure percentage rake," a system recently adopted by PokerStars. Many other networks use the more common "stepped" tiers.
The rake is 4.5% across the board for all No Limit games at Ultimate Poker. PokerStars employs 3.5% and 4.15% rake at the lowest stakes, but otherwise also keeps it at 4.5% for all other games.
The rake caps are also similar. For heads up, they are identical, capped a 50c rake and dropping to 30c at NL2; 3/4 handed tables also have matching caps of $1 at micros, and $1.50 and NL50+.
Caps are slightly higher at the midstakes tables and 5+ handed. NL50 and higher is capped at $3, whereas PokerStars drops this to $2.50 at NL50 and $2.80 up to NL600.
At fixed limit, the rake caps are almost identical. The only changes are a $1.20 cap at $2/4 (its $1.25 at PokerStars) and $0.15 cap at 25c/50c for all (its 1 cent more on PokerStars).
However, the rake percentage at fixed limit is simplified—the rake is 4% across the board, where at PokerStars it starts at 4.5% and drops to 2% at midstakes. How much this will affect the rake paid depends on the stakes—the majority of limit hands at some stakes reach the cap early in the hand, so the percentage players pay plays only a small role.
The current Ultimate structure may make games at 1/2+ more heavily raked, particularly 3-4 handed, but there will be a noticeable reduction at microstakes. Further analysis will be needed for a clearer picture.
Mirroring the rake structure at Pokerstars is no bad thing—overall, it offers the lowest rake structures in the industry. Of course, at Pokerstars they also have a comprehensive rewards program which reduces the rake for high volume players from anything from 20% up to 60%+—and that's unlikely something Ultimate will match.
The full rake tables are reproduced below:
No Limit Rake: 4.5%
| | | | | |
| --- | --- | --- | --- | --- |
| Stakes | % Rake | 2 Player Cap | 3-4 Player Cap | 5+ Player Cap |
| $0.01/$0.02 | 4.50% | $0.30 | $0.30 | $0.30 |
| $0.05/$0.10 | 4.50% | $0.50 | $1.00 | $1.50 |
| $0.10/$0.25 | 4.50% | $0.50 | $1.00 | $2.00 |
| $0.25/$0.50 | 4.50% | $0.50 | $1.50 | $3.00 |
| $0.50/$1 to $3/$6 | 4.50% | $0.50 | $1.50 | $3.00 |
| $5/$10 | 4.50% | $0.50 | $1.50 | $3.00 |
| 5BB Games | 2.00% | $0.25 | $0.50 | $3.00 |
Fixed Limit Rake: 4%
| | | | |
| --- | --- | --- | --- |
| Stakes | 2 Player Cap | 3-4 Player Cap | 5+ Player Cap |
| $0.05/$0.10 | $0.04 | $0.04 | $0.05 |
| $0.10./$0.20 | $0.10 | $0.10 | $0.10 |
| $0.25/$0.50 | $0.15 | $0.15 | $0.15 |
| $0.50/$1 | $0.40 | $0.40 | $0.40 |
| $1/$2 | $0.50 | $0.70 | $0.80 |
| $2/$4 | $0.50 | $0.70 | $1.20 |
| $5/$10 | $0.50 | $2.00 | $3.00 |
| $10/$20 | $0.50 | $2.00 | $3.00 |