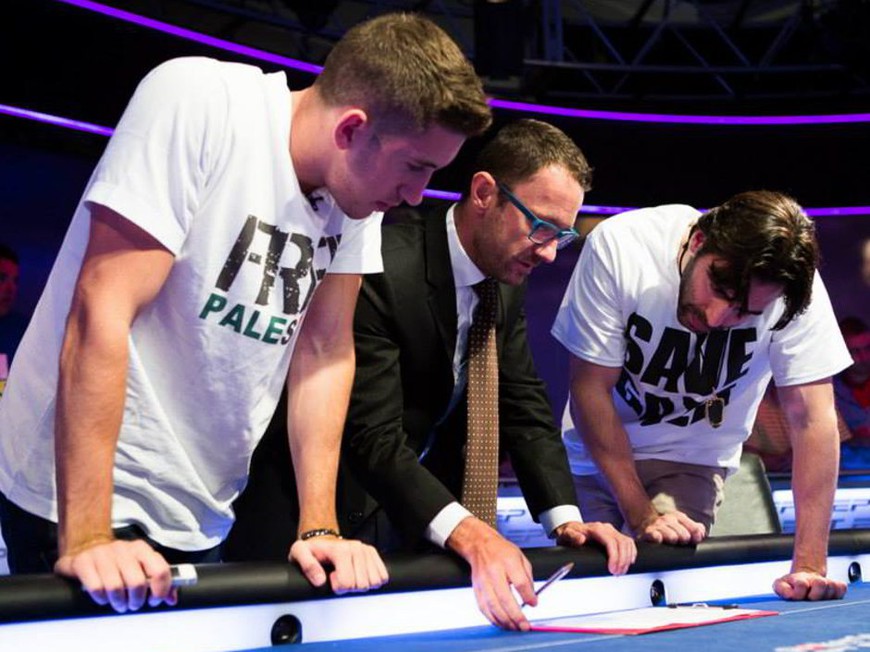 It seems that opinions on the recent controversy over the T-shirts worn by Olivier Busquet and Daniel Coleman at the final table of the European Poker Tour Barcelona Super High Roller event depicting their political views on the situation in Israel have been mixed.
People first took to social media during the broadcast of the event to express their displeasure with the fact that Busquet and Coleman were allowed to promote their views on this televised event via their attire.
Rational Group, parent company of the EPT and PokerStars, issued a statement to pokerfuse following the event stating that their policy is to "refuse entry to any player displaying political statements of any kind," and that "In retrospect it was a mistake to allow them entry."
Many have taken vocal exception to the policy.
"I dream of the day when sponsors will be contributing to the prize pools of major tournaments."One such critic is poker historian Nolan Dalla. In a post on his blog, Dalla refers to the decision-makers at Rational Group as being "misguided," and refers to the decision as "terrible"—one which "merits the strongest possible protest."
Freedom of Expression
Dalla makes the point that such a policy would infringe on an individual's right to freedom of expression; however, we must remember that right is not absolute.
Dalla poses question on his blog—what about T-shirts or patches that promote the Poker Players Alliance, or other political movements to legalize and regulate poker in the United States?
And while there may be no easy answer to that question, I think poker needs to be conscience of the image it portrays, and aware of the types of things that will make potential sponsors shy away from getting behind our game.
Let me be clear, I am a card-carrying member of "The Rake Is Too Damn High" party. I dream of the day when sponsors will be contributing to the prize pools of major tournaments. However, without some basic guidelines in place, and by allowing such controversial statements to be made in the industry's marquee events, this dream is put in jeopardy.
The Rights of the Participants vs the Rights of the Organizers
The EPT is a business entity that has the right to determine how their product looks and feels to their audience.
Dalla argues that unlike pro athletes who are paid to appear and perform, "poker players are individuals who should be able to enjoy reasonable rights of free expression."
Others argue that because they pay rake, they have the right to express themselves as they wish.
In my opinion, the EPT stance does not deny poker players of their "reasonable" rights of freedom of expression. The EPT only asks that they refrain from controversial attire during the production of its product. Players are not required to enter the event, and therefore are not unduly bound by the policy put in place by the EPT.
Commercial vs Political Views
The restrictions on certain commercial patches and attire are nothing new to poker. Gaffer tape over logos has become commonplace at the feature table coverage of the World Series of Poker as has the control over the size and number of sponsorship patches that players can wear.
While I'm not justifying or defending this position, it should be noted that the EPT's policy on what can be worn during its televised tables is not a new idea.
In conclusion, I don't see the decision by Rational Group to limit political expression during its events as being devious or overly restrictive.
Rather, I see it as being good for the game by allowing poker to be looked upon as a potential new area of sponsorship for advertisers who may otherwise not want their brands to be exposed alongside controversial political statements.