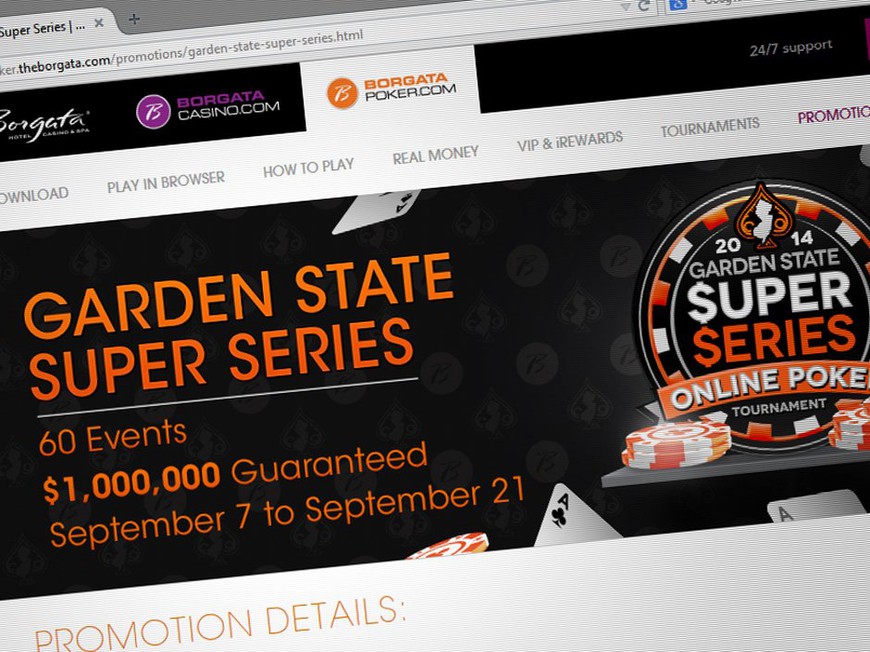 This Sunday, September 7, the largest ever tournament series in US regulated online poker history will commence—the Garden State Super Series (GSSS), hosted on New Jersey's largest online poker network, Borgata Poker and partypoker NJ.
The event is highly anticipated by players, who have praised the schedule for its breadth and ambition. More events, more poker variants, and a lot more guaranteed prize money than the last big series, NJCOP, held last spring.
The schedule has been called "SCOOP-like" in structure, as every event as three buy-in levels (SCOOP is PokerStars' big annual series, which popularized the three-tier approach). The format means everyone has something to play, regardless of their bankroll, and the close start times for the different buy-in levels means multitablers can enjoy two or three of the same style tournament in one evening.
The industry will certainly be watching closely—especially the expected next market entrant, PokerStars. The online poker behemoth will certainly be planning a big event splash soon after they launch (SCOOP New Jersey, anyone?), so the success or failure of GSSS will be an important measure.
Schedule
There are a total of sixty events—twenty different formats in three buy-in levels, low, medium and high.
The low events usually have a $5 buy-in, with a few $10 and $20 for Hold'em events. The mid-levels are in the $10-$50. High buy-ins range from $50 up to $200.
The Main Event, #11 comes half way through the series on Sunday, September 14. The mid-buy-in headline is a $200 tournament with a $100,000 guaranteed prize pool and $50k assured for first place.
The highroller version (event #12) has a $1k buy-in has a $50k guaranteed prize pool. The low tier event (event #10) is a $50 buy-in with a $25k guarantee.
Usually each tier is staggered 30 minutes apart. Most start times are 7pm for the lower tier, 7:30pm for the mid tier, and 8pm for the upper.
Below is the complete schedule of the sixty events arranged by event number with each buy-in level as columns. In parenthesis next to the buy-ins are the tournament guarantees. RB stands for rebuy, 6m is 6-max, A is add-on permitted, BTY is bounty).
Also check out the complete schedule posted by Borgata.com which also start times, plus dates for the scheduled satellites.
When
Game
Low
Medium
High
Sun, Sep 7
1

NLH

6m
$10 ($2,500)
$50 ($15,000)
$200 ($75,000)
2

NLH

$20 ($5,000)
$50 ($15,000)
$100 ($75,000)
Mon, Sep 8
3

PLO

6m RB
$5 ($1,000)
$20 ($5,000)
$50 ($20,000)
Tue, Sep 9
4

NLH

BTY

$5 ($1,000)
$20 ($5,000)
$100 ($15,000)
Wed, Sep 10
5

NLH

$5 ($1,000)
$20 ($5,000)
$100 ($20,000)
Thu, Sep 11
6

NLH

RB
$5 ($2,500)
$10 ($5,000)
$50 ($20,000)
7
7 Stud
$5 ($500)
$10 ($1,000)
$50 ($2,500)
8

PLO

8
$5 ($500)
$10 ($1,000)
$50 ($2,500)
Fri, Sep 12
9

NLH

6m
$5 ($1,000)
$20 ($5,000)
$100 ($20,000)
Sat, Sep 13
10

NLH

RB
$5 ($1,000)
$20 ($10,000)
$50 ($20,000)
Sun, Sep 14
11

NLH

Main Event
$50 ($25,000)
$200 ($200,000)
$1,000 ($50,000)
12

NLH

$50 ($15,000)
$100 ($30,000)
$500 ($50,000)
Mon, Sep 15
13

FLH

$10 ($1,500)
$50 ($5,000)
$100 ($10,000)
Tue, Sep 16
14

NLH

6m RB
$5 ($2,500)
$10 ($5,000)
$50 ($20,000)
Wed, Sep 17
15

NLH

$5 ($1,000)
$20 ($5,000)
$100 ($20,000)
Thu, Sep 18
16

NLH

RB
$5 ($2,500)
$10 ($5,000)
$50 ($20,000)
Fri, Sep 19
17

PLO

6m
$5 ($1,000)
$20 ($2,500)
$100 ($10,000)
Sat, Sep 20
18

NLH

RB+A
$5 ($1,000)
$20 ($10,000)
$50 ($20,000)
Sun, Sep 21
19

NLH

$50 ($10,000)
$100 ($20,000)
$200 ($75,000)
20

NLH

6m
$50 ($10,000)
$100 ($20,000)
$500 ($50,000)
More Ambitious than
NJCOP
The series builds on the last tournament series from the network, NJCOP—an online poker series held last April that included 15 events and $600,000 guaranteed.
The series was considered a success although criticisms that the schedule was unambitious were justified when nearly all guarantees were met and many were smashed.
GSSS is certainly more ambitious. Almost double the guarantees and many more events, including niche games like 7 Card Stud and PLO8, and higher stakes tournaments, are represented.
The main event with a $200,000 guarantee is the same as the Main of NJCOP. However, it was this event event back in April that failed to make its gauarantee—it fell 17.5% ($35,000) short—so trying to match this again alongside many other high buy-in tournaments is ambitious in itself.
Software Upgrades
Just in time for GSSS, Borgata and partypoker have pushed out a big upgrade to the client, with many changes focused on the tournament experience. Major updates include:
Players can now choose to auto-rebuy and add-on for tournaments that allow it. Players can also opt to use tournament tickets by default.
A new side panel in the main lobby under the "tournaments" tab shows details of the selected tournament, including start time, number of current entrants, late registration details, and more.
Icons in the tournament list identify satellites.
The tournament ticket system has been overhauled.
You can see some screenshots of the new lobby changes over on OPR.
Cage Deposits and Withdrawals
Both Borgata and partypoker NJ are promoting an existing facility—the ability to both deposit and withdraw from either your Borgata and partypoker online accounts from the cage in the Borgata brick-and-mortar casino in New Jersey.
This facility is obviously useful for quick deposits, but with big online tournaments, knowing that you can cash out a big score immediately from the cage—like the guaranteed minimum $50,000 for binking the main event—will reassure many hopefuls.