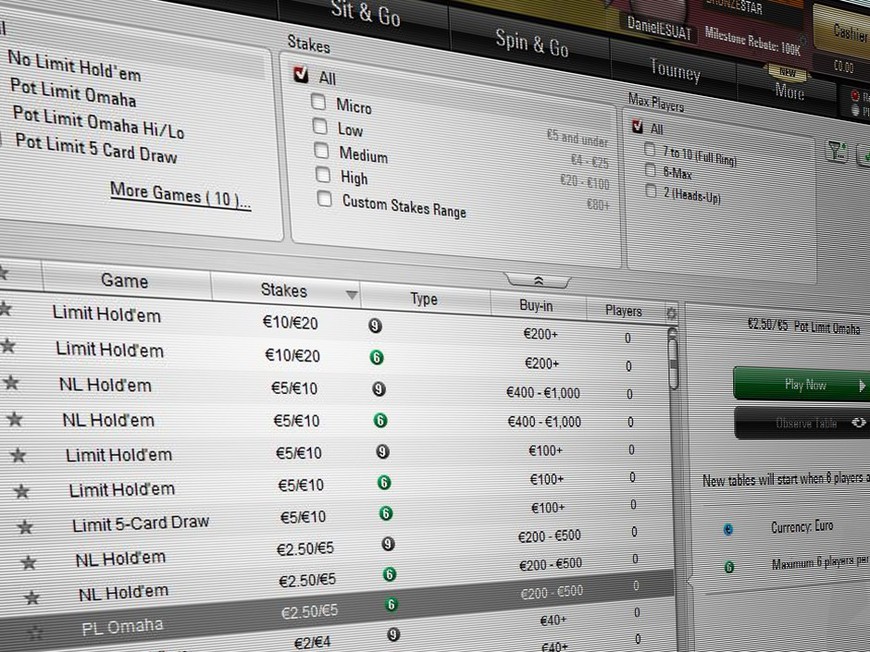 PokerStars has announced it will soon be trialing a new system called "Seat Me," which will remove the ability to choose a table and seat.
Initially the functionality will be trialed on PokerStars Spain; if the test is deemed a success, it will roll out to other markets.
Since the introduction of the PokerStars 7 client, the cash game lobby has offered three separate ways of viewing and choosing a table to play at. "Games View" lists every single table available; players can scan the tables, see who is sat at each, choose a seat at the table and join. "Group View" groups together every table of the same stake and game type, with a single "play now" button that automatically seats a player at the best table. A "Hybrid" view is a mash-up of the two.
Effectively, the new Seat Me system removes everything but "Group View." Players can pick a game type and stake, but have no control over which table they sit at. In that way, it mimics the experience of live poker, where players are added to a global wait list and are seated randomly whenever a space appears.
"Seat Me eliminates the ability of players to pick their tables and seats at the tables, and will instead get them straight into the action automatically once a game and stake has been chosen," explained Severin Rasset, Director of Poker Innovation and Operations for PokerStars in a company blog post.
As a result of the new lobby configuration, players will no longer be able to freely observe cash game tables. However, "rolling highlights of key hands" will be made available and play by Team PokerStars Pros will be featured.
The motivation for making the change is primarily two-fold. First, Rasset says, it "greatly reduces the ability to bumhunt"—that is, the practice of expert players seeking out and playing only against opposition deemed weaker. It also prevents "seating scripts," software that automates the process of finding and sitting a player in such "soft spots."
"With so many customers who trust our products, we have to be particularly vigilant against tools or strategies used to gain an unfair advantage," Rasset stated. "We also need to be able to ensure that we create enforceable and sustainable policies, making sure that players who do follow the rules are not at a disadvantage."
The Industry Shift
The changes come as no surprise; in fact, it is perhaps more surprising just how long it has taken PokerStars to implement the change.
PokerStars introduced sweeping reforms to its policy on third party tools back in 2015, restricting the functionality of software like third party tools. In the past PokerStars has shied away from banning automated seating scripts as it felt such a block was unenforceable, but the company stated explicitly that it was moving in the direction of more restrictions.
The announced "Seat Me" changes are part of a wider industry shift to clamp down on the effectiveness of other tools under the banner of "leveling the playing field"—a policy now adopted almost everywhere. If anything, PokerStars has been slow to respond to this overall industry trend.
Unibet launched its independent poker client almost three years ago, and that removed all forms of seat selection. The lobby was then a radical departure from what its competitors offered, with a very limited selection of changes and options. It was welcomed by players, and the company has successfully carved out its own niche in online poker.
Amaya's other poker brand Full Tilt implemented much the same "Seat Me" change back in July 2015 and similarly justified the change as mimicking the live poker experience. "This new system will ensure that your success is determined by your talent at the table, not your skill in choosing opponents," explained Full Tilt's Managing Director at the time.
Partypoker has done much the same via a series of changes over the last two years. In October 2015 the site removed individual wait lists on tables, which restricts the effectiveness of seating scripts. Phase 2 last September anonymized all hand histories and explicitly prohibited seating scripts.
More changes Ahead
The "Seat Me" changes are just one prong in PokerStars' goal of improving the experience of online poker for new players.
Another trial that is already underway in Spain is a change to the heads-up sit and go lobby that removes the possibility of seeing the names of opponents before starting the game. If the trial is successful, a similar feature will find its way to the heads up cash games and will roll out internationally.
The Seat Me system will also introduce potential time penalties—to "reduce game disruption caused by players constantly switching tables, stealing blinds or refusing to play certain opponents," it was explained.
These changes together may anger some of the high volume player base, who use table and seat selection to their benefit to gain advantages at the table; but to new and inexperienced players, it will certainly offer a simpler and more welcoming experience.
This article originally appeared on Poker Industry PRO and has been republished here as a courtesy to our readers. Please visit Poker Industry PRO for more information on the industry intelligence services that are available, or email sales@pokerindustrypro.com to get a free trial.