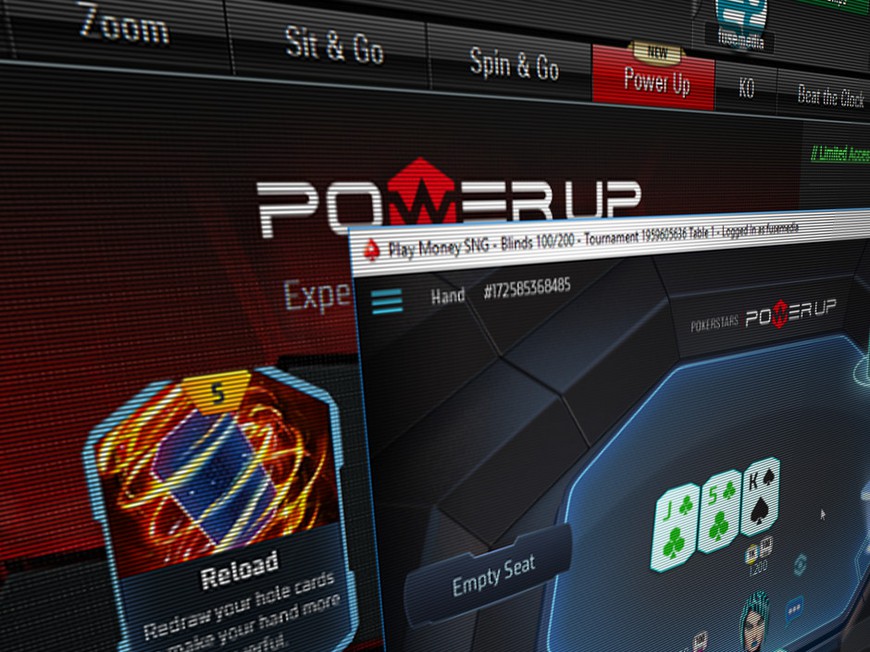 PokerStars Power Up, the company's ambitious new hybrid game that blends online poker with game design elements more common in esports titles like Hearthstone, was first revealed back in February. Things went quiet for six months until it unexpectedly winked into existence for a time-limited play money alpha test earlier this month.
According to PokerStars, during that time more than 150,000 games were played by more than 90,000 unique players. Twitch streamers streamed games and discussed strategy; players debated the format over social media; PokerStars responded to demand and added higher stakes play money games.
But two weeks into the test, as unexpectedly as the game appeared, the Alpha Test was pulled down. The company has heralded the test as a great success and is working hard to develop the product for new platforms—and roll out the game for real money.
Highly Polished
There is one thing anyone who participated in the alpha test would agree on—this game is polished. This is not some extra feature tacked onto the traditional poker client: This is a whole new game built within a game.
PokerStars has stated on more than one occasion that they have had to build a new game engine into the client for Power Up, and it shows. This is a poker experience designed from the ground up—there is a whole new aesthetic language at play here, with new sounds, animations, and flair fitting a fresh futuristic theme.
For an Alpha test, the game is surprisingly robust. Thoughtful touches like a slick tutorial that introduces players to the game's new concepts are already present, and we experienced no bugs during our extensive play tests.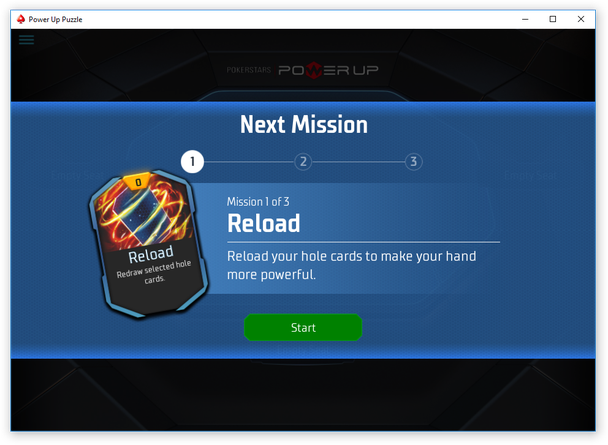 The design has depth, and the experience is immersive. Playing a board transformation card lights up the table and feels destructive and powerful. Peaking at an upcoming card with Scanner makes the player feel like a hacker. It is engaging and fun.
The futuristic design fits the game and helps transport the player away from the traditional online poker world—one filled with spreadsheet-like lobbies, HUD statistics, loyalty-point grinding and mass-tabling—into an entirely new world that feels more like a game of Netrunner than real money online poker.
And yet, in reality, the player is literally one tab away from traditional poker. Whatever one's opinions of the game, it is an impressive feat of engineering and user experience design.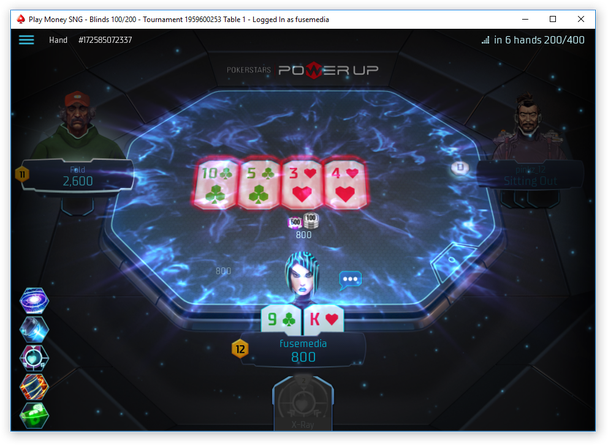 The eSports Experience
The core concept introduced in Power Up are the Power Cards—extra cards that a player can deploy that manipulate the board is some way. These can change your hole cards, peak at an upcoming card in the deck, even peek at an opponent's card or change the flop.
The idea behind such state manipulation is not new, and it has its roots in collectible card games like the table-top Magic: The Gathering and the huge digital hit Hearthstone. Both revolve around deck construction where choice cards are played to alter the game state in some way.
With the redesigned gaming interface of Power Up, other aspects from esports games have been copied. At the Power Up table, for example, there is no table chat box, a staple component of traditional online poker. In its place is "canned chat," where a player can choose from a set of stock phrases, like "mistake", "sorry" and "thanks". This seems like a direct descendant of the Hearthstone "emotes" system.
There is no dealer chat either—in its place is a "recent cards" area that, again, seems heavily inspired by Heathstone's historical view of recent card plays. The Avatars have also been replaced to fit the theme and give more personality.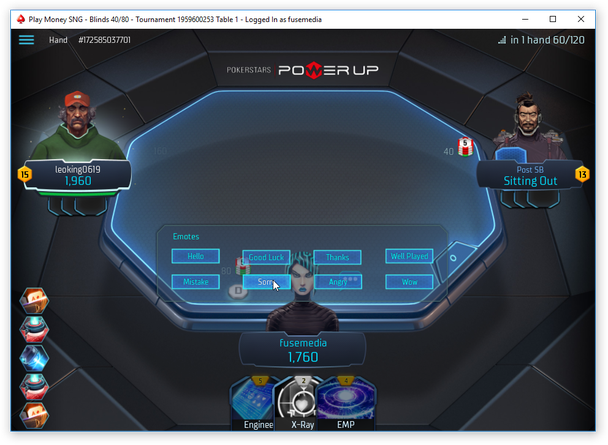 Other End of the Spectrum
Behind the veneer of slick graphics and smooth transitions is a game of considerable complexity and depth. The power cards are not a fun aside nor a distraction from poker; they introduce additional strategic layers onto the already complex game.
Already we are seeing new terms coined to describe Power Up—some new, some appropriated from the world of esports. There is card "dumping," ridding your hand of a specific power card to make way for "hand crafting"—the strategy of building a certain set of cards that "synergize" well together ("Engineer" to pick the next card on the deck then "Reload" to place that card in your hand, to give one trivial example). Then there is game "meta," to describe how players are currently valuing and synergizing their power cards and how to best "counter" their play.
As Power Up is spread in a tournament format, there is also added depth there too: Managing your mana (sorry, "energy") between hands is important, as is saving certain cards for specific spots. For example, some cards are more valuable in multi-way pots in the early game; others during shorter-stack play or heads up.
Even Severin Rasset, Director of Poker Innovation and Operations for PokerStars, dropped the term "OP"—an abbreviation for "over-powered, " a common term in digital card games used when newly introduced cards seem too strong for the cost—in a recent corporate blog post (according to Rasset, none of the current power cards were found to be "OP").
The game has even spawned its first dedicated website. PlayPowerUp.com is a news, community and strategy site launched by Alex Dreyfus' Mediarex, the parent company behind the Global Poker Index, Global Poker League and many other assets (one, curiously, is HoldemX, a competitor and precursor to Power Up).
In a nutshell, Power Up is the exact opposite of the current crop of new games from PokerStars. The last two years were dominated by the introduction of games like Spin & Go, Knockout, Beat the Clock and Bubble Rush—each one making games faster, lighter and simpler. Power Up is deeper, slower, more thoughtful and more skillful.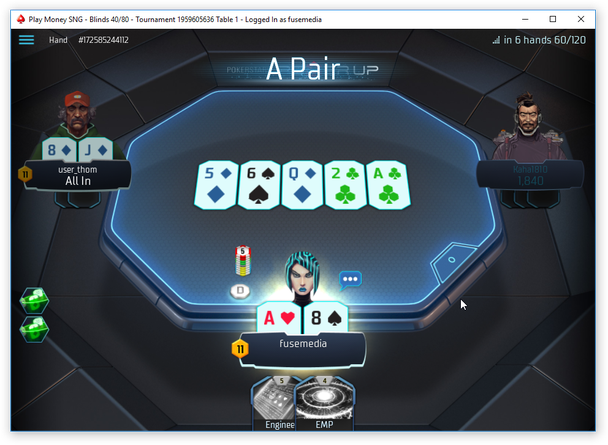 Real Money Play
One thing is clear: Power Up's future is real money gaming. This was hinted at when first revealed and given credence when Power Up went live with a "top tier" tab in the real money poker lobby (albeit for play chips only during the alpha test). But any lingering questions were put to bed earlier this month when Rasset blogged that "real money and mobile" were the next two major milestones.
"It should be fairly quiet through summer as we will be busy behind the scenes making the last tweaks on the game to have it 100% ready for the Real Money stage," he stated. "The interest of our players is there. It is something that we are delighted to see and it further reinforces the team's motivation to release the next phase and engage our players more, but this time in Real Money."
This takes PokerStars, Power Up, and the entire genre of esports games into entirely uncharted territory and brings to light two major questions.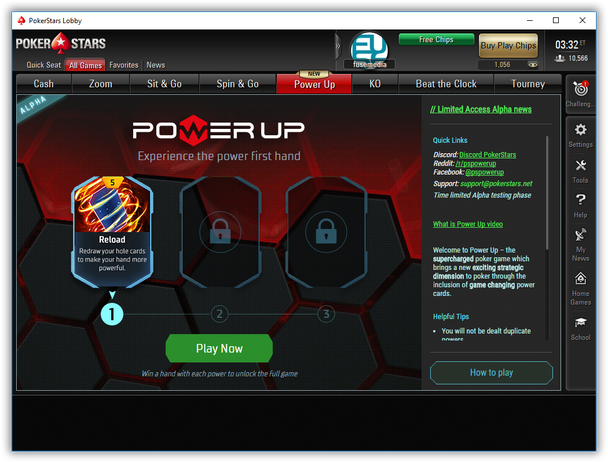 First is a question of regulation. Power Up is, in many regards, still poker—and this has always been one of its design goals. Chris Straghalis, Head of PokerStars' Product Team, recently stated that certain ideas for power cards like a two-card X-Ray (which would show you both hole cards of an opponent) were rejected early in the design phase because giving "perfect information" would remove one of the cornerstones of the poker experience.
Still, many of the world's gaming regulators may well not agree. The game introduces new gameplay and new randomization. It may well not fall within the definitions of poker in certain jurisdictions; even if it did, new testing and approval will probably be required. The fact that the Alpha game was not made available in the UK market, even for play money, could be a hint that this will be far from a frictionless deployment for RMG.
Presumably, PokerStars has on good authority exactly how it can proceed from a regulatory perspective; at one extreme, it could be classified as skill game under Malta's new licensing system that was borne out of the need for fantasy sports regulation, but it will be a major milestone for the industry when this hurdle is cleared.
The second unknown is how players will react to playing such a highly strategic game for real money. No other "esports" game has tried real money gaming; Hearthstone and its ilk are all free-to-play (or more cynically, pay-to-win), where the base game is free but players can buy upgrades, usually in the form of card packs.
Power Up would have been a natural fit for this model, and would have been successful as a free game to introduce the PokerStars brand and client to a new breed of customer, but PokerStars wants Power Up to sit alongside its other real money poker games.
That is a much tougher path to take, and no amount of free-play alpha testing will indicate how its players will respond. Real money Power Up could be a true turning point for the online poker industry, even the igaming industry as a whole; but its success in this model is far from assured.
This article originally appeared on Poker Industry PRO and has been republished here as a courtesy to our readers. Please visit Poker Industry PRO for more information on the industry intelligence services that are available, or email sales@pokerindustrypro.com to get a free trial.