Online Poker Industry Q3 2017 Scorecard
How did the world's largest online poker companies perform in the third quarter this year? Really rather well.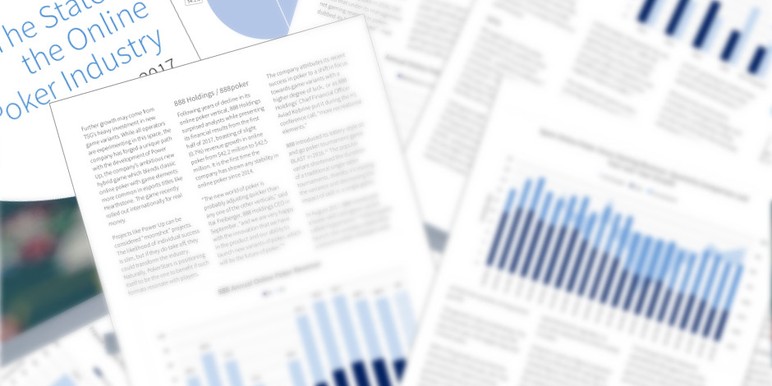 Third quarter financial results for the world's biggest companies in online poker show that the industry enjoying another impressive period of growth. Not only did all the major operators report either neutral or growing revenue year-over-year in online poker, but this comes off the back of strong performance among many operators in the first half of the year.
In Q3 2017, TSG and GVC both reported double-digit revenue growth. For GVC, our estimates of its third-quarter revenue, converted to USD, put it higher than 888 for the first time thanks to its booming product vertical which has grown some 45% this year.
Collectively, across TSG, GVC, 888 and Kindred, total real money online poker revenue reached an estimated $275.6 million last quarter, up 14.5% on the same quarter in 2016.
It can be easy to forget that mobile gaming giant Zynga generates so much revenue from its social poker product—where players can purchase play chips which have no real monetary value and cannot be withdrawn—that it is the envy of all but largest real money poker operator.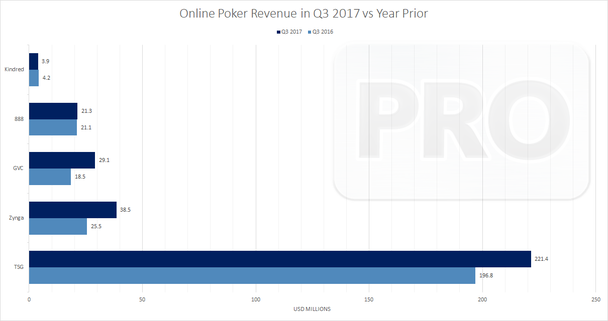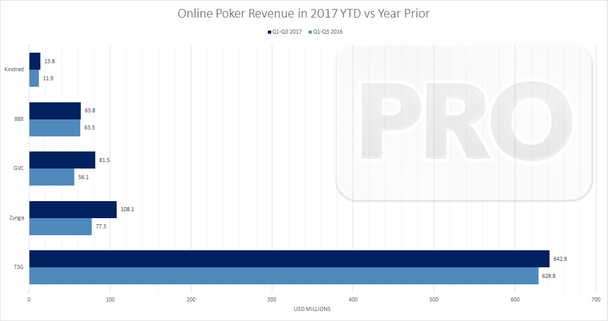 TSG
The parent company of PokerStars reported year-over-year growth of 12.5% in online poker revenue in Q3 2017. At $221.4 million, it is the highest quarter the group has reported in almost two years.
Year to date, the group's revenue is up 2.2%, putting it on course for its projected incremental gains in poker for the full year and well within the guidance range of approximately $1.3 billion in total group revenue for the year.
The group certainly benefited from currency fluctuations during this period; the group estimates that its player base of predominantly euro-depositing customers saw an increase in purchasing power on its mostly-USD denominated games by 4.2%. Still, even accounting for this, online poker revenue was up 7% year-over-year.
Notably, the total number of active poker players is flat year-over-year, meaning that TSG is making more money off the same number of players. Indeed, average customer yield across all verticals was $150 in Q3, a historical high and growth year-over-year of almost 19% (on constant currency, that's still an impressive 14%).
How has it managed that? Stars Rewards. There new rewards program not only is a direct cost saving to their net gaming revenue, but according to TSG execs, it is driving growth in gross gaming revenue too—the majority of players are getting back more than before, which is helping customer retention and leading to increased play. Read PRO's in-depth feature to understand more.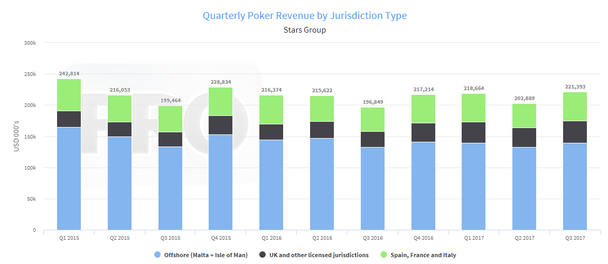 Zynga
Total gaming revenue from its social poker title Zynga Poker is estimated at $38.5 million in Q3 2017, growth of more than 50% year-over-year.
Year to date, it has generated well over $100 million from selling chips that have no monetary value—more than the likes of GVC and 888 collected in rake from its real money tables during the same period. While that has been the case for a while, it is still something of a staggering statistic that deserves pause.
Zynga's revenue is becoming increasingly concentrated: Poker is now larger than any other single product, and that share is growing—in Q3 2017, it represented 22% of the group's total gaming revenue, up from 19% a year ago.
Only one other game—CSR Racing, at 14%—is above the 10% reporting threshold. By gaming franchise, poker is second only to "slots," which represents a family of different social titles. Zynga Poker, just a single product, remains the shining star in its portfolio.
Indeed, while online poker operators have been scrambling to implement some of the features more common in social poker titles like Zynga, Zynga itself seems to be taking a leaf or two out of RMG playbook. Its major new features highlighted this year that drove engagement—dubbed "bold beats" by Zynga—were "challenges" and "leagues." Challenges and achievements are now commonplace in real money poker; leagues sounds directly inspired by PokerStars' Home Games.
Three years ago, the company tried to "reimagine" its poker client, moving away from a traditional online poker experience to a design aesthetic more akin to other social titles, with a cartoonish players and interface. It lead to player revolt and Zynga relaunched the old client as "classic" to appease players. The classic version still exists today.
Presumably encouraged by the surprising buoyancy of poker, the company recently splashed out a cool $100 million on just the social game games division of Turkish app developer Peak Games so as to acquire the likes of Gin Rummy Plus, Spades Plus and Okey Plus, all leaders in their categories.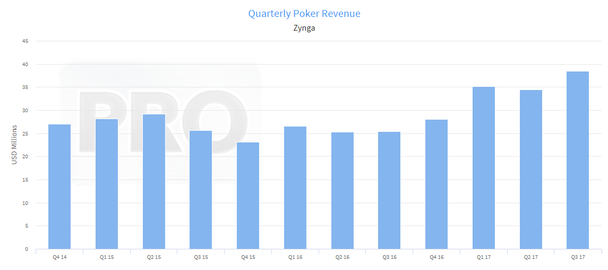 GVC
In its third-quarter trading update in October, GVC reported that net gaming revenue in online poker was up 48% year over year. It comes off the back of reported 32% growth in the first half of the year.
GVC does not break out its online poker numbers in financial reports. However, estimations compiled by PRO in our recent industry report, based on historical reported figures prior to the GVC acquisition and subsequent public statements from its executives, we estimate the group's revenue year-to-date in 2017 to be approximately €68.6 million, or $81.5 million at current exchange rates.
That's particularly notable because it would make revenue from online poker at GVC larger than that of 888 for the first time. Its growth rate also makes it the fastest growing top-tier online poker operator in the industry.
While these figures are based on statements from company executives, other metrics suggest a similar growth rate. Its cash game traffic is growing while others are shrinking, recently hitting a two-year high and now running almost as many cash games as 888; its Powerfest series now rivals all but PokerStars' biggest annual events; and its Sunday Major is now the second largest on the weekly schedule.
888
While not to the levels of the competition, 888 surprised investors in September when it reported slight growth year-over-year in its online poker vertical.
The company touted its investment into new game formats, including "rng-based" games like Blast, as helping to grow online poker 0.7% in H1 2017, to $42.5 million. While there has been no interim update in Q3 from 888, its cash game traffic indicates that this stability has extended itself into the second half of the year.
Still, online poker as a share of group revenue continues to shrink. In H1 888's revenue from casino grew 5% to $146 million, and its sports book, still a relatively new addition, soared 35% to $33.7 million. It is likely to overtake online poker as the group's second largest gaming vertical by 2018.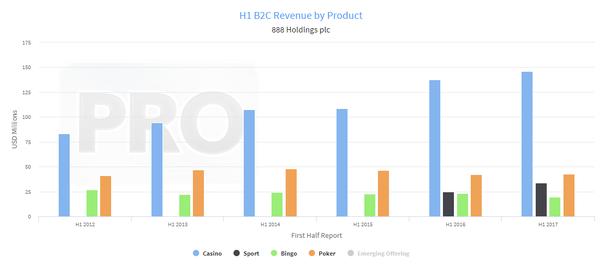 Kindred
Kindred reported a surprising drop in its online poker revenue last quarter. At a reported £3 million, it marks a 6.7% drop on the £3.2 million from Q3 2016, and ends a one-and-a-half year streak where online poker had grown double digits every quarter.
Still, year to date the situation is still quite rosy for Kindred's Unibet poker platform. At £10.6 million generated in net gaming revenue to date, it has already performed better than full year revenues in 2014 and 2015. Even if the weakness in Q3 extends into the last quarter, the company will still be able to boast of generating a five-year high in online poker.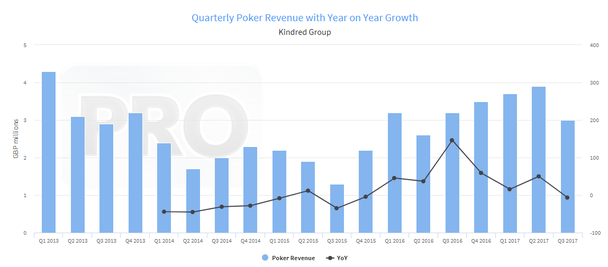 This article originally appeared on Poker Industry PRO and has been republished here as a courtesy to our readers. Please visit Poker Industry PRO for more information on the industry intelligence services that are available, or email [email protected] to get a free trial.