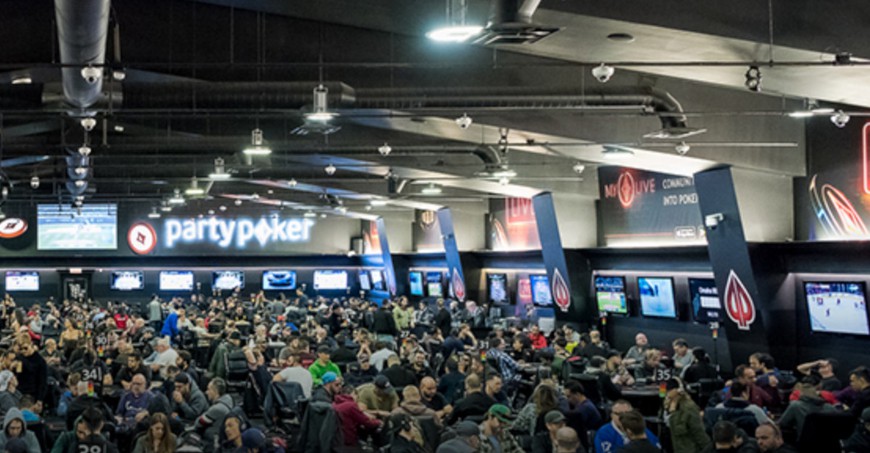 This is an excerpt from Poker Industry PRO's recently published The State of the Online Poker Industry: Summer 2018, our twice-annual snapshot of the industry. It covers key developments over the last six months, upcoming changes and trends expected over the remainder of the year and an in-depth analysis of online poker performance at the world's largest online gaming companies.
In this excerpt, two key industry trends are identified: The expansion of live poker tours among igaming operators and the continued growth of major online poker series. To read the full section on industry trends and developments identified in 2018, please contact us for your copy of the full report.
---
Live Tour Expansion
The last year has seen continued investment in live poker. In recent months, the aggressive push by partypoker of its live tour may be one of the most ambitious expansions ever seen, and the company can point to multiple successes. This has prompted PokerStars, a giant in the live poker industry that has seen some of its prominence erode in the last two years, to make some significant changes to its approach, signaling its own fresh investment to regain market share.
Partypoker's focus on live poker started over a year ago and was highlighted in PRO's State of the Online Poker Industry in October 2017 as one of the key industry trends of the year. The push has only intensified in the last six months. At the end of 2017, partypoker stated that it would guarantee at least $100 million in total prize money for 2018, announcing its biggest events yet under its flagship "MILLIONS" brand. The total guarantee has since been revised upward to at least $150 million.
A highlight so far in 2018 has been the record-setting Grand Finale in Barcelona in April which was billed as the biggest in Europe, promising €23 million in total prize money. Despite a rather audacious schedule, it was a success with all events bar one exceeding their guarantees. The company now looks ahead to Millions World, a new $10 million tournament that will take place at a new resort in the Bahamas as part of its Caribbean Poker Party.
PokerStars is certainly not letting this investment go unchallenged. With hindsight, the 2017 decision to scrap some of its biggest live tour brands—most notably, the European Poker Tour and PokerStars Caribbean Adventure, each with more than a decade of heritage and player goodwill behind them—was a blunder. As noted in the last report, PokerStars started correcting course last year, relaunching the PCA brand. It later announced that the EPT would also return in 2018.
But PokerStars is doing more than just reverting to its previous strategy. The PokerStars Players No Limit Hold'em Championship (PSPC) is set to be a landmark poker tournament. The $25,000 buy-in event will be one of the largest in history, with the operator in the midst of giving away over 300 packages throughout the year and adding $1 million to the first-place prize. A total prize pool exceeding $20 million is possible.
Online Poker Tournament Growth
As predicted in the last report, the surge in large online tournament series observed in spring and autumn of 2017 has continued into 2018.
PokerStars announced a record-setting $65 million schedule for its Spring Championship of Online Poker (SCOOP). It is an increase of $10 million on the 2017 series and $5 million more than the guarantees of last autumn's WCOOP. And as expected, PokerStars easily covered these guarantees, paying out over $90 million for the third year running. Presuming the appetite for online poker tournaments remains strong, the operator has many years of incremental growth ahead for which it will be able to reiterate the claim of holding the "biggest ever" tournament series.
The company has been ambitious elsewhere: It introduced a new High Rollers series which exceeded expectations and will now return at regular intervals throughout the year. Winter Series was an unexpected hit, and its annual turbo series got a facelift. In segregated markets, the operator made a splash with its new shared European player pool and still runs the largest tournament series in US regulated markets.
Partypoker started the year with a surprisingly low-key Powerfest, but concerns that the operator was changing strategy with more modest schedules were soon put to rest with the announcement of its spring festival that boasted a $40 million total prize pool. Not only was this the largest series ever run by partypoker, but for the first time it had constructed a schedule that went toe-to-toe with PokerStars in terms of headline guarantees. In total it paid out over $50 million.
Indeed, this series is just part of partypoker's plan to run a big-ticket MTT series almost every month throughout 2018. The highlight will be the ultra-ambitious MILLIONS Online, scheduled for December. The company has promised a prize pool guarantee of $20 million, making it by far the largest single online poker tournament ever held.
Other operators are also in the mix. Winamax's flagship Series, now on its 21st edition, can still boast of being the largest in the segregated European markets, and this should only grow when it moves into Spain and Portugal. Unibet has launched its online tournament series for the first time since opening its independent poker platform four years ago.
888's XL Championship series has taken a different path than the competition. After its largest ever festival in September, it opted for a much more focused series in January and May. It slashed the total number of events from nearly 200 to just 34 and the total guaranteed across each festival dropped from over $9 million to under $3 million. For now, 888 appears content to let PokerStars and partypoker—now a clear second in the market by all metrics bar cash game traffic—duke it out.