Blurring the Boundaries: Rocketfrog Launches Poker with Prizes on Facebook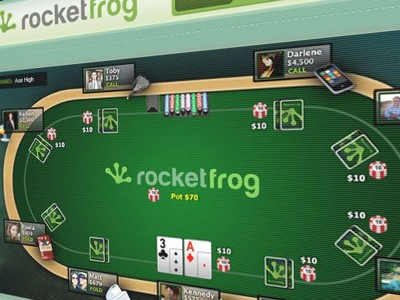 RocketFrog has launched a poker and casino application on Facebook that awards real prizes. Advertisers sponsor poker tournaments and put up rewards such as gift cards to create a prize pool. There is no entry fee to play: aAl tournaments are free.
RocketFrog is following in the footsteps of Zynga Poker, the most successful gaming site on Facebook with $292.8m of online gaming revenue reported in the first three months of 2012. 28 million people globally play Zynga Poker monthly and they do so even though there are no real prizes on offer. RocketFrog's business model is designed to induce even more people to play.
According to RocketFrog CEO Brett Calapp, the site appeals to players "who could not fathom the idea of playing for nothing, but are ecstatic about the opportunity to play for gift cards from top brands, new albums from their favorite artists or a ticket to the movies."
Sponsors are offered the opportunity to take sponsorship of the site for a whole day. Advertising and product placement then spreads across poker, blackjack and slots games, immersing the user in the sponsor's brand.
MySpace founder Tom Anderson has joined the advisory board, as has "celebrity poker player" Brody Jenner who has put some of his own money into the company. Brody is more known as a TV celebrity—he dated a Playboy Playmate of the Year—than his poker achievements.
Social network poker is not likely to replace real money poker and is currently not a convincing competitor to sites like PokerStars. Celebrity endorsements like Brody's are more valuable to the social network business model than they would be to true online poker.
However, the boundary between the two is being blurred by RocketFrog's strategy. It seems likely that real money poker sites will benefit as the broader market targeted by RocketFrog develops a genuine interest in the game. At that point a proportion of players who have found success will head for the established real money sites and bolster the ranks of new players.
The threat, if one exists, to the current real money market leaders will come if the social gaming sites are able to channel their successful players into real money sites that they control. In the absence of federal legislation in the USA the prospect of this happening is not imminent, but if the situation changes, the competitive landscape of online poker could change rapidly.