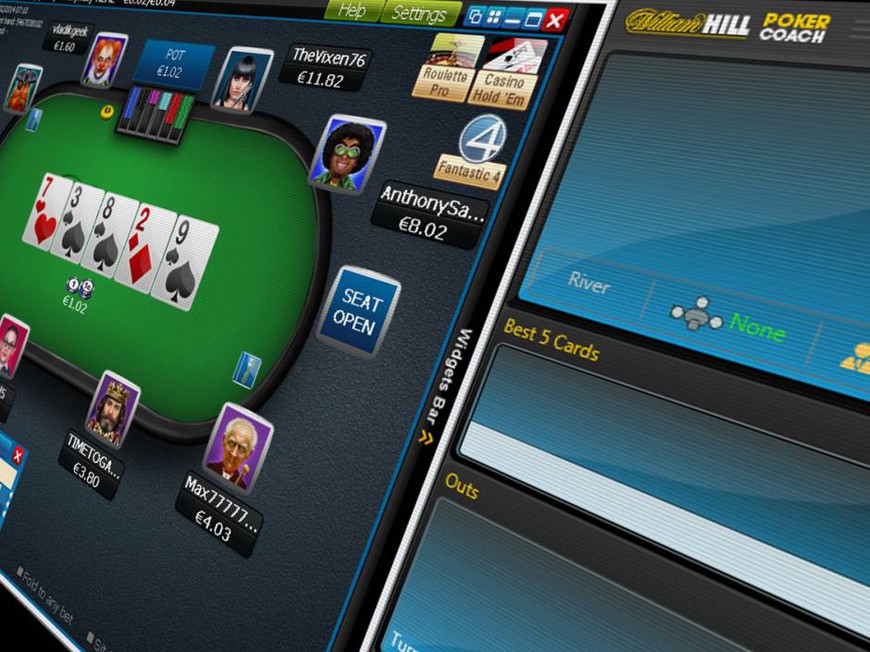 Last month William Hill, one of the top-tier brands on the iPoker network, launched Poker Coach, an odds calculator and simple HUD, free for its players.
Poker Coach is a stripped down version of Magic Hold'em, a commercial odds calculator and HUD. William Hill have rebranded the product, and is now offering it as a free download for all. The product strips away the pre- and post-game study features present in Magic Hold'em, including the results tracking, the "poker school" section and a leak tracker.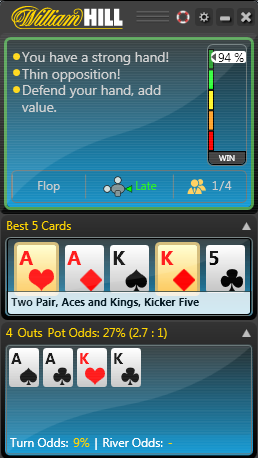 What remains is a simple HUD and odds calculator. The software has been rebranded to William Hill's color scheme, and locked down to only attach to the WillHill iPoker client.
In-game help tells you your relative hand strength, the best possible hand, the number of outs to improve, and gives direct advice about how the hand should be played (but steers clear of telling you what action to take).
The software supports hold'em games only, but works for cash, SNGs and tournaments. If playing a tourney, the HUD will display the hero's "M-zone."
The built-in HUD is an ultra-simplified overlay with pre-flop statistics only: VPIP (voluntarily put money in the pot), PF (preflop raise), and AF (aggression factor). The display is automatic and non-customizable.
Magic Holdem was originally released in 2009 as an odds calculator focused on the recreational and low volume player market. In 2013 the product had something of a relaunch and rebranding: The featureset expanded with an overlay HUD and more extensive pre-session study tools and post-game analysis. Tony "G" Guoga lent his endorsement to the product, and a "strategic partner" with PokerNews generated increased exposure.
In late 2013, Magic Hold'em struck deals with poker rooms directly. It announced partnerships with three iPoker skins—William Hill, Poker770 and Everest Poker—to offer a branded version of its software. Poker770 also quietly debuted its branded odds calculator under the name "Coach770" recently.
Unlike mainstay tracking solutions like Hold'em Manager and Poker Tracker which offer heavy-duty analytics using enterprise-grade databases, products like Magic Hold'em focus instead on simple setup and ease of use. The product is similar in approach to Hold'em Indicator and Poker Spy.
Magic Hold'em supports all major online poker networks. It was initially on PokerStars' "prohibited" list for its in-game advice, which would explicitly tell a player what action they should take. In May 2010, the developers removed the offending feature, and it was added to PokerStars' acceptable software list, where it remains today.
The marriage of poker room and third party software is not new. In a similar vein, Merge skin Carbon Poker offers "Poker Odds Calculator"—a rebranded version of Hold'em Indicator, a direct competitor of Magic Hold'em.