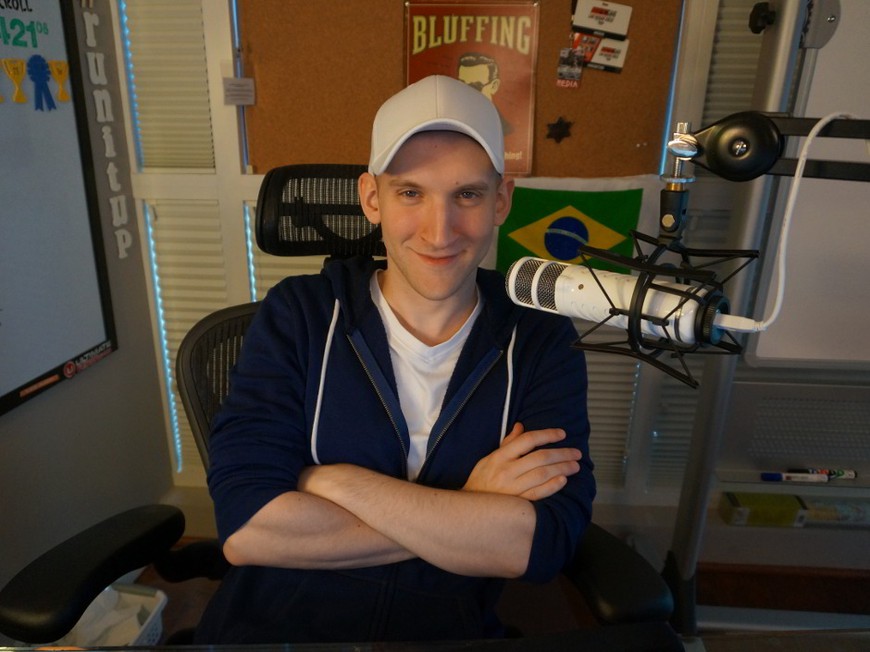 Pro poker player Jason Somerville burst on the poker scene in 2009 with two six-figure scores at the World Series of Poker. He followed that up at the 2010 WSOP with two larger six-figure scores and won his first WSOP bracelet in 2011.
In all, his live tournament winnings exceed $2.5 million, but perhaps Valentine's Day 2012 is the day Jason had the biggest impact on the game of poker: The day he nervously hit the publish button on a blog post that would change his life and the perception many people within the poker industry would have of themselves.
"Life isn't really all that long and I'm very happy to be able to spend the rest of mine without being worried about what others will think, and I think that confidence has been key to my recent successes."Jason's honesty and courage in that post was just the start of the positive influence he has had on the poker world. From his light-hearted attitude with his students and fans to his hard-working approach for his sponsor, Jason Somervillie has become an ambassador for the game that of which poker players can be truly proud.
Jason took some time out of his busy schedule to answer our questions and give us some insight into his journey.
It's been two years since you came out, have you noticed any differences in the way people have treated you this last year as compared to the first?
I don't really think so. To be honest, my concerns and anxieties about how people's interactions with me would change turned out to be almost entirely theoretical. I've had a few awkward and even difficult exchanges, but almost none of those have been with people I personally knew. Most people don't care (which is how it ideally should be, in my opinion) or have positive things to say, and I think anyone who knew me can see how much happier I am now than I ever was when I was closeted.
The response of the poker world seemed very positive and supportive after your announcement, have any of your personal relationships suffered as a consequence of you coming out?
Not at all. In fact, almost every single person that I ever came out to personally I became closer with as a result of it and the public blog entry drew almost zero negative feedback despite the thousands of messages I received after posting. It may be slightly incorrect to say so, but I believe most of my friendships really only began after I came out. Being closeted didn't merely repress my sexuality – it shaped my interactions with people, what I'd say, what I'd share… my entire personality suffered from that suppression. Being free of all that actually allowed me to connect and share with people wholeheartedly for the first time ever, really. I suppose you could say people have had to suffer by listening to me talk a whole lot more than I used to!
You began the conclusion of your blog post with the statement, "I'm not planning on being much different." Has that held true?
You know, I believed that at the time. For years, I kept myself trapped in a self-built cage of anxiety and pressures, so fearful of what others would think and all that nonsense. I look back now on my coming out two years ago as my escape from that burden, and man, what a burden it was. Carrying that around shaped my life and personality in ways I never even perceived at the time.
Life isn't really all that long and I'm very happy to be able to spend the rest of mine without being worried about what others will think, and I think that confidence has been key to my recent successes. It's remarkably easy to take a shot at doing an on-camera impression after you've bared your deepest secret to the universe and had it reply, "well, that's alright with us."
You have over 13k subscribers to your YouTube channel and you are approaching your 100th episode of Run it UP, tell us what
RIU

is all about and what you think helped cultivate its popularity.

"I'm one part poker pro, one part content contributor, one part consultant… and there's probably a few other parts in there too, ha."

Run it UP started out in July of last year as a simple bankroll challenge—I started with $50 and set out to turn that $50 into $10,000 while sharing almost all my sessions on YouTube.

Over the last eight months, RIU grew from what was originally a fairly traditional poker training series into an actual "show"—a blend of learning and entertainment, with both being equally important ingredients. My bottom line goal for every show I do is to have fun. No matter if it's an interview or a live stream or a cash game, I set out to entertain whilst playing or discussing poker on a relatively high level, and I think that that "have fun but crush them" attitude has resonated with viewers.
For those that might not have caught all the episodes of
RIU

or are new to the show, what single episode would you recommend they watch and why?

That's a tough one! I think I'd recommend a video from earlier this week, a MTT review played by a fan. It's a briskly paced episode with a good mix of entertainment and education.

I like to create a variety of videos, though, so I feel like my channel has got something to offer to any poker fan. I was particularly happy with how my recent interview with Danielle "dmoongirl" Andersen turned out. I'd never done any sort of interviewing prior to Run it UP and I feel like I've already improved so much from my first few interviews months ago. I've really enjoyed taking on the challenge of being a better broadcaster and I still have so far I can go.
What are your responsibilities as part of your agreement with Ultimate Poker?
I'm one part poker pro, one part content contributor, one part consultant… and there's probably a few other parts in there too, ha. I wasn't quite sure what my role would entail when we started, but I set out to be a hardworking team player and to help wherever I could and I think I've done a pretty good job of that!
I'm so appreciative of Ultimate Poker for allowing me the opportunity to meet so many amazing people and to have been able to do so many incredibly cool things as part of the family. I've never learned as much as I have during my tenure with Ultimate Poker and every single day I wake up eager to face the challenges of the day and every single night I go to bed feeling exhausted but fulfilled. That's a hard thing to beat, and I owe that all to Joe Versaci and Tom Breitling for taking a chance on me 9 months ago.
UP looks like such a good fit for you since you are a notoriously massive UFC/
MMA

fan. Recently you started doing a stats based online pre show for the

UFC

, sponsored by UP. Talk to us about how that came about and what are your hopes for it?

I've been a UFC fan for almost the same amount of time that I've been a poker fan, almost ten years now. In that time, I've rarely missed a press conference, nevermind a fight.

We'd been looking for a way at Ultimate Poker to bring ourselves closer to the UFC, our sister organization, and one of the ideas we came up with was to do a statistics-oriented pre-fight show. Much like poker, I consume a massive amount of MMA content and felt like as a viewer, there really wasn't much out there that backed up predictions with concrete numerical evidence. We pitched the idea around, incorporated input from everyone up to Dana White himself, and made it happen!

"Things clearly aren't great right now for much of the country, but I'm optimistic that the poker industry in the USA has got its best years ahead."The UFC 169 show was just the pilot—they'll only get better and better from here. We've got some plans in the works, but it'd be an honor to create video content for any of the UFC platforms. It'd be a dream to eventually be able to present our data on something like Fox Sports 1 for UFC Tonight. We'll see!
You helped coach Russell Thomas for his stint at the Main Event Final Table, are you still coaching/offering coaching?
I don't think I've coached one-on-one since the three months with Russ, actually. I enjoy teaching a great deal and channel that energy into answering Run it UP fan questions on hands and such on the show or on my Facebook, which has become a fairly busy hub for hand-sharing and discussion for our Run it UP community.
What is your opinion of the state of online poker in the US and poker in general?
Things clearly aren't great right now for much of the country, but I'm optimistic that the poker industry in the USA has got its best years ahead.
One of the best things about working with UltimatePoker is that I feel like I'm at the front lines of the battle to bring back online poker to the USA, and I think we're finally feeling the tide turning in our favor. I think the states are realizing that the choice isn't between "online gaming" and "no online gaming" but instead a choice between "taxed, regulated online gaming" and "untaxed, offshore online gaming."
I'm confident we'll see more and more states come on board over the next few years—the economic stakes will just be too high for the government to stop people from playing a card game on their computers.
What are your poker goals for 2014?
I'm not really sure! Poker has allowed me the privilege of being able to follow my passions wherever they may take me, and for now, they've led me away from the poker circuit. I love broadcasting, have enjoyed developing business interests, building the Run it UP community, learning about production, and I think those passions are more likely to take center stage for me than poker in 2014.
That being said, much like I said two years ago, I'm a poker player, bottom line, and that's what I'll always identify as at heart. For 2014 though I expect most of my poker playing will be done on YouTube as I try my best to run it up to our $10,000 goal.