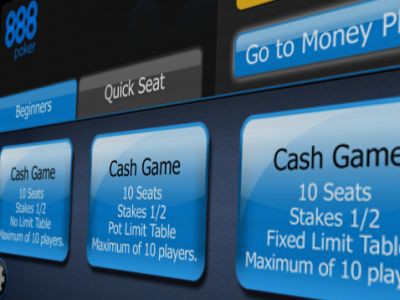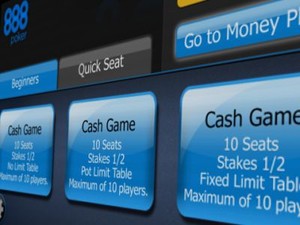 888poker has quietly debuted a beta of its new Android mobile client to social media followers through Facebook and Google+, marking the poker room's first step into the increasingly popular mobile space.
The native Android application, available for phones and tablets, is a simple version of its desktop client. Players will be familiar with the design and tables, but do not expect any advanced features here – the application has been stripped down the bare-bones, providing only the essentials to get you up and playing online poker.
Although the player pool is shared with the main network, there is no lobby table lists to speak of – only the "beginners" and "quick seat" features are available, either for play chips or real money. Texas hold'em is currently the only game available, and only ring cash games can be played – there is no MTT or SNG support.
---
Screenshots taken from a Samsung Galaxy Tab 10.1. Click for large.
Beginners tables are specifically designated nanostakes cash games, with only three choices available – 1c/2c up to 3c/6c games at either 6-max or full ring NL tables.
Quick seating works just like the main client, where you are instantly taken to an available seat at the designated stakes. No limit, pot limit or fixed limit variants are available but at at the moment – and this may be a temporary restriction for the beta test – the stakes available have been limited, and seemingly arbitrarily: A maximum of NL200 for 6 max, NL50 for full ring, $3/6 for LHE 6max and $5/10 for LHE ring.
The tables themselves are simplified versions of the desktop client, with big action buttons and a large slider on the right for setting bet amounts. Things can be a little fiddly setting buyin amounts, but otherwise it is fast and functional. Table chat is available – although it is a bit tricky to use – but beyond that, you have basic post blind/sit out functionality and that is about it.
Most of the advanced features from the lobby have also been removed – don't expect to find anything like multi-tabling capacity, note taking, find a player feature, or hand replayer. The cashier opens up a web browser to the main 888.com website. Things really have been reduced to the bare minimum, but perhaps that's not such a bad thing: on a phone, a player get can up and playing poker in just a couple of clicks.
The only thing I really found myself missing was a way to log out – quite important with real money accounts given the persistent nature of apps on the Android. Given the nature of hand-held, on-the-go, devices, it's understandable that tournaments are not included, although it seems a missed opportunity not to include 888's new "webcam tables," given that most Android phones include front-facing cameras.
Phone and tablet users interested in giving the real money poker app a spin can download it directly by going to http://888poker.com/androidapp/ on their device.