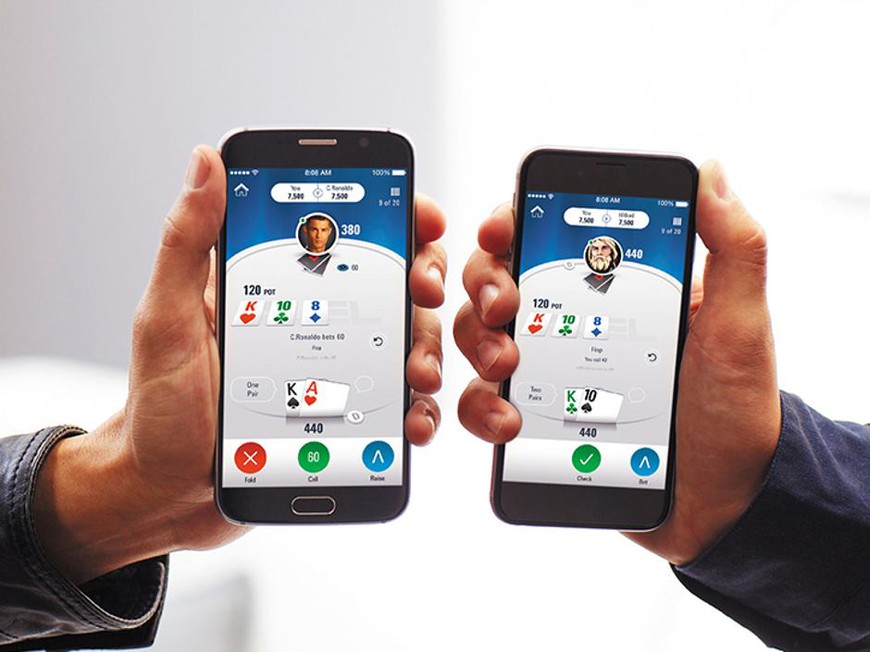 The latest innovation in online poker, Duel By PokerStars, was recently released in Norway for beta testing. It will roll out to more countries soon.
I had a chance to test out the game myself last month at the PokerStars Caribbean Adventure where I played against Chris Straghalis, the Associate Director of Poker Products and Innovation at PokerStars, with a little bit of end game advice from PokerStars Mind Sports Ambassador Jen Shahade. As I understand it, Chis was quite instrumental in the games development.
Having only played the game that one day, I will do my best to explain how it works. Some details may not be spot on, and it is possible the game has been tweaked since, but for the most part, this is how it is played.
Inviting Players on Duel
Players are allowed to invite others to play with them in a heads up No Limit Hold' em match. Invites can be delivered via text message, social media, or in app through the Friends list.
Players can also send invites to a list of recent opponents they have played with at the PokerStars tables.
When asked, a representative from PokerStars indicated that the company is taking measures to limit potential abuse of the Friends feature and prevent predatory behavior. A cap of 100 Friends was in place at the time.
Real Money vs. Play Chips
Duel By PokerStars is designed to be played for real money or for play chips. Play money matches consist of ten hands with 15 big blind starting stacks on each hand. Real money matches consist of 20 hands per match and 25 big blinds stacks.
At the time of the demonstration, the range of stakes planned for the real money games had not been finalized. We could only play the play chips version in the Bahamas, so I will use that as the example.
Game Play
Each player receives the button for five of the ten hands, and those are the hands you act on first, deciding to raise, fold or call, just like you would in a normal heads up game.
Unlike a typical online poker game, and in an effort to make the game more user-friendly to recreational players, the Fold button is removed when you can check instead, or when a hand is checked to you.
With each decision that you make, your opponent is notified that it is their turn to act in a hand. If they haven't started playing by the time you have made all five decisions, they could have up to 10 hands to act on when the open the app (less if you fold some hands preflop).
The match continues with each of the 10 hands played in order until they are all completed. Some hands may be over, with others still in progress, but with the swipe of you thumb you can see an overview of how many chips you have won or lost in each hand, and how many hands (and by extension how many chips) are still in play.
At the time of the demonstration, the timer for each match to complete was set at four days, at which point, the absent player's hands would be checked down or folded. It is possible the maximum match duration may be adjusted as a result of the additional testing in Norway.
One of the big strategic aspects of how the game was designed to play out involves the handling of all in situations. When a player is all in and called, that hand is frozen until the end of the match. This is done to limit the influence of that hand on the rest of the match. If a player were to know that he/she had won a big all in pot early on in the match, they could then just fold the remainder of the hands, losing a minimal amount of chips and locking up a victory in the match.
Like all of the games at PokerStars, hand histories will be available upon request. Some player statistics for Duel, including the total number of hands won, will be displayed publicly along with social gaming components such as badges and stars earned.
PokerStars hopes Duel will reach a new subset of players that will also explore its other online gaming offers. For this reason, the ability to download the traditional PokerStars app has been included right inside of the Duel app.
PokerStars also sees the new app as a better way to give more players the chance to play with their favorite PokerStars Pros. Because of the turn-based format that is not played in real time, sponsored pros and ambassadors will be able to interact with more people more often as the barrier to scheduling is removed.