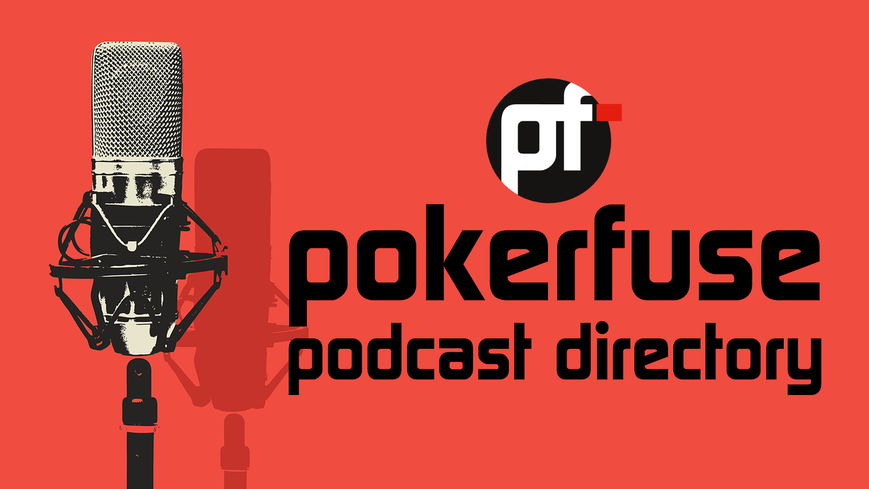 Steve Albini On Winning Bracelet #2,
WSOP

Stories Thus Far –

DAT

Poker Pod Episode #125

Terrence and Ross are back to catch you up on all things Vegas Summer/WSOP!   0:10 Intros, Catching up, Missing DNegs and Adam 1:00 Terrence's WSOP Trip 3:15 covid sweeps the WSOP 9:10 With the market down and covid, the series is still booming! 12:05 Super Producer Steve Albini joins the show after winning his 2nd bracelet! 18:00 The famous Chicago home game, notable players and fun variants. 34:00 The comeback to winning the tournament 49:15 Steve breaks the bracelet right after receiving it 51:30 The rest of his series plans, more strategy chatter 1:02:30 Catching up on the news, extreme tanking, cheaters getting called out, Scott Seiver fires 43 bullets, Neymar arrives!   Follow @DatPokerPod on Instagram datpokerpod (at) gmail (dot) com Intro/Outro Music By: https://twitter.com/murphchops

View the complete archives of DAT Poker Podcast in the directory →
---
53 – Andy Schectman: Silver is Wealth
Andy Schectman from Miles Franklin precious metals shares his wisdom about the current state of the world economy, how to protect against inflation and the dollar using its world reserve currency status. #Gold #Silver #Platinum #Palladium Follow us on Social Media! Facebook:  https://www.facebook.com/stevebartonmoney Twitter: https://twitter.com/stevebarton101 Instagram: https://www.instagram.com/steve_barton_money/ Contact Andy Schectman at Miles Franklin to order precious metals. Tell him you heard it on "In it to Win it" and Andy guarantees you the best price on silver and gold in the country.
View the complete archives of Heads Up Poker Podcast in the directory →
---
Did the Sushi Server Really Pocket $100?
Donnie Peters and Tim Duckworth are back with a new episode of the PokerGO Podcast straight from the 2022 World Series of Poker. The duo runs through the latest WSOP gold bracelet winners, including interviews with Justin Pechie and Ali Eslami, and dives into sushi-gate.
View the complete archives of Poker Central Podcast in the directory →
---
The Mark Hoke Show #63 – Bullseye On Vince, See Ya Sasha & Jeff Hardy Falls Again
It's another Saturday night special for "The Mark Hoke Show" on KDWN 101.5 FM/720 AM Las Vegas and KDWN.com as Mark is joined by Brad "The Believer" Restituto!  The duo discusses the Vince McMahon scandal and the family's fallout in and out of WWE, the apparent departure of Sasha Banks, the loss of Randy Orton, Brock Lesnar's return, Jeff Hardy's latest arrest and the crowning of The Young Bucks as AEW World Tag Team Champions.  Thanks for listening!
View the complete archives of The Mark Hoke Show in the directory →
---
Who Will Win
WSOP

Bracelet #7 First

If you wanted to learn about Elko, Nevada, this is the podcast for you! Remko is off for a bike race, but Donnie Peters and Tim Duckworth are here to bring you the latest from the 2022 World Series of Poker.

View the complete archives of Poker Central Podcast in the directory →
---
Ep 387 – Chats: Brad Wilson on Chasing Poker Greatness!
This week Jim Reid and the panel welcome back Brad Wilson from the popular podcast Chasing Poker Greatness! Brad gets right into the topics of poker coaching, wild games, cheaters, the value of community, how to learn effectively, the importance of language, why accountability matters – and a whole lot more! This episode was so chock full of fun that we're going to have to invite Brad back again soon to keep the discussion going – plus some great feedback from the YouTube crowd that was watching along and sending in questions in real time. Join us yourself every Monday at 7:30 ET for your own chance to hang out with great poker guests and win a prize for free!
Brad is active on Twitter as @CPGPodcast and you should check out his podcast "Chasing Poker Greatness"
We also go over this week's home game results and discuss these topics:
How to help us out – https://rec.poker/support/
Home Games – https://rec.poker/homegame/
Go Premium! – https://rec.poker/premium/
Find our free videos at:
http://youtube.com/c/RecPokerCommunity
Find more info on our sponsors at:
https://RunAces.com
https://WebsiteAMP.com
RecPoker is a vibrant and encouraging poker learning community. We are committed to learning the game, but our priority is building healthy relationships where we can not only grow in the game, but grow in our enjoyment of life. The free membership website at rec.poker is awesome, but it's just a tool to help us build that community. You can join for FREE, giving you access to the groups, forums, and other member benefits. .
View the complete archives of Rec Poker Podcast in the directory →
---
#18 Philosophical Friday: Emotional Intelligence
This week Brad Wilson and Duncan Palamourdas explore the role of emotions at the poker table. What is Emotional Intelligence (EQ) and how does it relate to poker? How relevant is it to today's pattern driven games and is it possible for one to cultivate it properly? Tune it to find out!
View the complete archives of Chasing Poker Greatness in the directory →
---
June 17, 2022 – A Bountiful Mystery
Clayton updates us with the latest from the World Series of Poker, including his experience doing commentary with Ali Nejad and David Tuckman. Plus two hands from the Mystery Bounty event at the Wynn Poker Room!Visit www.tournamentpokeredge.com
View the complete archives of The Tournament Poker Edge Podcast in the directory →
---
Negreanu Blackmailed, Bilzerian Out at GGPoker & Recent
WSOP

Winners

In the latest edition of the PokerNews Podcast, Sarah Herring, Chad Holloway, and Jesse Fullen bring you all the latest from the 2022 World Series of Poker (WSOP) at Bally's and Paris Las Vegas. That includes highlighting all the recent bracelet winners and even interviews with the likes of Adam Friedman, Mike Jukich, Christopher Chatman, and Dominick Sarle. They also chat with MSPT Venetian $1,600 Main Event champ Shea Quintin, who won $325K on his first visit to Vegas! They also offer a preview of the PokerNews Cup at Golden Nugget June 24-28, talk about how Daniel Negreanu is getting blackmailed for supposedly abandoning a family in Lake Havasu, why Dan Bilzerian is no longer with GGPoker, and bring you the latest on a rematch between Phil Hellmuth and Scott Seiver on High Stakes Duel III. Finally, they preview the upcoming BetMGM Poker Championship from June 23-26 at ARIA Resort & Casino.

View the complete archives of PokerNews Podcast in the directory →
---
First Flag – Josh Arieh – Episode 46
The reigning WSOP Player of the Year, Josh Arieh, joins us on First Flag. Josh's FF was a bracelet victory! Josh talks to us about that moment, about going broke soon after the win, his famous 3rd place finish in the 2004 Main Event, where he'd like to go play (it's Australia, it's ALWAYS Australia!) and he chats golf with AC, our resident expert.
View the complete archives of GPITHM Podcast Network in the directory →
---
One Until Done with Action #395
Visit the show notes page for a transcript of today's episode: https://www.smartpokerstudy.com/pod395 Get the Smart HUD for PokerTracker 4: https://www.smartpokerstudy.com/SmartHUD Join the www.thepokerforge.com , my one-of-a-kind online poker training site with 9 masterclass courses that teach you how to play profitable online poker. Watch FREE YouTube poker training videos Get fresh and free Daily Poker Tips Check me out on Twitter @smartpokerstudy
View the complete archives of Smart Poker Study Podcast in the directory →
---
#220 Jonathan Little: Poker Coaching & Degeneracy
Today's guest on CPG needs no introduction but he's gonna get one anyway…Jonathan Little has amassed $7.4 million in lifetime live MTT cashes (Including 2 WPT titles & the season 6 WPT Player of the Year award), has built an audience of more than 127,000 on YouTube, and runs one of the largest poker training platforms on the market PokerCoaching.com.He's also a collector… which makes a lot of sense considering his background in Magic: The Gathering & the sheer coaching talent he's put together (Including yours truly) over at PokerCoaching.com.And because of his unquenchable appetite for collecting all the things, he's also recently launched an NFT project with SHOCKER actual real-world utility called "Deck of Degeneracy".
View the complete archives of Chasing Poker Greatness in the directory →
---
CardsChat with Amanda Botfeld
On episode #88 of the CardsChat podcast we have the pleasure of welcoming Amanda Botfeld. She is the author of "A Girl's Guide to Poker", a Poker Power instructor, and author of numerous articles for such prestigious outlets as The Huffington Post and the Wall Street Journal as well as poker media outlets including Cardplayer Lifestyle, 888poker magazine, and right here at Cardschat. She's also got poker playing chops, as last year, she and her father came in 3rd place in the WSOP Tag Team Tournament. On this episode we get to know her a little better.
View the complete archives of Cards Chat in the directory →
---
Jason Mercier's Still Got It
Jason Mercier makes his first World Series of Poker appearance in three years and on his dinner break in the $50,000 Pot Limit Omaha he sits down with your hosts Remko Rinkema and Donnie Peters.  Last night, Jeremy Ausmus won his fourth WSOP gold bracelet in the $3,000 Limit Hold'em 6-max and Donnie caught up with him to talk about the win and much more! Lastly, Donnie also caught up with Ali Nejad who was announced as the GGPoker Media Ambassador! 
View the complete archives of Poker Central Podcast in the directory →
---
Ep 140 – Mintzy Is the
MILF

King + Faraz Jaka Joins The Show To Drop Knowledge

Welcome back! Jam packed show today. We go over all the big story lines from the WSOP – Ivey, Seiver, Arieh, Deeb, and more. Mintzy breaks down the MILF fight that is destroying friendships and Smitty tells us why General Spanks shoved 93ss into Aces. We are then joined by Faraz Jaka who is a wealth of poker knowledge. He has $10 million in live earnings (and a ton online too), and he tells us about his poker journey, his life, and his travels, plus he answers some of your DMs. A very cool conversation with the legend, enjoy!

View the complete archives of Cracking Aces in the directory →
---
The Poker Show – Episode 28 –
GPITHM

Podcast Network

We're back after a week off recovering! We begin the show talking about our Summer in Vegas partnership with Natural 8, Roland talks Dusk Till Dawn, AC talks golf, Hansy talks Blues, Kevin talks Bally's and Paris and Eric explains why he's not set foot at the WSOP yet. All this and "hey, has this sports star cashed at the WSOP?" on this week's edition of The Poker Show.

View the complete archives of GPITHM Podcast Network in the directory →
---
#81 Tactical Tuesday: Kings!
On this week's episode, Coach Brad and Jon go over two hands where Jon gets dealt pocket kings. Tune in to learn how Coach Brad thinks Jon should have played them.
View the complete archives of Chasing Poker Greatness in the directory →
---
Poker Fraud Alert Radio – 06/14/2022 – Tweak a Nipple, Lose Your Job
Topic begins at (0:18:41) mark: Druff gets COVID at WSOP, despite recent 4th vaccination shot…. (1:00:19): Prior to COVID diagnosis, Druff was struggling at WSOP events…. (1:25:47): Joke nipple massage given to Frank "The Tank" Stepuchin gets masseuse Cintia Amstalden fired, possibly due to Farah Galfond's complaints — Cintia comes on about 15 minutes in for long interview…. (2:34:37): Daniel Negreanu dealing with false allegations, stalking, and blackmail over past month, involving three different individuals…. (3:31:50): Scott Seiver enters WSOP Flip-n-Go 43 times — and doesn't cash…. (3:47:03): Nice guys finish last? Accused cheaters/scammers Ali Imsirovic, Jake Schindler, David "CSM" Misicowski, and Nicky Palma all make WSOP final tables…. (3:58:41): Alex Livingston loses bracelet 20 minutes after winning it…. (4:03:03): Dan Bilzerian has separated from GGPoker, bashes them on YouTube show…. (4:45:11): Mikki Mase claims he was almost thrown out of the WSOP while trying to register…. (5:00:25): Admitted former cheat (and onetime PFA Radio guest) Houston Curtis running Live at the Bike these days — is that a problem?.... (5:13:11): Former NBA star Paul Pierce sued over $180k poker debt…. (5:20:07): Newest Omicron variants seem very cold-like for most adults and kids — has COVID become like the flu in risk level?
View the complete archives of Poker Fraud Alert in the directory →
---
The Bernard Lee Poker Show with Guests Alex Livingston & Robbie Strazynski
Alex Livingston and Robbie Strazyski are Bernard Lee's guests. 
View the complete archives of Bernard Lee Poker Show in the directory →
---
Ep 386 – Forums:
ICM

(Rob)

This week, Jim Reid leads the panel through a discussion about the theme of the new Book Study Rob Washam is running – Endgame Poker Strategy by Dara O'Kearney and Barry Carter. While battling it out against each other in the nightly home game, the panel discusses what ICM really means, when it matters most, how to apply ICM pressure, how to identify who will feel the pressure most (it's not who you might think!) and how to avoid making errors yourself when the biggest decisions of the game are on the table. Come sign up for a free account at rec.poker today to join in the fun!

Find our free videos at:
http://youtube.com/c/RecPokerCommunity

Find more info on our sponsors at:
https://RunAces.com
https://WebsiteAMP.com

RecPoker is a vibrant and encouraging poker learning community. We are committed to learning the game, but our priority is building healthy relationships where we can not only grow in the game, but grow in our enjoyment of life. The free membership website at rec.poker is awesome, but it's just a tool to help us build that community. You can join for FREE, giving you access to the groups, forums, and other member benefits. If you want to enjoy the premium content, or become part of the RECing Crew, those options are available and you can get $10 off your first payment using the code RECPOKER.

View the complete archives of Rec Poker Podcast in the directory →