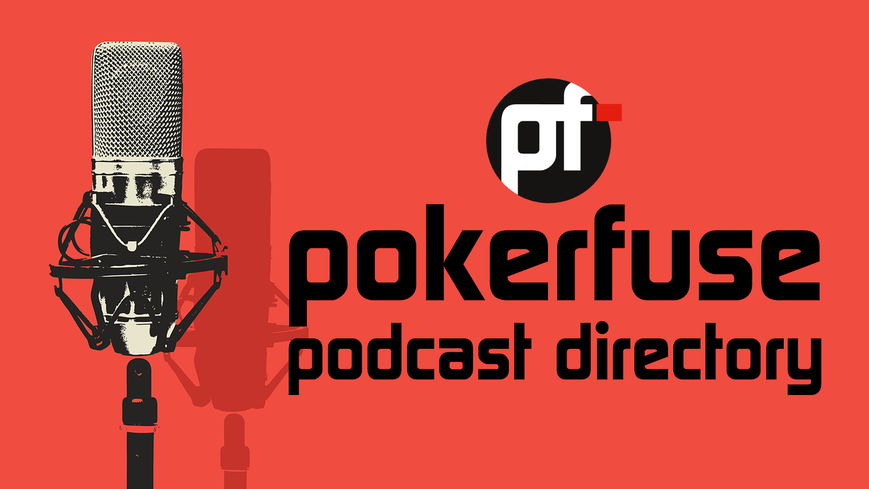 It's
PLO

Madness In Vegas

Donnie Peters and Tim Duckworth are back to discuss more results and happenings from the PGT PLO Series that is running at the PokerGO Studio in Las Vegas.

View the complete archives of Poker Central Podcast in the directory →
---
Chapter 1 Ep. 9 Apparel, Relaunch and Collectibles
In today's episode we talk to Brad Smith with the Casino Collectibles Association. Their annual show will be taking place in June at the South Point Casino Hotel.
The promised link for Ante Up swag is https://www.teepublic.com/stores/ante-up?ref_id=8295
and we tease the re-launch of the Ante Up Magazine!
View the complete archives of Ante Up! Pokercast in the directory →
---
March 17, 2023 – Early Bird Special
Clayton Fletcher (@claytoncomic) talks about the benefits of showing up on time at the Venetian this summer. Then, he reviews two hands from last year's WSOP Main Event!—-Join the Tournament Poker Edge discord channel:https://t.co/JHEUIHrCrJ——Play on ACR using the promo code TPE for a 100% first-time deposit bonus up to $2,000.00 USD:  https://bit.ly/2Wvb6Vb
View the complete archives of The Tournament Poker Edge Podcast in the directory →
---
Episode 170 – Superiority/Inferiority Complex
Welcome to Episode 170! In this episode, MTT Coach Gareth James and Peak PerformanceMindset Coach Dr. Tricia Cardner are back discussing all things poker strategy & mindset. Inthis episode, we discussed a question that has been popping off in Tricia's facebook group abouthow Phil Hellmuth's antics affect other players – especially recreational ones.Topics discussed include:* How & why Phil uses his personality as a marketing tactic* A couple of hand examples where players targeted Phil and the reasons given were hispast treatment of them personally or other players* Definitions of common psychological terms that get thrown around like narcissism anddelusions* The difference between a superiority complex and an inferiority complex* Why it's important to keep in mind how another person perceives a situation
View the complete archives of Poker On The Mind in the directory →
---
Hellmuth's House, Wynn Millions Champ & Guest Joe Stapleton Talks
USA

SCOOP

On the latest PokerNews Podcast episode, Chad Holloway, Jesse Fullen, and Connor Richards talk about Phil Hellmuth looking to sell his Las Vegas house, Daniel Negreanu calling out Ali Imsirovic, winners from the recently-completed Triton Super High Roller Series Vietnam, and offer a winner interview with Michael Rossitto, who took down the 2023 Wynn Millions for $604,637. Chad then sits down with Joe Stapleton to dive into the upcoming PokerStars USA SCOOP schedule for players in New Jersey, Michigan, and Pennsylvania. Stapes also opens up about stand-up comedy, his upcoming comic book, and watching his good friend James Hartigan win a Global Poker Award. Also, hear from Robbie Strazynski, who talks about his upcoming Mixed Game Festival IV returning to Resorts World March 19-23. Finally, the crew end the show by discussing the real-time assistance (RTA) debate that has been raging on Twitter after a poker training tool removed their 20-second delay. Listen to those stories and more on the latest episode of the PokerNews Podcast! Time Stamps Time|Topic 00:25 | Welcome to the show 02:12 | Phil Hellmuth's house for sale in Las Vegas 06:10 | Sponsor: WPT Global 06:50 | Daniel Negreanu publicly calls out Ali Imsirovic 13:00 | Winners from the Triton Super High Roller Series Vietnam 15:35 | Sponsor: 888poker 17:00 | What was the 2023 Wynn Millions Championship like? 20:35 | Winner interview w/ Michael Rossitto, who won Wynn Millions for $604,637 24:18 | 2023 USASCOOP running March 17-April 3 — $5M in GTDs 25:00 | Guest Joe Stapleton joins the show 29:55 | PokerStars taking it to next level with partnerships 33:10 | PokerStars Ontario Red Spade Pass adventure involving Toronto Raptors 40:20 | Watching James Hartigan win a Global Poker Award 47:15 | What's the latest on Stapleton's stand-up comedy  50:40 | Upcoming comic book from Stapes 1:00:50 | The Card Counter — Stapes helps get Chad in the credits 1:03:03 | Mixed Game Festival is returning to Resorts World March 19-23 1:03:55 | Robbie Strazynski shares details on Mixed Game Festival 1:05:46 | Sponsor: partypoker 1:06:42 | RTA debate rages on as poker training tool removes 20-second delay

View the complete archives of PokerNews Podcast in the directory →
---
Early Winners from the
PGT

PLO

Series

Donnie Peters and Tim Duckworth discuss the first few events from the first-ever PGT PLO Series, including interviews with early winners Daniyal Iqbal and Allen Shen.

View the complete archives of Poker Central Podcast in the directory →
---
Experiment with "New" Poker Strategies the Smart Way #433
Smart HUD for PokerTracker 4: https://www.SmartPokerStudy.com/SmartHUD  Show Notes: https://www.SmartPokerStudy.com/pod433 The Poker Forge – #1 Microstakes Online Poker Training Site: https://www.ThePokerForge.com PokerTracker 4: https://www.smartpokerstudy.com/pokertracker4 Books on Amazon: https://amzn.to/2NrKcqv 
View the complete archives of Smart Poker Study Podcast in the directory →
---
CardsChat with Alex Livingston
On episode #117 of the CardsChat podcast we have the pleasure of welcoming Alex Livingston. Alex is a WSOP bracelet winner and past WSOP Main Event final table-ist from Canada. Cashing across a vast number of high-profile events over the past few years, he has become one of our favorite players to watch, especially on the mixed game scene. He's got over $6.7 million in career live tournament earnings, but a stellar resume notwithstanding, Alex is a man who is clearly still on the rise. On this episode, we'll get to know him a little better.
View the complete archives of Cards Chat in the directory →
---
Ep 182 – Tournament Strategy With Jake That Will Improve Your Game TODAY!
Welcome back! On today's show we get a lesson from Mr. Jake in tournament strategy. A Smitty hand history and your questions from IG (follow us! IG/CrackingAAces), Jake gives answers and advice that can improve your tournament game TODAY! Enjoy!You can find every episode of this show on Apple Podcasts, Spotify or YouTube. Prime Members can listen ad-free on Amazon Music. For more, visit barstool.link/crackingaaces
View the complete archives of Cracking Aces in the directory →
---
153 – Rory Young – Mindset for Poker and Business
Rory Young is a serious high stakes cash games player, who has also reaped significant tournament cash prizes. Rory is also well known for high profile sports bets as well as having founded a high level poker software company. We discuss his poker and business careers as well as the mindset that was necessary for excelling in both fields and what crossover learnings he made.  
View the complete archives of The Mindset Advantage Podcast in the directory →
---
#117 Tactical Tuesday: Hands from 500 Zoom Online Poker & The Biggest Pot of Jon's Poker Career
Be sure to get a free poker course in the description! So Jon's been hard at work in the lab doing 500NL Zoom Play & Explain videos for the CPG Wolves Coaching For Profit poker stable, and he's selected two spicy hands for us to review before we get into the main course, which is a live cash hand he played at pretty high stakes. But he has Aces, so everything should work out fine. Welcome to Tactical Tuesday 117, friends and family of Chasing Poker Greatness.*
View the complete archives of Chasing Poker Greatness in the directory →