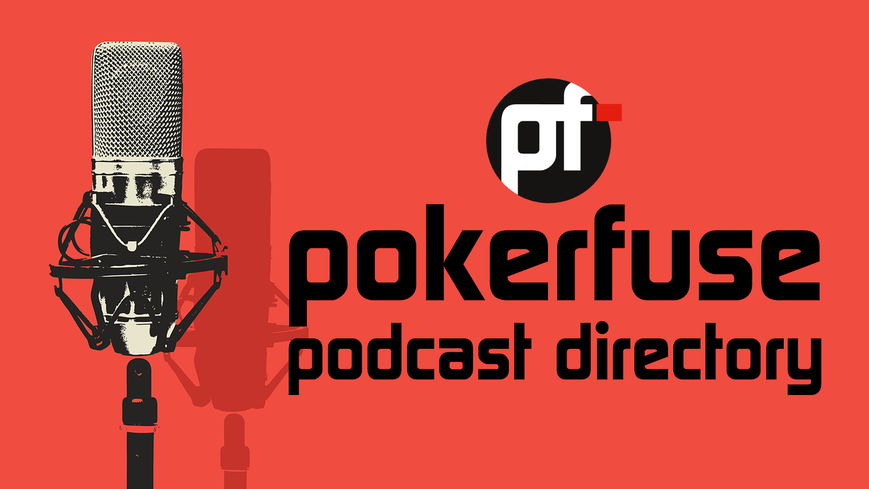 Cancer Scammer, Cardroom Raid, and Guest Vladas Tamasauskas & Ren Lin from Poker Masters
On the latest episode of the PokerNews Podcast, Chad Holloway, Connor Richards, and Matt Hansen delve into big winners from the Poker Masters including Darren Elias, Andrew Lichtenberger, Chino Rheem, and Vladas Tamasauskas, a Lithuanian player who jumped out to an early lead winning two titles in the first three events! The high roller newcomer is one of two guests on the show alongside Ren Lin, who has also been tearing it up at PokerGO Studio. Find out what they had to say about their early Poker Masters success. Plus, hear about poker player Rob Mercer, who lied about having colon cancer to scam the poker community so he could play in the 2023 World Series of Poker (WSOP) Main Event, a story that has since hit the mainstream. 
View the complete archives of PokerNews Podcast in the directory →
---
Chapter 1 Ep. 36 Travel Travel Travel
This week Elle and I are on the road again. We recap some of the travels and play a game to give away some swag to a lucky Patreon member. Elliott rules on a situation when the dealer drops the stub prematurely and he explains why it's important to mix the cards in the muck at the end of a deal. Patrick and I break down another hold 'em hand, and I end the show by elaborating on the question whether poker is dying.
View the complete archives of Ante Up! Pokercast in the directory →
---
September 22, 2023 – Loncar believes in magic
Clayton Fletcher (@claytoncomic) is joined by repeat guest and ACR pro Michael Loncar! The guys discuss the $100,000 challenge the ACR pros are doing, the $50 million OSS XL, and magic.—-Join the Tournament Poker Edge discord channel:https://t.co/JHEUIHrCrJ——Play on ACR using the promo code TPE for a 100% first-time deposit bonus up to $2,000.00 USD:  https://bit.ly/2Wvb6Vb——Follow Clayton Fletcher on Twitter:  www.twitter.com/claytoncomic
View the complete archives of The Tournament Poker Edge Podcast in the directory →
---
Episode 178 – Planning Your Study When You're Overwhelmed & Short On Time
Welcome to Episode 178! MTT Coach Gareth James and Peak Performance Mindset Coach Dr. Tricia Cardner are back discussing all things poker strategy & mindset. In this episode, Gareth makes a big announcement and then the hosts answer a listener question about how to focus when there is so much to study and limited time and ADHD tendencies.Topics discussed include: The ADHD traits that can make study challengingWays to prioritize study materials
View the complete archives of Poker On The Mind in the directory →
---
Exploit Their Preflop Tendencies #456
Visit the show notes page for quick note taking  https://www.smartpokerstudy.com/pod456 How To Win Online Poker Workshop  https://smartpokerstudy.com/HowToWin Get More From PokerTracker 4 Course  https://www.smartpokerstudy.com/GetMoreFromPT4Course The Poker Forge  https://www.thepokerforge.com The Smart HUD for PokerTracker 4  https://www.smartpokerstudy.com/SmartHUD Books on Amazon  https://www.smartpokerstudy.com/AmazonBooks
View the complete archives of Smart Poker Study Podcast in the directory →
---
Tamasauskas Dominating Poker Masters and Elias Wins Second
PGT

Title

Vladas Tamasauskas is absolutely dominating the Poker Masters, and Darren Elias and Chino Rheem add trophies to their cabinet as well — but are either a future Poker Hall of Famer?Follow Donnie on Twitter: Donnie_PetersFollow Tim on Twitter: tRaMSt0pFollow PokerGO on Twitter: @PokerGO Learn how you can win a Dream Seat to play in the PGT Championship $1,000,000 freeroll at PGT.com/dream!Subscribe to PokerGO today to receive 24/7 access to the world's largest poker content library, including the WSOP, High Stakes Poker, No Gamble, No Future, and more. Use the promo code DREAMPOD to receive $30 off your first year of a new annual subscription. Join today at PokerGO.com.

View the complete archives of Poker Central Podcast in the directory →
---
Tactical Tuesday #143: When To Play For Your Entire Stack in No Limit Texas Holdem (Must Have Spades)
Want a free poker course from CPG? Just scroll down below to get it!When deciding what area of poker study you should focus on, it's never a bad idea to prioritize the situations in which all of the money is at risk. And so poker pro Jon Chai has brought a measly 2 hands for the evaluation and hopefully… approval? of poker coach Brad Wilson.Do we just flip a coin? Go with our gut? See which side of the Oreo the cream sticks to? There's a lot of factors that determine whether or not you should call an all-in in poker. Let's find out which poker data points Jon identifies in Tactical Tuesday 143!
View the complete archives of Chasing Poker Greatness in the directory →
---
Poker Punx Podcast – Ep 9 Here Comes The Sun(Run)
In this episode I go over some hands where I ran amazing and what to do if the shoe is on the other foot any someone is running well at your table and how to adjust
View the complete archives of Poker Punx Podcast in the directory →