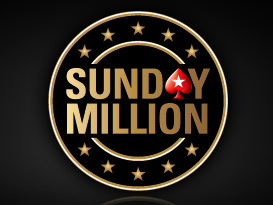 PokerStars are famous for big buy-ins and huge tournaments that attract fields of players that run into the tens of thousands, and guaranteed prize pools that can run into the millions. With buy-ins at all levels, every player can have the chance to win big, whether it be the Sunday Million, SCOOP series or spin n gos. Here we take a look at some recent PokerStars online tournaments.
One of PokerStars most prolific tournaments is the Sunday Million which, since its inception in 2006, has grown to offer regular guarantees of over one million dollars. The 12th anniversary edition of the Sunday Million ran on February 4th 2018, but Players were shocked when the original Sunday Million 12th Anniversary tournament ran into a massive overlay of over $1.2 million. The tournament had the usual $215 buy-in, but it offered a whopping $10 million guaranteed prize pool.
The prize money fell short when 34,274 unique players bought in for a total of 43,975 entrants (including re-entries), perhaps due to the event being held on the same day as the Super Bowl. The tournament needed 50,000 entries to reach its guarantee, and PokerStars honoured the guarantee by paying out the extra $1.2 million from their own pocket. Brazilian small-stakes player 'Hulk9950' won the 12th Anniversary tournament for $960,000, after returning on Day 2 and making a three-way deal on the final table.
After the 12th anniversary edition failed to meet its guarantee, PokerStars decided to run another tournament with the same prize pool on 22nd April; the Sunday Million 12th Anniversary Take Two. The guarantee was again set for $10 million, and this time $1 million was guaranteed to the overall winner of the tournament. The prize pool reached $11.2 million this time around, with player Daenarys T from the Netherlands picking up first prize, which also included a Platinum Pass package worth $30,000.
The Sunday Million has a buy in of $215, and so low stakes players usually try to earn their entry by winning satellite tournaments, but there is another way for players with a smaller bankroll to take a shot at winning a million dollars. PokerStars are now running a special Spin N Goal tournaments with a random prize pool up to $1 million! With only three players in the game and a hyper-turbo structure, these tourneys are fast and exciting, and have prizes ranging from 2x the buy-in to life-changing sums.
One of the most recent tournament series run online was the SCOOP, one of the biggest online events on the calendar. This year's SCOOP had a prize pool of over $91 million, the second biggest in history. Players from over 140 countries bought in at a range of buy-in levels, and there were over one million tournaments entries overall. Each day there was at least one tournament with a $1 million garauntee, so the whole series was making millionaires.
PokerStars was launched in 2001 and has since grown to become the world's most popular online poker site. The Sunday Million has been running since 2006, when it offered a prize pool of just over $1 million. The 12th Anniversary Take Two edition should run over its guarantee, with more entries and more late regs, but it still offers players the chance to win a cool one million as first prize.