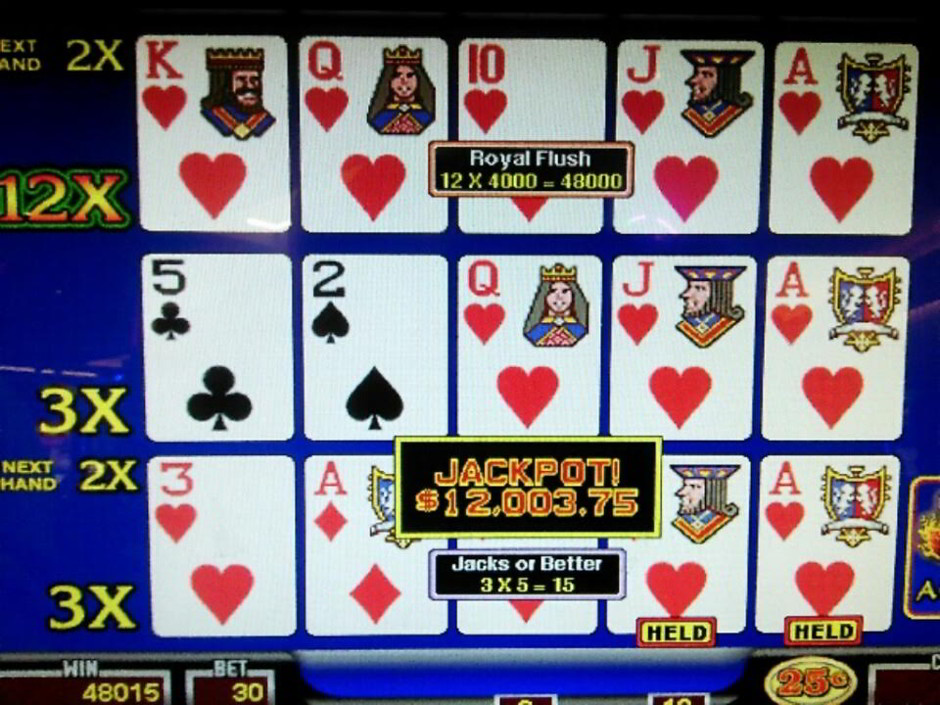 Poker pro and eight time World Series of Poker Circuit winner, Kyle Cartwright, has won a big pay day on video poker machines.
After busting the WSOP Circuit in Las Vegas back in late February, finishing in 21st place in the $1,700 No-Limit Hold'em Main Event for $11,913, Cartwright went on to win $100,000 on a video poker machine by hitting a coveted royal flush.
Cartwright obviously has the Midas touch when it comes to video poker machines as he won $100,000 pay outs back in June, July, and August of 2018—again by hitting royal flushes each time.
This latest win makes it Cartwright's 5th royal flush jackpot win on video poker machines to date.
April 2018 saw him win with clubs. Every other time he has won with the royal flush it has been with hearts.
According to The Hendon Mob, Cartwright has over $2 million in live earnings. A WSOP Circuit fan, Cartwright finished in the top spot in the WSOP Circuit $1,700 No Limit Hold'em Main Event in January 2019 for $198,451.
His top live cash to date is $360,435 which he won back in 2014 at a WSOP bracelet event at the RIO in Las Vegas.
If you fancy giving video poker a go yourself you can learn to win at video poker here.
What Is Video Poker?
If you have ever been to Vegas, or any casino for that matter you would have definitely come across these machines on the casino floor.
Once the cards are dealt, players choose which cards to keep in their hand and which to return to the deck—the goal is to make a winning five-card hand. Video poker allows the player to discard all of their 5 cards if they want—exchanging them for new ones in the deck—in order to make the best hand they can out of the cards available.
The machine will pay out if the player's hand or hands match a winning combination; Jacks or Better, Two Pair, 3 of a Kinds, Straight, Flush, Full House, 4 of a Kind, Straight Flush, or Royal Flush.
Apparently players are most likely to play tens of thousands of hands before hitting a royal flush—making Cartwright's achievements all the more notable.
However, if you have more of a taste for the live poker, then the WSOP will be celebrating its 50th anniversary in Las Vegas this summer.
In late February the WSOP finalized the schedule for the summer, adding in another 34 events, bringing the total number of confirmed events to 74.
A new event that has been added into the mix this year is The Big 50—a celebration of the WSOP's 50th year. All players will gain rake-free entry into this event, with the entire buy-in of $500 going towards the prize pool. The event will played in a re-entry format, and any player that re-enters will have to pay the normal rake fee. There is a $5 million prize pool guarantee, with $1 million ear-marked for the Big 50 winner.
The Big 50 will have four starting flights with 50,000 in chips and play 12 to 50-minute levels on Day 1.
"We're excited to commence our golden event," said WSOP Executive Director Ty Stewart. "We expect our opening weekend Big 50 event to be one of the largest in our history, and certainly one of the best value tournaments ever offered. This is part of our concerted plans to make the 2019 WSOP a better value all-around."
The WSOP will also make use if the Big Blind Ante format, this year across all No-Limit Hold'em events—including non bracelet events at the RIO such as Daily Deepstacks and Mega Satellites.
The big blind ante format helps speed the game up by having just the big blind provide the antes for the entire table. This format was last seen last year on a trial basis during the WSOP in Las Vegas during the summer along with WSOPE events.
Following "careful consideration" the WSOP has now implemented this as a prominent change across all events where antes exist.