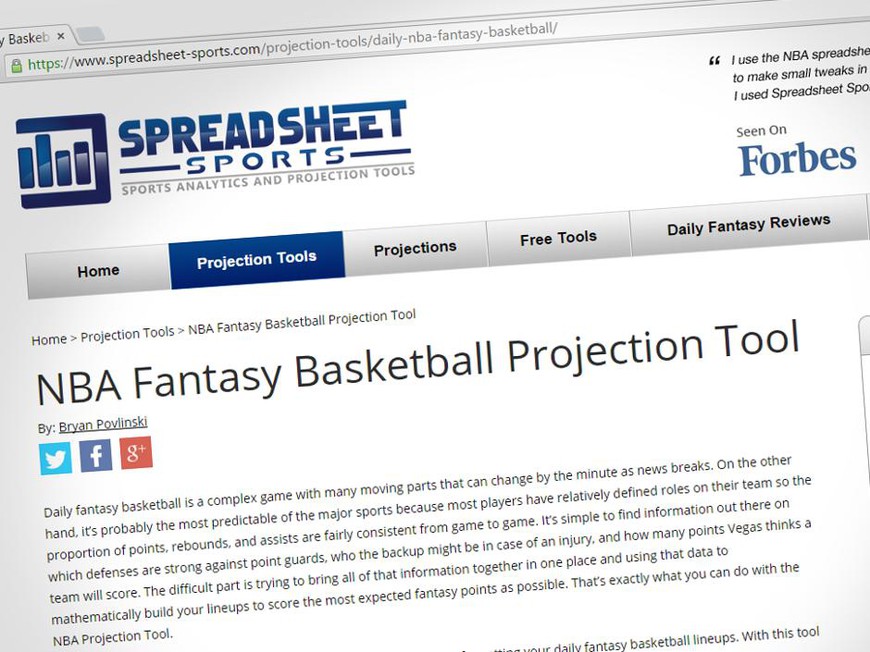 Though many daily fantasy sports players enjoy football season, basketball provides an opportunity to play DFS on a daily basis. Now that the NBA is in season, sports enthusiasts no longer have to wait for the weekend, or endure daily fantasy games that last over several days.
But along with more opportunity to play comes the need to manage more information. That is where the NBA Fantasy Basketball Projection Tool from SpreadSheet Sports comes in.
It may not be hard to find information to use in building your lineups, such as who is starting, the latest injury information, which defenses perform the best against point guards and which players are expected to score the most fantasy points on any given evening. What is hard is aggregating all of that data into a single place and utilizing that data build the optimal lineups that will score as many points as possible.
DFS Tool of the Week is brought to you by


NBA Fantasy Basketball Projection Tool from SpreadSheet Sports lets you:
Customize projections for every player based on historical data including players' averages, floors and ceilings and more
Make adjustments based on matchups, days of rest, defense vs. position, betting lines and other key indicators
Filter out players that you want to exclude from your lineups
Generate multiple lineups based on the criteria you determine
Limit exposure to particular players
You can download new spreadsheets every day that contain the latest statistics.
Plus, by becoming a free member at RotoTracker.com, you can get a 10% discount off of the retail price of the NBA Fantasy Basketball Projection Tool. Just signup for an account at RotoTracker (if you don't already have one), and from the Dashboard click the dropdown menu for Your Account and select Special Offers. It's that simple!
Still have questions? Check out a demo of the tool in action: