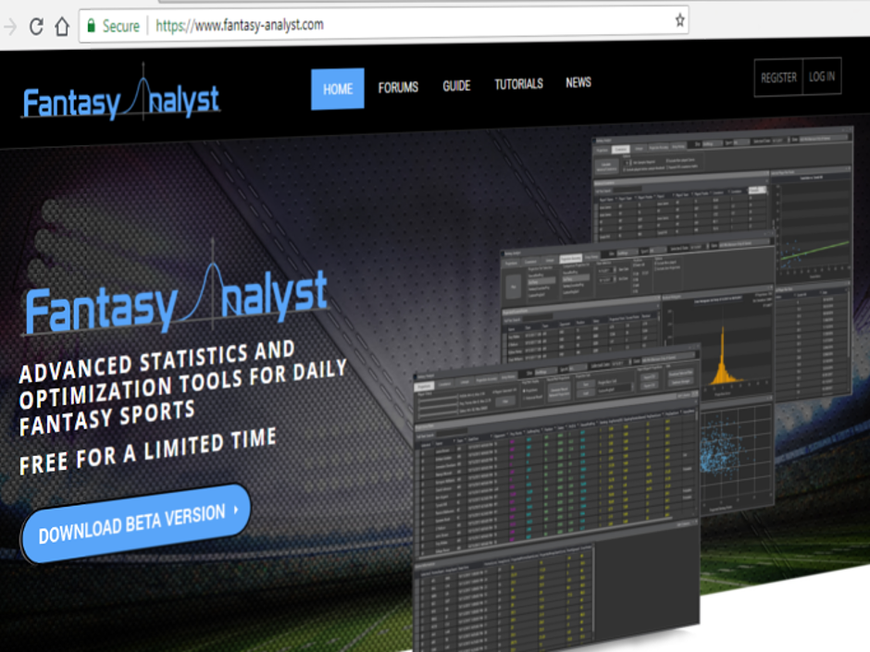 For those who play Daily Fantasy Sports and take it seriously, the big paydays are made by finding and exploiting the best information. The top tier DFS pros not only use their knowledge of sports, but they also collect data, compare matchups, and try to predict outcomes in a systematic way compared to those who are 'going with their gut'.
As DFS competition gets tougher, there are more tools than ever before to help the grinders gain an edge. One of the latest to enter the market is Fantasy Analyst, a DFS application for Windows that allows players access to advanced features that will help them accurately analyze historical data in an effort to produce winning lineups.
"When I first started playing DFS, I was frustrated with the other lineup optimizer sites available," said Jordan LeNoach of Fantasy Analyst. "They are all pretty simple and don't provide a lot of the features and information I was looking for. For example, many of these sites will give you projections without explaining how they were made or how historically accurate they've been. I come from an engineering background, so I wanted to make a DFS analysis tool that was more capable, transparent, and mathematically rigorous."
Look Into The Future
Fantasy Analyst offers a variety of ways in which DFS players can create and use projections. The first is their neural network projection models. These are pre-trained models that can generate fantasy score projections for individual players, and the guide for the app shows detailed information on how they were created along with their historical accuracies. Using a number of inputs including player statistics as well as Las Vegas betting lines, the neural network models can automatically generate projections for players and lineups with superior accuracy.
In addition to the neural network projection models, you can use third party projections from Fantasy Data that the app provides, or you can easily import your own projections as well. One of the best features of Fantasy Analyst is that it allows you to measure and compare the historical accuracies of all projection sources you use. This can help ensure that you are using the best projection source possible.
Winning Lineups
Fantasy Analyst can help players create a variety of lineups depending on the contest type being played. It includes a standard score optimizer for finding the lineups with the highest projected scores. However, Fantasy Analyst is unique in that it also offers a variance optimizer. This type of optimizer allows not only player projections to be taken into account, but the historical variance and covariance between the players as well. As a result, you can use this to generate more profitable lineups by lowering the total variance of your lineups for contests such as 50/50s to raise your "floor", and increasing the variance for large GPPs to raise your "ceiling".
With both optimizers, you can set additional constraints for a number of variables such as player ownership and stacking combinations in order to fine-tune the way you create your lineups. When you are ready to export your lineups, Fantasy Analyst allows you to quickly swap them into existing FanDuel and DraftKings contest entries.
Stats On Stats
Players can define their own custom stats and utilize any amount of player data to incorporate into their projections. Fantasy Analyst saves seasons worth of stats, all of which are available for your own analysis.
Furthermore, you can track your own contest results from the app by simply uploading your contest results from DraftKings, FanDuel, and Yahoo. This can let you track your winnings and identify your strongest/weakest contest types.
One of the best parts about Fantasy Analyst is that while it's in Beta , you can download and use it for free. The tool is supported with online forums and tutorials, making it easy to get started. Overall, Fantasy Analyst appears to be a very capable tool-set for DFS players. If you're looking to improve your edge at daily fantasy, this software is worth a serious look!
Try Fantasy Analyst for free for a limited time by visiting their homepage.