Several Kentucky Derby Horses Invade $500,000 Ohio Derby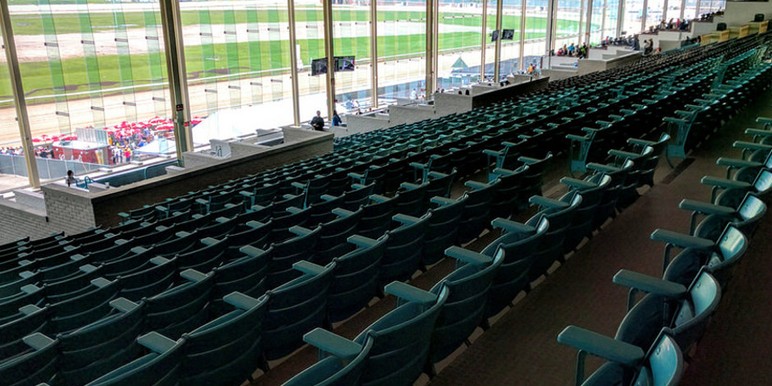 Thistledown Race Track will put up a $500,000 purse in the G3 Ohio Derby for 3-yr olds. The highest purse of the weekend will attract three Kentucky Derby also-rans as they each try to get back on track in this 1-1/8 mile event around two turns.
Get a $100 sign up bonus at twinspires.com
Girvin, Irap, and Untrapped will all be making their first start since the Kentucky Derby, while Fast and Accurate will be making his second post-derby run. Each struggled over Churchill Downs' sloppy track. They will be joined by a trio of Looch Racing Stable hopefuls, a Desormeaux brothers starter, and Hinton, who will be making his first stakes try after winning 3 of 4 lifetime tries.
There are certain thunderstorms for the Friday preceding raceday but only a 20% chance of rain on race day, so I will handicap this with the assumption of a dry track, much to the delight of our Kentucky Derby veterans, none of whom relished the rain.
The fast track post position statistics at Thistledown show no post position bias at all in route races. In the most recent 65 route, 22% have been won wire to wire, with 60% of races won by early speed or stalkers. In the Ohio Derby, we have some real speed, in the form of Fast and Accurate and Irap, and some cheap speed to further press the pace. With this speed scenario, I am going to look farther back in the pack for my winner.
My next step is to look at this 3-horse Loock Racing Stables entry to see if they all fit. Talk Less and Game Over are both trained by perennial local leading trainer Jeffrey Radosevich who is winning at a respectable 15% clip this meet. Talk Less will garner the services of Luis Colon who is riding at a 35% rate with 25 wins in 72 mounts. However, graded stakes don't seem to be Radosevich's strong suit as he is 0/6 with only 1 in the money starter.
Robert Hess Jr. will saddle Vibe, the third part of the entry who spent his 2-yr old season chasing some decent west coast horses at Santa Anita and Del Mar before coming east. In my opinion, none of the entry has shown the speed figures to win this one. It looks like local owners taking a shot at their track's most prestigious race.
The #2, Irap, off for the 49 days since the Derby, showed the best speed figure in the field when he won the Bluegrass stakes back in April. I could dismiss his poor showing in the Ky Derby but the Bluegrass is his only win in 9 starts so it makes more sense that the Bluegrass is the exception.
Fast and Accurate and Untrapped have both taken their shot against the best 3-yr olds and neither has shown the speed figures for the graded stakes company they keep trying. Hinton has not beaten much in his 3 wins and this will be going a mile and an eighth for the first time.
2-1 morning line favorite, Girvin, will have the services of the red hot Mike Smith and will be making only his second start outside of the Fairgrounds in Louisiana (the other start was the Ky Derby). Girvin has won all 3 of his fast dirt starts, and against this competition I am not concerned with the 49 day layoff. Girvin will be my pick to win.
Since Girvin is my pick and the chalk, let's dig a little deeper for an exacta.
Get a $100 sign up bonus at twinspires.com
Sorry Erik, the 6-1 Keith Desormeaux trainee, was claimed back in January for $20,000. He ran in a couple of graded stakes and had excuses in both, but the key to me is that this is his second race off of a layoff. Sorry Erik ran 7 times from October 2016 thru April 1st, 2017. That's a lot of racing for a horse of that age. He needed that layoff. In his first race back, Stay Erik finished a respectable 2nd while trying the grass for the first time. I expert even more from him this week.
The bottom line is that Girvin's class and consistency should lead him to the winner's circle but watch out for Sorry Erik and play a Girvin – Sorry Erik exacta. I will box it and hope for the better price.