Another Debacle at Del Mar? Arrogate Seeks Redemption in
TVG

Pacific Classic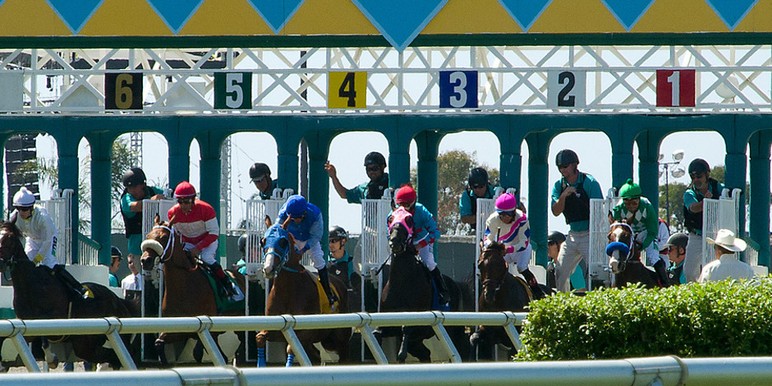 The G1 $1,000,000 TVG Pacific Classic became a lot more interesting when Arrogate, the world's best racehorse, did not fire in the San Diego Handicap at Del Mar. With a string of dominant wins in the Travers, BC Classic, Dubai World Cup, and The Pegasus, Arrogate became the richest North American thoroughbred in history and looked unbeatable. After a 4th place finish, beaten by a whopping 15-1/4 lengths at odds of 1 to 20, not so much.
The Pacific Classic will be run at the same track and several runners from the San Diego 'Cap are returning. Arrogate's place at the head of the table is certainly in question. This fall's Breeder's Cup Classic, the ultimate goal for all involved, will also take place at Del Mar at the same 1-1/4 distance making this race an almost must-win for the defending Champion. Another bad loss and Arrogate may be headed to the breeding shed instead of the Breeder's Cup.
Get a $100 sign up bonus at twinspires.com
Since the debacle at Del Mar, Arrogate's connections at Juddmonte Farms, including trainer Bob Baffert, have continuously waxed on that the horse seems back to normal and they can't explain his disinterest in running in his last race. Baffert blames himself, saying that the Arrogate was not quite tuned up for a race that was supposed to be more of a glorified workout. So what does this mean for the bettors, many of whom will still put their hard earned cash on the big gray?
For me, I will NOT be betting Arrogate.
I can forgive a loss, especially off of a 4 month layoff. What I cannot handle is the way it happened. Arrogate never competed. He showed a total lack of interest. He was beaten by 3 horses who, going into the race, were not even considered worthy of being on the same track with Arrogate. There are many stakes races this time of year with bigger purses and more prestige, so other top handicap horses weren't even there. Many handicappers fall in love with a horse's story. In this case, Arrogate's story may have taken a turn for the worse and I will not accept even money or less on Saturday.
If we take away the names and concentrate on the facts, the picture becomes more clear. Horse #8, breaking from the outside post, last ran in the SD Handicap, finished 4th in a field of 5, beaten 15-1/4 lengths by foes he will face this week, and will be running on the same track he just lost badly on. Does this sound like an even money favorite to you?
But this story will definitely impact the race. Arrogate will certainly be guided to be forwardly placed in the Pacific Classic, if not on the lead. And he will be forced to do this from the outside 8 post. The Del Mar surface has been labeled as "tiring" by many this meet, so being up close is a necessity. Only 20% of dirt routes have been won wire to wire, yet the average lengths behind at the first call is a mere 1.5 lengths.
The horse I landed on is the #2, Collected. Collected is Bob Baffert's other entry in this race and will be ridden by Martin Garcia. Collected has run one bad race in his life, the 2016 Preakness, after which he took almost a year off before returning to the track. Since returning he has reeled off three straight wins, 2 of which were graded stakes. He has also shown an affinity for being near the lead but doesn't need to be on the lead.
Get a $100 sign up bonus at twinspires.com
If Arrogate returns to form he will dominate this field. At odds around even money, I can't back him. The bottom line is I will look for a better price and take Collected for the win. In the event Collect crosses the wire first, I will be interested to see if Baffert is as pleased with Collected as he is distraught over Arrogate.