Arrogate or Gun Runner: Who Will Cement Their Legacy in the Breeder's Cup Classic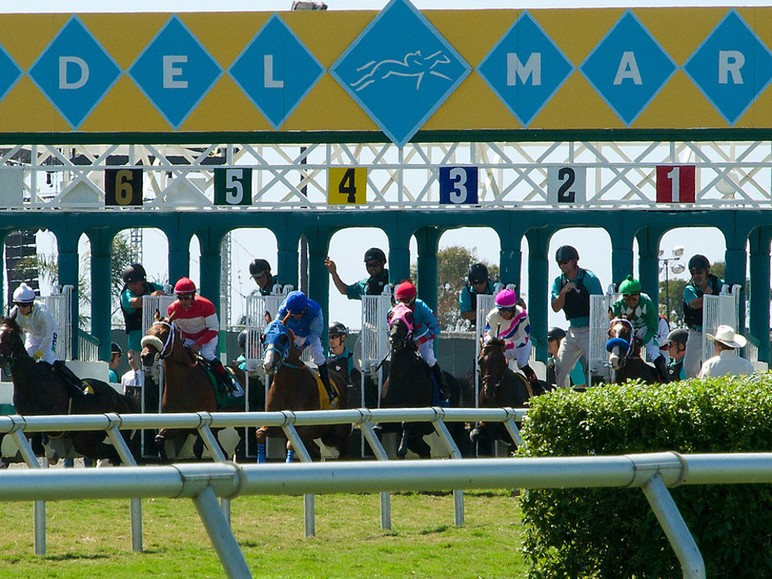 The 2 horses that have been ranked as the #1 thoroughbred in North America this year will square off against 9 others in the 2017 Breeder's Cup Classic at Del Mar. Bob Baffert trained Arrogate will break from the rail while the 9/5 morning line favorite Gun Runner will be in post #5 for this $6,000,000 G1 test around Del Mar's 2-turn 1-1/4 dirt course.
Get a $100 sign up bonus at twinspires.com
Our two heroes will be coming into this race from different directions. Following a brilliant 7 race win streak, Arrogate has suffered 2 consecutive losses, both at the Breeder's Cup locale of Del Mar. Gun Runner, however, has won 5 of his last 6, including 4 G1's. His only defeat was at the hands of Arrogate back in March at Dubai's Meydan Racecourse. Gun Runner will be making his Del Mar debut in the Classic.
The rest of the field includes 5 millionaires, 2 European shippers, and a couple of horses who look like they are just taking a shot at BC glory.
The pace of this race will be key to everyone involved. With Arrogate breaking from the rail and a short sprint to the first turn, Mike Smith should be able to save some ground early, and I anticipate he will need it as Mike Smith has a tendency to loop around horses late. Gun Runner, with Florent Geroux aboard should break straight to the front to either take charge of the pace or settle behind anyone willing to make a suicidal early move.
Two of the other horses likely to be on or near the lead are Bob Baffert's speedy duo of West Coast and Collected. West Coast came within a head of a 7 race win streak, including back to back wins in the Travers and Pennsylvania Derby. Baffert's other horse, Collected, will break from the outside post #11 and has a 4 race win streak including a win in the Pacific Classic over the Del Mar strip.
Bob Baffert has to be in a tough spot with West Coast. Collected, and Arrogate, all of whom have a legitimate chance, and all wanting to be on the pace.
With all of the short priced contenders looking to be up front, I am going to focus on some off the pace types and hope for a big score in the classic. Does Bob Baffert have a closer in this field too? Yes he does.
The horse that I landed on is the #6, Mubtaahij, the other Baffert trainee, ridden by west coast prodigy jockey Drayden Van Dyke. Only 5 for 18 lifetime, Mubtaahij may have had a breakthrough moment while winning the Awesome Again Stakes at Santa Anita in September. Prior to that race, he was always right there, always contending, but never breaking through. In winning the Awesome Again in only his 3rd start of 2017 I believe Mubtaahij is taking steps forward coming into this race and is fresh enough to outrun his 12-1 morning line odds.
In that race Mubtaahij settled in 6th behind a quick pace and closed willingly for a 1-1/2 length victory. Most impressive was the distance of ground he covered compared to the rest of the field. Mubtaahij covered 77 feet more than the 2nd place horse, 80 feet more than the 3rd place horse and 28 feet more than the 4th place horse. If he had ridden the rail and won that race by 10 lengths, we may be looking at a 5-1 morning line instead of 12-1.
Get a $100 sign up bonus at twinspires.com
From a wagering perspective I cannot ignore how well Gun Runner has been running and I cannot leave him off of my tickets. I will be playing Mubtaahij for the win, and an exacta box with Mubtaahij and Gun Runner.