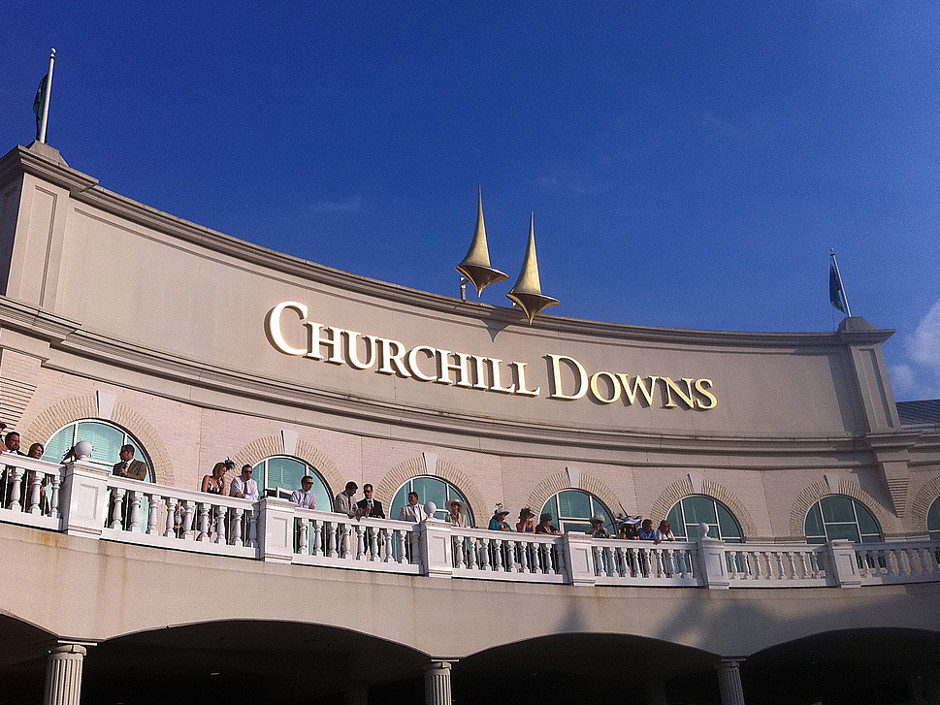 This Saturday Churchill Downs will host the 144th running of the Kentucky Derby. This showcase for the top twenty 3yr olds will be run at the classic distance of 1-1/4 miles around 2 turns for a $2,000,000 purse, as well as a place in history.
Get a $100 sign up bonus at twinspires.com
The Derby is currently riding a 5 year streak of winning favorites. Always Dreaming in 2017, who went off at $4.70-1, was barely favored over Irish War Cry's $4.80-1. There should be several runners in this year's field at single digit odds, and they will be trained by the usual cast of characters of Todd Pletcher, Chad Brown, Bob Baffert, etc.
The pace of the Derby should be dictated by Promises Fulfilled, a Dale Romans trainee. Promises Fulfilled has never been headed at the first call in 5 lifetime starts, but his lackluster effort in the G1 Florida Derby may indicate that he is on the down side of a form cycle and will not last. He will be joined up front by Flameaway, Justify, Magnum Moon, Noble Indy, and Mendelssohn.
Flameaway needs to be up close, but his speed figures don't indicate that he will be there at the end. Magnum Moon, undefeated in 4 tries, likes to be up close but has not posted legitimate early speed figures so he will most likely be relegated to a stalking spot. Noble Indy will be there early but I question his ability at the classic distance. Justify and Mendelssohn will be the post time favorites and deserve a closer look.
Justify is a lightly raced Bob Baffert trainee who is 3 for 3 lifetime, including an easy victory in the Santa Anita Derby where he got bored and drifted in the stretch while posting the best speed figure in the field. He will have the services of the best money rider in the country, Mike Smith, and will try to take another step forward in career start number 4. The only concern is the "Apollo Curse". It has been 136 years since a horse has won the Derby without running as a 2yr old. Besides that tidbit, Justify will be a tough horse to beat and will deserve the post time favoritism.
Mendelssohn, however, is another story and I will make a case for leaving him off the ticket. Mendelssohn won the UAE Derby in Dubai by 18 lengths. On the surface this seems great but let's dig a little deeper. Mendelssohn won in wire to wire fashion so I looked to see how track bias may have contributed. With no track statistics available, I found 15 dirt races run at Meydan in the 6 racing days prior, and 14 of the 15 races were won wire to wire. If that is not a bias, I do not know what is. Then we see that the horse that finished 2nd, Rayya, is a filly, and my pick in the Kentucky Oaks. Mendelssohn had the benefit of a strong track bias and a weak field, so I will discount that win and avoid his 4-1 morning line price.
Coming out of the Wood Memorial we have both Vino Rosso and Enticed. It has been many years since a Wood Memorial winner has gone on to capture the Kentucky Derby, but both of these colts deserve some attention. Settling behind a hot pace, Vino Rosso covered more ground than any other horse in the race, while Enticed tracked that hot pace in 2nd, experienced some bumping, and still ran on.
Audible is on a 4 race win streak, posting a nice progression of speed figures, and showing he can come from off the pace in his G1 Florida Derby win.
Get a $100 sign up bonus at twinspires.com
From the back of the pack we will have Lone Sailor, Hofburg, and My Boy Jack. Lone Sailor and Hofburg only have maiden wins to their credit, yet each finished 2nd in their last outing, earning the necessary points to run in the Derby. My Boy Jack, who won the G3 Lexington, would have been better served to have not run a mere 3 weeks ago, but was in the precarious spot of possibly needing more Derby points or risk missing the race. With 10 starts, he is the most heavily raced horse in the field.
Hofburg has been showing a nice speed figure progression and I lean towards him in this group of closers.
To complete our Oaks/Derby Double ticket, I will take the best horse from several pace scenarios and hope for a little racing luck. I will go with Justify, Magnum Moon, Hofburg, Bolt d'Oro, and Audible.
So our Oaks/Derby Double ticket will be: Rayya, Monomony Girl, and My Miss Lilly in the Oaks, with Justify, Magnum Moon, Hofburg, Bolt d'Oro, and Audible in the Derby. At $2 a pop, this is a $30 ticket.