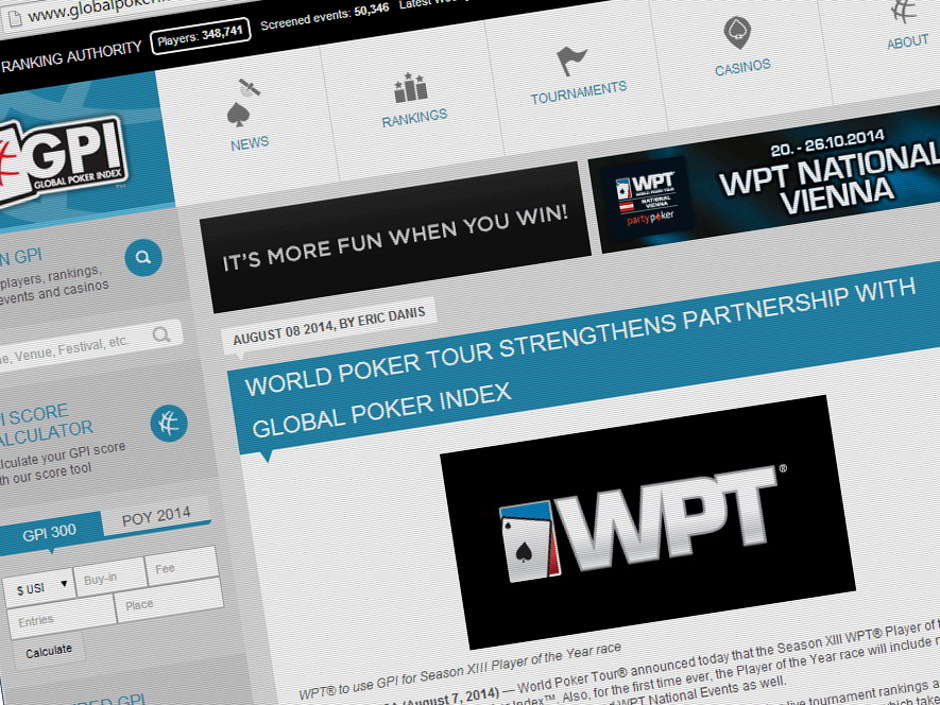 The World Poker Tour announced today that its Player of the Year award for the upcoming Season XIII will be calculated by poker ranking website, the Global Poker Index.
This season, the WPT Player of the Year award will not only include results from the events on the Main Tour, but will also take into account the new WPT500 and WPTDeepStacks as well as WPT National and Regional events.
"I'm thrilled to expand our relationship with the World Poker Tour and to help promote the WPT as a whole," said GPI CEO Alexandre Dreyfus in the press release.
In addition to calculating the WPT leaderboard, the World Poker Tour is integrating GPI's Fantasy Poker Manager into WPT.com, helping fans of fantasy poker engage directly with the WPT.
"In the United States, the success of fantasy games correlates strongly with the popularity of many sports, and we believe the same rings true for poker. Our Fantasy Poker Manager advocates engagement from both hardcore and casual fans of the game," Dreyfus says.
World Poker Tour President Adam Pliska welcomes the tighter alliance with the GPI as it expands the range of players that participate in the POY race.
"The GPI ranking system will allow more WPT players, regardless of the WPT offering they choose, to participate in the Season XIII Player of the Year race and provide better indicators for players throughout the entire season," commented Pliska.
In addition to earning points for the WPT POY race, WPTDeepstacks players will also compete simultaneously in their own POY race that will be powered by the GPI formula.
GPI has been expanding rapidly since it was taken over by Alex Dreyfus in August of 2012.
With the announcement of the WPT deal and its current arrangement with the European Poker Tour, the GPI ranking system is now used by the two most popular poker tours in the world.
The World Series of Poker and its circuit events remain the largest collection of poker tournaments not to use the GPI ranking system.
Smaller entities such as the Ante Up Poker Tour, the DeepStack Poker Tour and the CardPlayer Latin America Player of the Year also use GPI as their official rankings system.