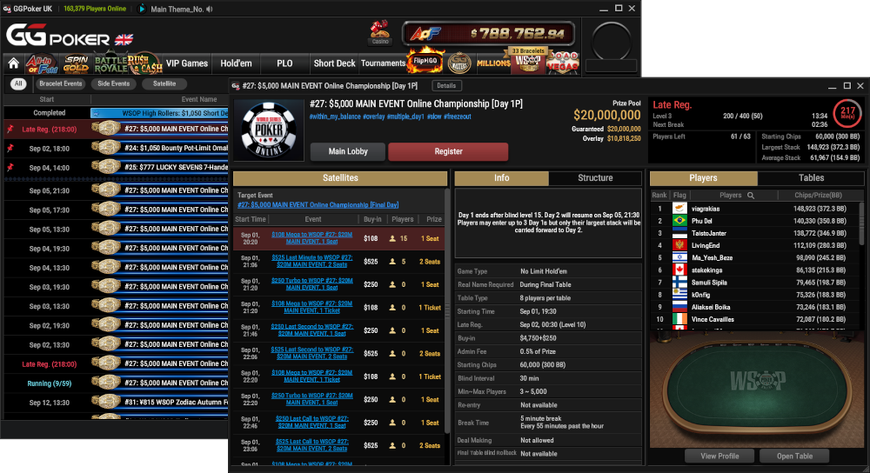 The WSOP 2021 Online Bracelet Events on GGPoker are gearing up for the $5,000 Main Event. Throughout the first 23 events, almost $54 million in prize money has been generated and more than 86,000 entries have emerged so far.
The festival continues to produce very solid numbers and has maintained the track record of surpassing each guarantee so far. Whether or not that will also be the case for the flagship Main Event remains to be seen. Across the first 13 out of 24 scheduled flights, the pinnacle event has generated more than $8.2 million in prize money towards the $20 million guarantee.
Poker players from

Brazil continue to shine with 11 top-three finishes, of which six were outright victories.

Italy and

Greece joined

Poland as countries with two-time champions while another eight countries have earned one WSOP Gold bracelet during the festival so far.
The series on the fastest growing online poker network currently competes with the World Championship of Online Poker (WCOOP) on PokerStars and the WPT World Online Championship on partypoker, as three of the most well-known brands in the world of poker once more go toe-to-toe.
Two-thirds of the scheduled gold bracelet events have concluded and the overall prize money collected has all but reached $54 million. On average, each of the tournaments generated more than $2.3 million in prize money and attracted 3,754 entries.
However, both of these figures are influenced by high-stakes competitions and low-stakes events with large field sizes. The network operator has collected more than $2.4 million in rake and an admin fee of $436,998 so far.
GG

WSOP

2021 Online Bracelet Events – First 23 Events Summary
International Leg
2021

WSOP

Online
Tournaments Completed
22/33
Tournament Registration Concluded
23/33
Prize Money Generated
$53,998,242
Average Prize Money Per Event
$2,347,750
Total Buy-In
$73,691
Average Buy-In
$3,204
Total Entries
86,350
Average Entries
3,754
Unique Entries
64,727 (74.96%)
Re-Entries
21,623 (25.04%)
Freezeout Tournaments
3/23
Rake Collected
$2,465,962
Admin Fee Collected
$436,998
Among the 22 concluded tournaments were three Freezeouts, which includes the $10,000 Heads-Up Championship, the $1,050 WSOP GGMasters, and the $1,500 MONSTER STACK.
All but four tournaments generated a seven-figure prize pool and nine of them came with a guarantee. The operator surpassed the set goal for each of them and these nine tournaments were responsible for more than $36 million in prize money.
This includes the popular bargain events $400 PLOSSUS with 4,576 entries and the $400 COLOSSUS, which drew a field of 10,903 entries. On the other side of the buy-in range was the $25,000 Super High Roller Championship, which attracted a field of 255 entries and generated $6,427,500 in prize money.
Only four of the remaining gold bracelet events will feature a guarantee and all eyes will be set on the $5,000 Main Event boasting an ambitious $20 million guarantee. With more than half of the scheduled starting flights completed, the tournament has so far covered 41.3% of the $20 million guarantee.
GG

WSOP

2021 $5,000 Main Event so far
2021

WSOP

International Leg
$5,000 Main Event
Guaranteed Prize Pool
$20,000,000
Prize Money Collected
$8,260,250
Starting Days Completed
13/24
Total Entries
1,739
Average Entries per Flight
134
Survivors
244
Survivors in %
14.03%
Entries Needed to Avoid Overlay
2472
Avg Entries per Flight Needed
225
Across the 13 starting days so far, a field of 1,739 entries has emerged and 244 players advanced to Day 2 so far. To avoid the overlay, it would need to attract another 2472 entries over the remaining 11 flights.
Players can participate in up to three flights, each of which is played in a Freezeout format. In case someone advances more than once, the superior stack will be carried over into Day 2 on Sunday, September 5, 2021.
Whether or not any other nation will be able to catch Brazil at the top of the overall leaderboard seems highly questionable at this rate. Only three countries have earned two titles so far while the South American powerhouse nation already has six victories under their belt.
2021

WSOP

Online International Leg Ranking after 22/33 Events
| Rank | Flag | Country | Gold | Silver | Bronze | Total |
| --- | --- | --- | --- | --- | --- | --- |
| 1 | | Brazil | 6 | 3 | 2 | 11 |
| 2 | | Italy | 2 | 1 | | 3 |
| 3 | | Poland | 2 | | 1 | 3 |
| 4 | | Greece | 2 | | | 2 |
| 5 | | Russia | 1 | 3 | | 4 |
| 6 | | Finland | 1 | 1 | 1 | 3 |
| 7 | | Hungary | 1 | 1 | | 2 |
| 8 | | Israel | 1 | | 3 | 4 |
| 9 | | Germany | 1 | | | 1 |
| 9 | | Lithuania | 1 | | | 1 |
| 9 | | Ukraine | 1 | | | 1 |
| 9 | | United States | 1 | | | 1 |
| 13 | | China | | 3 | 2 | 5 |
| 14 | | Austria | | 1 | 2 | 3 |
| 15 | | Australia | | 1 | 1 | 2 |
| 15 | | Portugal | | 1 | 1 | 2 |
| 15 | | Taiwan | | 1 | 1 | 2 |
| 18 | | Hong Kong | | 1 | | 1 |
| 18 | | Japan | | 1 | | 1 |
| 18 | | Norway | | 1 | | 1 |
| 18 | | Uruguay | | 1 | | 1 |
| 18 | | Vietnam | | 1 | | 1 |
| 23 | | Belgium | | | 1 | 1 |
| 23 | | Canada | | | 1 | 1 |
| 23 | | Cyprus | | | 1 | 1 |
| 23 | | India | | | 1 | 1 |
| 23 | | Montenegro | | | 1 | 1 |
| 23 | | Switzerland | | | 1 | 1 |