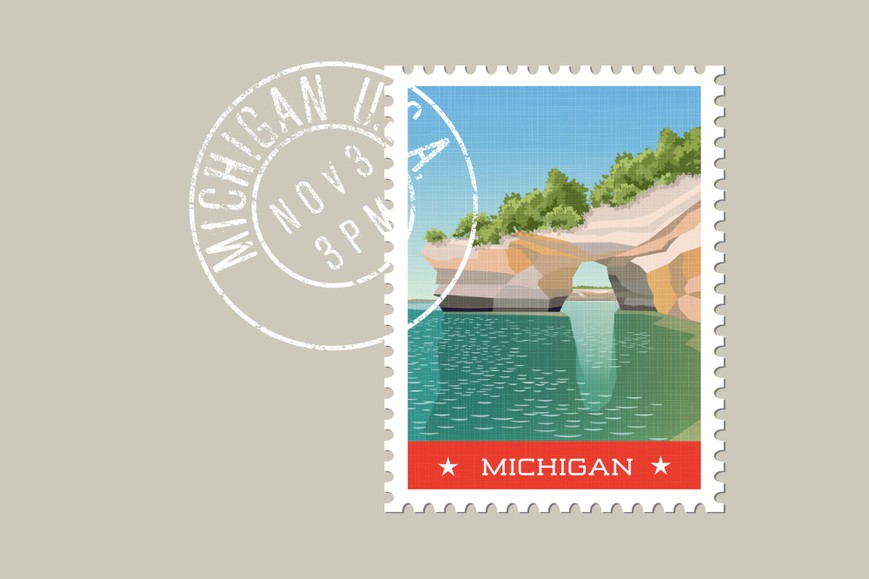 More than 10,000 citizens have self-excluded from various platforms.
The Michigan Gaming Control Board (MGCB) which oversees the regulation of online gambling in the state, announced this month that Michigan online poker apps would be joining an online poker compact with the markets of Delaware, Nevada, and New Jersey — a move which was made official as the MGCB put pen to paper and signed the Multi-State Internet Gaming Agreement (MSIGA).
The addition of Michigan to the MSIGA will see the combined player pools from the four states balloon from about 13 million to 23.5 million people. With such a large contingent having access to the multistate online poker networks afforded by MSIGA, it will be even more important for the regulator to make its responsible gambling offerings as robust as possible.
All online gambling operators in Michigan offer ways for players to take time away from the tables — but the MGCB also offers players a way to remove themselves for longer periods of time across all of the online gambling operators in the state in one swoop. This way, a player does not have to self-exclude from every site individually but can just do it once via the state regulator's site.
In a wide-ranging interview, Mary Kay Bean, Communications Specialist at the Michigan Gaming Control Board tells us more about the responsible gambling efforts undertaken by the Board. The Board lifted the lid on how players can self-exclude by adding themselves to the Responsible Gambling Database and how it may not be as labor-intensive as it first seems.
Are you planning any social media / public awareness campaign to alert Michigan residents to Responsible Gaming tools?
Gov. Whitmer's Fiscal Year 2023 budget request included $3 million for the agency to launch a responsible gaming awareness campaign, which would include social media. The fiscal year begins Oct. 1. The Legislature currently is working on budget bills for the next fiscal year. By law, the Michigan Department of Health and Human Services receives funding for treatment, prevention, training, research, and evaluation of compulsive gamblers and their families from the annual assessment fees paid each year by gaming licensees. The fees are directed to the Compulsive Gambling Prevention Fund, and the Legislature allocates funding to MDHHS from the fund.
In the calendar year 2021, the Compulsive Gaming Prevention Fund received $2 million from the State Services Fee Fund (Detroit casino fees) and $500,000 each from the Internet Gaming Fund and the Internet Sports Betting Fund (internet gaming and sports betting fees). MGCB collaborates monthly with MDHHS and the Michigan Lottery regarding problem gambling issues and concerns, brainstorming how to meet the needs of the citizens, and determining methods to implement tools to address problem gambling.
Currently, our agency's Responsible Gaming section has developed print materials on responsible gambling including resources to receive assistance, which we are distributing to citizens and groups around the state, and to the three Detroit commercial casinos. Our Responsible Gaming section will also be making in-person presentations to community outreach groups upon request.
Our priority is protecting the interests of the citizens of the state of Michigan.
How are you viewing responsible gambling within the scope of joining the

MSIGA

— will anything change? Will things stay the same?
Our priority is protecting the interests of the citizens of the state of Michigan while continuing to follow the statute and associated administrative rules. Operators have a direct link to each player so it is important to be aware of the user experience and intervene as needed to promote responsible gaming efforts. We require the sites to include information on where to find resources and help.
The MGCB has a long history of working in self-exclusion as we've administered a program for the Detroit commercial casinos for more than 20 years. Additionally, our agency is a member of the National Council on Problem Gambling, which allows us to increase our impact as it relates to responsible gaming with access, on a nationwide level, to networking opportunities, webinars, and the ability to collaborate and address problem gambling. While we can't forecast what may happen after multi-jurisdictional poker begins, we are ready to address our citizens' responsible gaming needs.
Gambling should be a leisure and entertainment activity. It's important to know your limits and use the self-limit options if you need help.
Do you have any RG advice to give to new players in MI?
Gambling should be a leisure and entertainment activity. It's important to know your limits and use the self-limit options if you need help. If the problem becomes more serious, exclude yourself and seek professional counseling.
The MGCB has worked closely with the operators and platform providers to make sure they include many options on their sites. A range of options also helps those who want to set limits but are not ready to ban themselves. These options include self-imposed gambling limits such as deposits, wagers, and time-based options which can be changed with 24 hours' notice.
Players should become familiar with the self-management tools typically found in the customer service section on the operator or platform provider sites. In addition to self-imposed gambling limits, each site must notify the public about the state's Gambling Disorder Helpline, 800-270-7117, including information about U.S.-based organizations dedicated to helping people with potential gambling problems, and notify the public about the information on the MGCB website.
What are the pros of a player choosing to self-exclude via the

MGCB

rather than via the online gaming company directly?
For those who want to opt-out of all sites, the MGCB has a self-exclusion option. An individual can choose to exclude themselves from internet gaming (and/or internet sports betting) for one or five years.
Operators and platform providers are required to offer opt-out options on their sites. Patrons are already on the site, and it's easy to click to another part of the site to self-exclude. The operators and platform providers can offer more options for exclusion times: lifetime, six months, etc. However, those who wager on multiple sites would have to visit each site individually to self-exclude.
The MGCB offers broad self-exclusion services in one place — the Responsible Gaming Database.
Do you think the process of adding players to the RG database could be streamlined in any way?
We are always looking at ways to improve productivity. It's important to ensure applicants understand their gambling problem and the ramifications of their choices. For example, some providers may choose to extend internet gaming self-exclusion to physical properties in Michigan and in other states and their sites in other states.
Do you think the 45+ day wait period is an acceptable period of time for players waiting to be added to the responsible gambling database?
The MGCB informs applicants that the process could take up to 45 days or longer. The process could be shorter or longer depending on how complete the applicant's application is and the volume of applications being processed. It's important to ensure the MGCB has complete and correct information so self-exclusion can be implemented properly.
Do you still require in-person visits if a person wants to self-exclude?
Applications can be submitted in three ways:
Complete the application in person at our Detroit office
Email the application to MGCB-RGD@michigan.gov
Send the application via U.S. Mail to our Detroit office
Some applicants may require an interpreter, which could add more time to the process. For persons seeking to self-exclude from the three Detroit casinos, an in-person visit is required.
How many people are on the RG database, and roughly how many people self-exclude in this way each month/ year in MI?
The Responsible Gaming Database launched in early 2021. At the Board's April public meeting, Executive Director Williams reported that, as of March 31, 2022, 161 applicants had requested placement in the RGD. Of those, 135 individuals have been placed on the internet gaming list and 125 have been placed on the internet sports betting list. Because information was incomplete, 23 applications were returned for additional information. Three applications were pending processing.
The operators and platform providers reported more than 10,000 citizens have self-excluded from various platforms.
The information will be updated at the Board's June 7, 2022, public meeting.
If you or someone you know might be struggling with gambling addiction or harmful gambling behaviors, learn more about specific resources available in your state as well as national assistance in our sister site Poker Shield's Guide to Identifying Gambling Addiction and How to Get Help