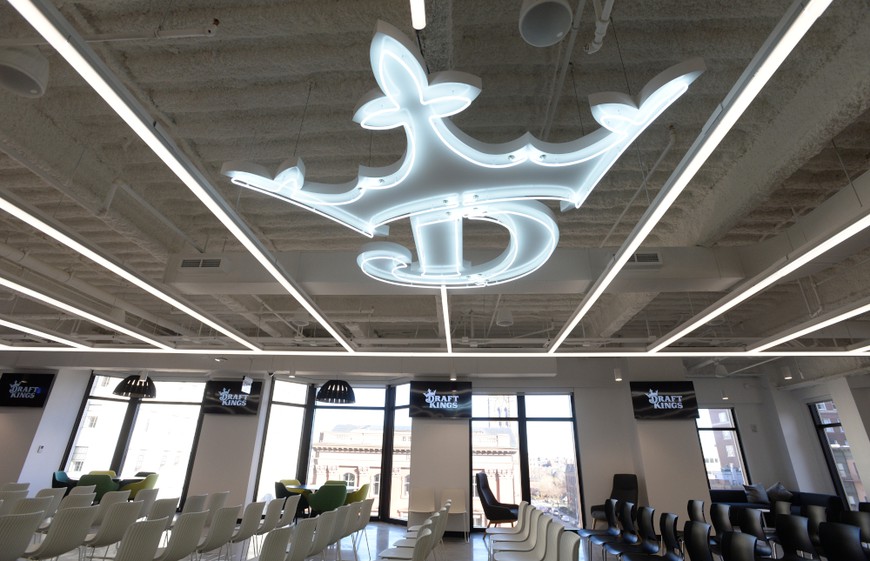 The plan is that we should get profitable on the current capital we have, and everybody has rallied around that. We have a multi-year financial plan. Everyone's committed to the numbers, not just for this year but for next year and beyond. That's what we're going to do. DraftKings CEO Jason Robins said the company is actively trying to limit or outright eliminate action by sharp bettors in sports betting and wants to generate more parlay bets instead.
One month after the Boston-based operator completed its acquisition of Golden Nugget Online Gaming (GNOG), Robins said DraftKings is also working to tailor its online casino marketing toward players who tend to be older, more female, and more interested in slots.
On Monday, Robins told attendees of the Goldman Sachs Travel and Leisure Conference that DraftKings is focused on several potential new states for sports betting, including its home state of Massachusetts, but insisted that the company does not need to raise any additional capital for expansion.
"We've been very consistent that we have a multi-year plan that does not entail us needing to raise more capital," Robins said.

Special Signup Offer
$1000 First Deposit Bonus
Access to renowned DraftKings Rewards Program
Great mobile betting apps
Fast and hassle-free withdrawals
Please play responsibly. If you or someone you know has a gambling problem and wants help, call 1-800
GAMBLER
.
Trying to "Get Smart at Eliminating Sharp Action"
In comments likely to (again) irritate some of the sports betting public, Robins said DraftKings is "trying to get smart at eliminating the sharp action, or limiting it at least if we don't want as much. We're also making sure that we have a high parlay mix because people do like that. That's been something we've been pushing on a lot since we migrated [to SBTech]."
The CEO created a stir when he made similar comments last fall. At the Canaccord Genuity Digital Gaming Virtual Summit on November 30, 2021, Robins said sports betting "is an entertainment activity. People who are doing this for profit are not the players we want."
At Monday's event, Robins said DraftKings Sportsbook wants to replicate what it did in daily fantasy sports (DFS), where margins got higher as the market matured "because we just decided to make them higher. You can do that. The tricky part is doing that at the right time and the right way — where it's not degrading from the customer experience."
Robins doubled down on the idea that operators' win rate should go up as markets mature, rather than the other way around — that as markets mature, the more seasoned sports bettors, who usually fare better on average, come out ahead.
"I think that when you're in an earlier stage environment, it's not the worst thing in the world if you're giving people a couple of extra winning experiences out of every ten instead of trying to maximize how much margin you're taking," Robins said. "It's an area of focus for us, but very deliberately. What we're not looking to do are things like taking money from people by forcing them into bets they don't want or trying to direct them there."
Efforts Continue to Entice Sports Bettors to Online Casino Gaming
Robins said that while DraftKings has tried to cross-sell sports fans into iGaming, there will still be players "that maybe aren't going to come through the sports funnel.
"A lot of them view DraftKings as a sports-centric company, a sports-centric brand. But we also saw that, once we were actually getting [these players], they were more likely to rate our products higher than maybe they thought going in. We're really retaining them well — it's more of a brand issue."
Although it doesn't have a lot of data to go on, the CEO said DraftKings believes Golden Nugget online casino players are "more female skewed, more slots players, and older average age. We can run the same types of marketing programs we were trying to run with the DraftKings brand but acquire them onto Golden Nugget for less costs and more efficiently.
"That's really going to allow us to increase our focus on broadening the entire iGaming market, as opposed to maybe the 50% that we were reaching well and then doing just okay with the other 50%."
The Next States DraftKings is Focused On
If we're able to pass [the initiative] in November, we could potentially be looking at a 2023 launch for California, hopefully ahead of the NFL season. Robins said Ohio, Maryland, and Puerto Rico are all likely to launch sports betting in 2023. The CEO said it would be transformative if those jurisdictions all legalized sports betting.
"Just those alone would bring the total US population to 46% penetration. It's really cool to see that we're close to 50%. We don't have the three largest states yet. Naturally, those states are going to be a big focus area for us." The top three US states in terms of population are California, Florida, and Texas.
DraftKings is one of three operators leading the effort to legalize sports betting in California. The company worked with BetMGM and FanDuel to get an initiative to that effect on the November ballot.
"If we're able to pass [the initiative] in November, we could potentially be looking at a 2023 launch for California, hopefully ahead of the NFL season," Robins said. "Beyond that, I think Texas will at least consider [sports betting] in their upcoming legislative session. Our home state of Massachusetts is a great gaming state — that's an area we're focusing on.
"There's a couple of others we think have a path to legislation. North Carolina is on the cusp. Georgia, we didn't get through this past year, but hopefully, that will come in a future year as well."

Special Signup Offer
100% deposit bonus up to $2000!
$100 in casino credits with 1x wagering
Generous rewards program
Over 500 popular video slots
Please play responsibly. If you or someone you know has a gambling problem and wants help, call 1-800
GAMBLER
.
No Need For More Capital
At the end of the interview, Robins insisted that DraftKings would not need to raise more capital.
"We've stress-tested our plan under a variety of scenarios. Of course, there could always be some black swan-type situation like what happened [when] sports shut down in 2020. If that were for a really extended period of time, maybe the math changes. But even then, there are levers we can pull. We would shut off marketing if we had to.
"It would be really hard to come up with a scenario where we would need to raise capital. The plan is not to. The plan is that we should get profitable on the current capital we have, and everybody has rallied around that. We have a multi-year financial plan. Everyone's committed to the numbers, not just for this year but for next year and beyond. That's what we're going to do."