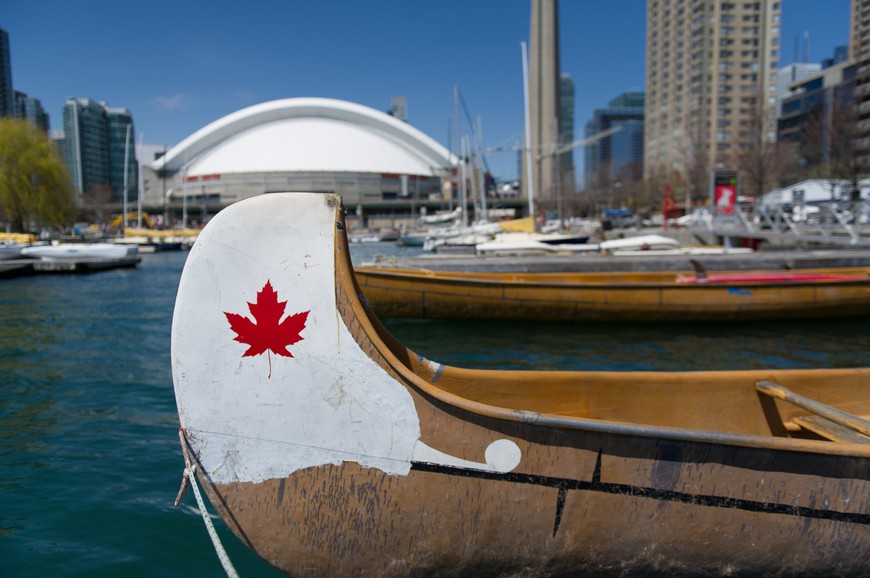 Sports betting has been around in Canada for a long time, but until April 4, 2022, the province of Ontario sports betting was only served by the government-owned Ontario Lottery and Gaming Corporation (OLG).
That's now all changed: residents of Ontario can make sports bets perfectly legally at several locally licensed betting sites and apps, all with an official gaming license of iGaming Ontario (iGO), a subsidiary of the Alcohol and Gaming Commission of Ontario (AGCO).
If you are looking for a place to make some real money bets, these are the best legal betting sites in Ontario that you can sign up with and play at in a safe and responsible way.
1. BetRivers Sportsbook Ontario
With over 40 different sports on offer and many international sports betting markets on the list, BetRivers Sportsbook is one of the best places for sports bettors who like to spread their bets across many events.
The BetRivers Ontario sports app is very international in other ways too, offering different betting odds formats, along with many other options that make the desktop and mobile app player-friendly and highly intuitive.
Live streaming of major sports matches is available across all devices, along with an extensive look into the relevant statistics, all of which can help you make better bets.
BetRivers also accepts a variety of payment methods for both deposits and cashouts, including credit and debit cards, INTERAC, and PayPal, making it very easy to move your funds around and get the bets in as promptly as you need to.
2. Caesars Sportsbook Ontario
Another sports betting operator with a wide range of betting options for Ontario players, Caesars Sportsbook is a brand that's been spreading across North America for a while — and one that most have certainly heard of.
At Caesars Sportsbook, Ontario bettors can bet on markets across more than 20 different sports, with an especially wide range of in-play betting options and prop betting markets.
Players looking to make multi-bets and parlays can find some great options at Caesars Sportsbook, and same-game parlays are fully integrated, allowing you to make exactly the bet you are looking for.
Unlike many other Ontario operators, Caesars Sportsbook offers telephone customer support, which is the best way to handle any potential problems that may occur while trying to get your bets in.
Live streams are not available at Caesars Sportsbook, and the mobile app may not be as advanced as some competitors, but the lucrative odds across all markets and the prop bet selection still makes Caesars Sportsbook an operator worth trying out.
3. DraftKings Sportsbook Ontario
Powered by the biggest daily fantasy sports operator in North America, DraftKings Sportsbook is another high-quality sports betting product that you may want to look into.
The DraftKings betting platform is state-of-the-art, allowing for fast and intuitive navigation and fast sports betting, especially when it comes to live betting markets where the odds are always changing from one minute to the next.
The amount of betting markets at DraftKings is somewhat limited, with 19 sports in total offered, but the majority of all Canadian and American competitions and games are still fully available.
Players at DraftKings Sportsbook can also access the operator's casino product through the same app, with both available on desktop and mobile devices alike. A live stream can also be accessed for many games, which is especially helpful as a tool to assist you with your in-play bets.
4. Unibet Ontario
One of the biggest names on the international sports betting scene, Unibet Ontario entered the market with the ability to offer instantly one of the best sports betting products out there.
The Unibet betting platform is easily one of the very best around, offering biometric logins, free sports live streaming, early cashouts, build your own bet feature, and much more.
The one thing Unibet Ontario is still lacking in is variety of sports, with only about 20 different sports currently listed on the platform. Yet, all the major games are on offer, with a huge range of betting markets available in each.
The ability to create your own bet by combining different markets to create a one game parlay makes Unibet as flexible as any other platform. Combine this with some of the best betting odds in the world, and you are looking at a truly premium betting platform.
5. BetMGM Sports Ontario
One of the top betting and iGaming operators in all of North America, BetMGM Sports was among the first to get its license in Ontario.
The site allows for deposits as low as C$10, and offers some of the very best betting odds in the country, with 26 different sports and hundreds of betting markets all covered on the platform.
Both the desktop version of the site and the mobile BetMGM Sports app offer a high quality betting experience, with a fully-integrated live betting and live streaming platform available on both.
BetMGM Sports Ontario includes one game parlay options, an automatic parlay generator, score notifications and game alerts, and much more.
The operator allows for cash deposits via credit cards, Apple Pay, and E-Transfers, as well as quick and affordable withdrawals via Apple Pay and E-Transfer, and generally provides one of the top sports betting experience in Ontario and beyond.