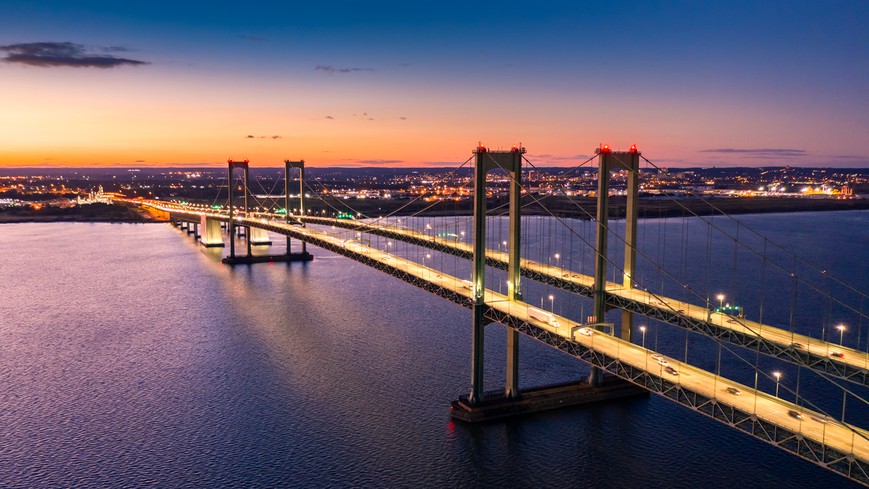 [888] has enjoyed a long-standing, mutually beneficial relationship with the state of Delaware, and we look forward to the continued opportunity to work with the state throughout the process. For nearly a decade, 888 has provided online poker and casino gaming to Delawareans. Last Thursday, the Delaware Lottery put the exclusive iGaming contract that it first awarded to 888 up for bids.
What happens next is unclear. In a statement to pokerfuse, 888 suggested that it intends to submit a bid for the contract. Considering that the parent company 888 Holdings has held the contract without incident for about 10 years, 888 should be the early favorite.
But the Lottery's decision to issue a request for proposal (RFP) could open the door for one of 888's chief rivals in online poker — particularly BetMGM and PokerStars, the latter of which applied for the contract when it first came up in 2013 but was ultimately passed over for 888.
The Lottery also floated the idea of having online sports betting in Delaware for the first time.
All of this raises several questions about the future of iGaming in Delaware. Let's unpack what the Lottery's issuance of the RFP could mean for players in the state.

Special Signup Offer
100% deposit bonus up to $1000!
Up to $75 in

MTT

tickets on top of the bonus
Frequent

MTT

series with good guarantees
Great action around the clock
Q1: Is 888 Getting Replaced?
888 has served as the Lottery's primary vendor since 2013. The operator launched online casino games in October of that year and launched real money online poker in Delaware the following month.
Now that the Lottery has issued an RFP, one question raised is — will 888 be replaced?
In an exclusive, 888 US President Howard Mittman said the company "has enjoyed a long-standing, mutually beneficial relationship with the state of Delaware, and we look forward to the continued opportunity to work with the state throughout the process."
Mittman's comments strongly suggest that 888 intends to apply. Also, consider that the Lottery's contract effectively represents a monopoly on iGaming in the state. Considering the minimum requirements for applying, there's a relatively short list of potential suitors (more on that later).
The Lottery wants to have the issue settled soon. It wants all applications submitted by February and plans to award the contract in March, with the agreement taking effect by November 1, 2023. It also intends to sign a five-year deal with a primary vendor and will retain the option of extending it unilaterally five times, each for one additional year.
Last fall, an official with the Lottery confirmed that there had been talks with 888 over extending the contract again but declined to go into details. The official did not disclose when the contract expired or whether it planned to issue an RFP.
Online poker and casino games in Delaware are offered through the 888 platform, which provides a skin to each of three racinos in the state under the oversight of the Lottery — Bally's Dover (formerly Dover Downs), Delaware Park, and Harrington Raceway.
Despite issuing the RFP, the Lottery could ultimately decide to reissue the contract to 888. Stay tuned.
Q2: Who Could Be the Replacement?
In its RFP, the Lottery made one thing crystal clear — if it replaces 888, it won't be with an operator lacking experience.
The Lottery requires all vendor applicants to have at least one live client in the US and that it has provided products or services to clients for at least one year.
Primary vendors face additional requirements. They must have offered, directly or through sub-licensees, online poker, casino gaming, sports betting, video lottery, keno, or bingo in a US jurisdiction for at least two years. They must have also offered at least 30 games or online sports betting for a minimum of one year.
If the Lottery focuses on operators with an established background in online casino gaming, it will have a long list to choose from. The list gets considerably shorter if the focus goes to online poker operators — it would be 888, BetMGM, and PokerStars.
It should also be noted that PokerStars applied for the original contract with the Delaware Lottery back in 2013. IGT also submitted a failed bid.
But the way the Lottery wrote the requirements, it may have inadvertently suggested that it intends to give equal consideration to a primary vendor applicant with more of a sports betting background. Whether the Lottery would replace 888 with an operator like DraftKings or FanDuel remains to be seen.
Representatives for BetMGM and PokerStars could not be reached for comment.

Special Signup Offer
100% deposit bonus up to $2000!
$25 in no deposit credits & another $25 after depositing
Generous rewards program
Over 500 popular video slots
Q3: Could Online Poker Disappear in DE?
It seems unlikely that the Lottery would replace 888 with an operator that doesn't offer online poker. But without knowing all the motivations held by the Lottery, the idea can't be entirely dismissed, either.
The Lottery could, for example, be looking to maximize returns from online sports betting. It could also look to make a bigger splash in online casino gaming. Also, online poker doesn't bring the state much tax revenue compared to the other verticals.
If the Lottery gave online poker short shrift, it might drive customers to offshore sites. It would also defeat the purpose of Delaware signing the Multi-State Internet Gaming Agreement (MSIGA), a multi-state compact for US online poker apps and some casino games that comprise Delaware, Michigan, Nevada, and New Jersey.
It would seem more likely that an operator like BetMGM would be interested so it could connect with player pools in Michigan and New Jersey. PokerStars is another candidate for the same reason. 888 currently connects to players in all four states through the WSOP US Network.
Learn more in our complete Guide to US Multi-State Online Poker.
Q4: Is Online Sports Betting Coming to DE?
The Lottery also said it is interested in launching real money online sports betting in Delaware.
In its RFP, the Lottery said it wants an "internet wagering system and services solution" with several components, including "games from multiple vendors including casino table games, video lottery games, poker, bingo, and keno — with the option for the Lottery to add internet sports betting."
When Delaware online sports betting could go live is unclear. The RFP said it could start when the new vendor goes live or "at some point in the future or not at all."
But the Lottery also said it ,"is seeking a full-service offering to include all the core operations sports-betting capabilities" and lists "internet sports betting" among the responsibilities of a primary vendor.

Our #1 Rated Online Casino in the US
100% deposit bonus up to $600!
Get $100 in free funds after wagering $1
Great variety of gaming options
Quality player rewards program
#1 Rated online casino in the US by pokerfuse.com
Q5: When Will We Know More?
The Lottery wants to wrap up most of the details by spring.
Interested vendors have until 3 p.m. EST on February 3 to submit written questions to the Lottery, which has until February 10 to answer them. Proposed submissions are due from all vendors by 3 p.m. EST on February 17.
According to the RFP, presentations from primary and game vendors are scheduled to run from March 1 through March 15. The Lottery said it would make final recommendations for both types of vendors to its director on March 22, with a notice of intent to start negotiations on March 24.
Support service vendors are scheduled to present between March 27 and April 7. Final recommendations for those vendors are planned for April 14, with negotiations to begin on April 19.