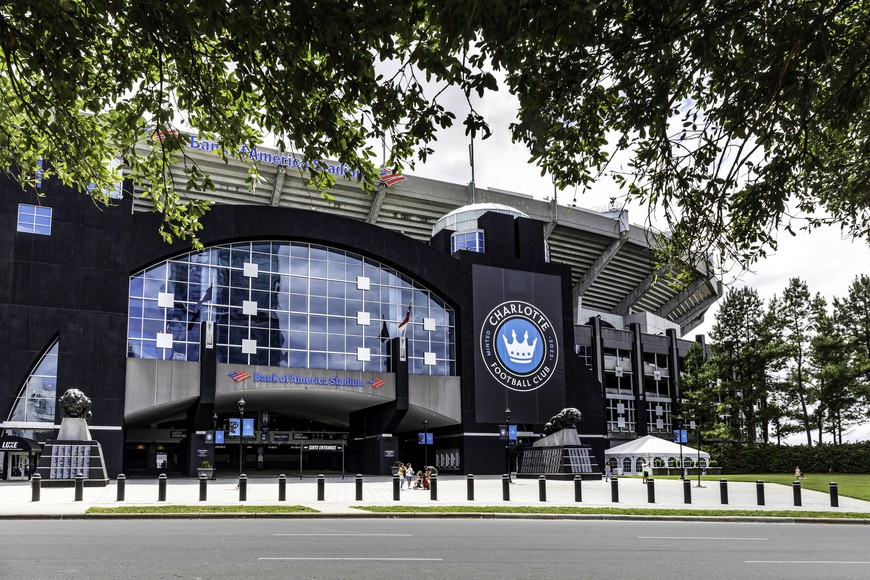 Make no mistake, overall this is a bad budget that … keeps shady backroom deals secret and blatantly violates the constitution Did North Carolina sports betting just become a "shady backroom deal?"
Those are the words that Democratic Governor Roy Cooper used to express his displeasure with a state budget bill that GOP lawmakers pushed across the finish line on Friday. The bill includes language that makes major changes to the way the state lottery will issue mobile sports betting licenses before the market launches next year.
Specifically, the lottery will be under a new directive to issue a license to an operator that was executed a "written designation agreement" with either a professional sports team, a couple of auto race tracks and golf courses, NASCAR, or the PGA.
"Make no mistake, overall this is a bad budget that seriously shortchanges our schools, prioritizes power grabs, keeps shady backroom deals secret and blatantly violates the constitution, and many of its provisions will face legal action," Cooper said Friday, just after HB 259 cleared both houses of the General Assembly.
Despite his reservations, Cooper said he would allow the bill to become law without his signature because it included an expansion of Medicaid, an issue he champions. He didn't elaborate on what he meant by "shady backroom deals" or what provisions could be challenged in court — but he could have been talking about sports betting.
Lawmakers didn't define "written designation agreement" in the budget bill, so operators will likely find themselves in a bidding war to gain market access. That could be lucrative, considering North Carolina ranks ninth in population with 10.7 million residents.
But it's also a big departure from what was originally proposed — namely, that the North Carolina State Lottery Commission (NCLC) would accept applications from operators and issue 12 mobile sports betting licenses. The pro teams, venues, and sporting organizations didn't have a part in the process.
The new directive does, however, require that a copy of the written designation agreement between an operator and a qualified partner be submitted to the NCLC as part of the application process.
Who's (Likely) Coming to NC?
So, what operators would likely be interested in launching in the Tar Heel State?
Considering the cutthroat nature of sports betting in the US, the list of likely operators to launch in North Carolina likely boils down to the ones that have large market shares across the US or are at the very least can build upon their popularity in other states — especially neighboring ones.
FanDuel and DraftKings are no-brainers. It's very likely that BetMGM and Caesars Sportsbook will also want in on the action, as will BetFanatics, which has been jumping into new markets (like Kentucky) and recently acquired market access in several states after buying PointsBet US. Caesars is building a casino in Danville, a short drive north of the state line.
Potential Sportsbooks in North Carolina
Operator
Likelihood of NC Launch
DraftKings, FanDuel
Near Certainty
BetFanatics, BetMGM, Caesars Sportsbook
Very Likely
Bet365, BetRivers,

ESPN

Bet, Hard Rock Bet
Likely
Bally Bet Sportsbook, Betly, Betr, SI Sportsbook, SuperBook, Unibet
Maybe
WynnBET
Very Unlikely
It's hard to imagine that Rush Street Interactive (RSI) wouldn't want to bring its BetRivers brand to North Carolina. After all, it's operational in neighboring Virginia and recently opened a retail casino in Portsmouth, another short drive over the state line. Same story with Hard Rock Bet, with a casino in Bristol — a little farther for patrons from NC, but a manageable drive for some.
Bet365 is newly launched in Kentucky and is live in neighboring Virginia. Penn Entertainment is also a big player, and would likely love to launch ESPN Bet in a state that's often considered the nation's powerhouse for college basketball.
Bally Bet Sportsbook is live in Virginia and licensed in Tennessee, but hasn't launched in the latter yet.
Longshots include Betly and SuperBook, which are licensed in Tennessee, and Betr, SI Sportsbook, and Unibet, which are licensed to operate in Virginia.
The budget bill did not change the tax rate (18%) or the launch date (sometime on or after January 8, but no later than June 14, 2024).