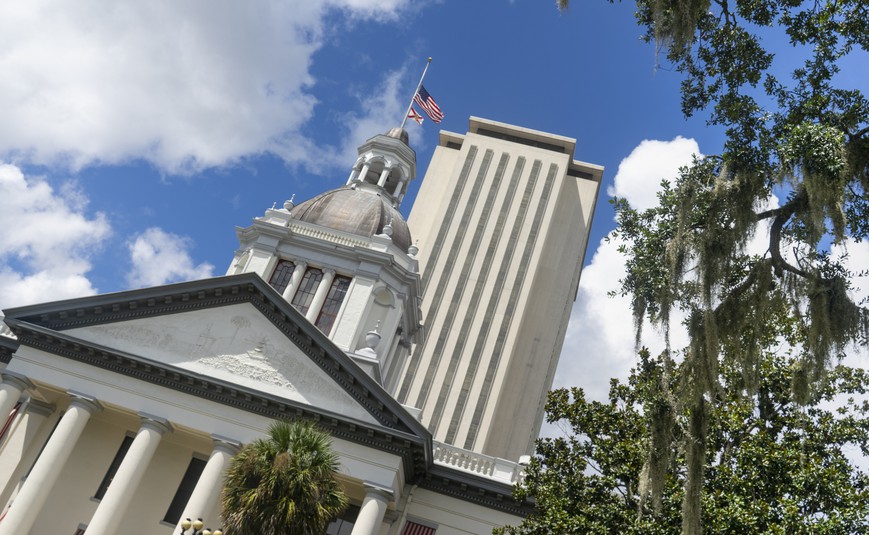 This suit against the [DOI] secretary is not the appropriate forum to air them. West Flagler remains free to challenge that Florida law in an appropriate forum. The federal government pushed back on the idea that there should be a pause on mobile sports betting in Florida while the plaintiffs go through final appeals.
It's the latest development in the fight over Florida sports betting. If the US Court of Appeals for the District of Columbia Circuit agrees with the Department of Interior (DOI), then Hard Rock Bet could be closer to accepting wagers in the Sunshine State.
Otherwise, Monday's filing by the DOI just represents another salvo in the ongoing legal dispute between the government and two parimutuels, West Flagler Associates and the Bonita-Fort Myers Corporation. The plaintiffs have kept Florida sports betting on ice since a district court ruled in their favor in November 2021.
"A stay is not warranted, because any such petition could present no substantial question for [US] Supreme Court review," DOI said in a filing Monday.
DOI: Plaintiffs' Real Beef is With Florida
In its filing, the DOI argued that a stay is inappropriate because the appellate court had reached a narrow ruling tailored to Florida: Specifically, that the department's secretary, Deb Haaland, didn't violate the Indian Gaming Regulatory Act (IGRA) when she allowed an amended gaming compact between the Seminole Tribe and the State of Florida to take effect without her signature.
DOI added that IGRA could not, as a matter of law, authorize the gaming activities outside of tribal land that the plaintiffs believe are illegal.
The plaintiffs, they argue, should take their case to state court instead. "West Flagler's dispute is instead with the Florida law that does authorize those activities," DOI said.
"Whatever the merits of West Flagler's allegations that Florida's regime for governing gaming outside Indian land will cause irreparable financial injury or thwart the will of Florida voters, this suit against the [DOI] secretary is not the appropriate forum to air them. West Flagler remains free to challenge that Florida law in an appropriate forum."
In notes from one section of the filing, DOI emphasized that "the focus of any IGRA compact is gaming on Indian lands. Gaming outside Indian lands is an 'other subject' that, on the facts of this case, is directly related to the gaming activities occurring on Indian lands."
DOI added "moreover, the [US] Supreme Court has expressly recognized that while IGRA itself only provides tools for regulating gaming on Indian land, compacts may nevertheless include agreements related to gaming outside Indian land." The agency cited the 2014 case Michigan v. Bay Mills Indian Community to support its argument.
Deadline for
SCOTUS

Appeal Looms

A three-judge panel of the appellate court ruled in DOI's favor on June 30. West Flagler and Bonita-Fort Myers asked the court to rehear the case en banc (meaning with all 11 judges) but the court rejected that idea on September 11.

Now that DOI has filed its opposition to a stay with the court, the plaintiffs have one week to respond. After that, the court will begin considering the plaintiffs' request for a stay and consider the government's position. The court is not under any deadline to issue a ruling and could do so at any time.

West Flagler and Bonita-Fort Myers have 90 days from the time the appellate court issued its ruling to file an appeal to the US Supreme Court. That means they have until the end of the week — September 30.

The case is West Flagler Associates Limited et al v. Debra Haaland et al (No. 21-5265).
Seminole Tribe and Hard Rock Bet in Florida: A Timeline
April 2021: Florida House and Senate approve a new 30-year gaming compact with Seminole Tribe to operate a "hub-and-spoke" system which effectively allows sports betting to occur state-wide, excluding other tribal lands.
July 2021: West Flagler and Bonita-Myers sue the US Department of Interior for violation of Indian Gaming Regulatory Act (

IGRA

).
October 2021: Hard Rock launches for real money mobile sports betting in Florida, despite pending legal challenge.
November 2021: A month later, Hard Rock Florida shuts down after district court judge rules in favor of the plaintiffs.
June 30, 2023: Decision is reversed on appeal.
August 14: Plaintiffs request a rehearing en banc, which again blocks Hard Rock Bet from launching in Florida.
August 31: US Department of Interior says a rehearing of this case is "not warranted".
September 11: Court of Appeals agrees, rejecting the appeal. It paves the way once again for Hard Rock Bet to launch.
September 18: Plaintiffs throw "hail mary" request to stop Florida sports betting, requesting a stay while it appeals to the US Supreme Court.
September 25:

DOI

argues that the stay is not warranted.