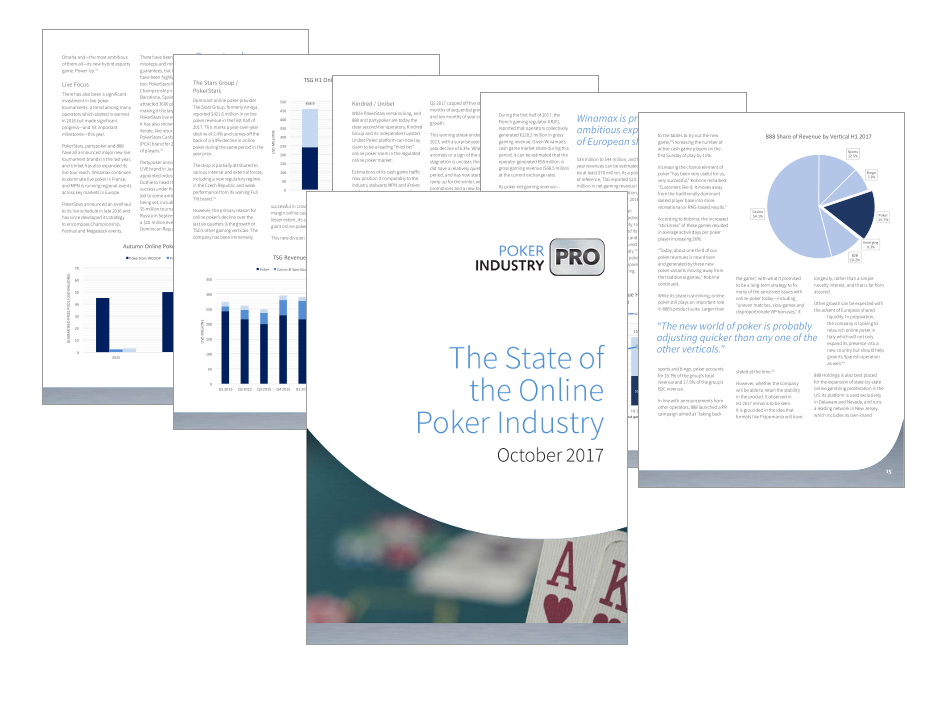 Poker Industry PRO is excited to announce its latest in-depth industry report, The State of the Online Poker Industry, available today free of charge for our corporate customers.
The new 10,000 word report takes a snapshot of the online poker industry in one of its most pivotal years. Across 25 charts, the report presents key data from the world's largest online poker operators and regulated markets, including exclusive estimations and projections for 2017. With historical comparatives, the report paints a picture of a surprisingly robust online poker industry that has weathered a difficult year.
The report takes a deep dive into the trends of the year and identifies which operators are invested in their online poker operation and how. Analysis of potential future growth markets, regulatory tailwinds and momentum behind product innovation and investment show an industry with exciting potential in 2018 and beyond.
In the Industry Trends & Developments section, the report discusses the major regulatory changes in 2017, including Australia, Poland, Czech Republic and Portugal, and their impact on online poker operators. The section also discusses the increased focus on customer loyalty programs and product development, as operators seek to rebalance their eco-systems and search for the next big hit that will resonate with players.
In Operator Performance, the report looks in detail at online poker performance across the major operators in H1 2017, with historical comparisons, 2017 projections, and analysis of how the poker vertical fits into each operator's full product offering.
Along with data from The Stars Group, 888 and Kindred, the report also includes for the first time estimations of GVC's performance in online poker, exclusive to this report, with historical comparisons back to 2012. The report also discusses performance from Winamax, Playtech and Microgaming.
The report analyzes future growth potential within the context of expected upcoming developments in the industry, and how each operator will be able to respond.
In Key Market Developments, the report identifies surprising trends from market data in France, Spain and Italy, and discusses the historical trend of online poker in the US regulated markets. Analysis of trends in emerging markets, including India and Asia, identifies potential growth opportunity for the industry.
Finally, in 2018 and Beyond, the report covers upcoming opportunities, including shared liquidity in Europe and the US, upcoming liberalization of igaming laws in the Netherlands and Sweden and more.
The new release this week is part of Poker Industry PRO's new reporting service, launched in the summer of 2017, which extends our coverage of the online poker industry beyond regular news and features into more in-depth analysis.
Our first publication, Analyzing Amaya in 2017, is a set of six reports diving into the world's largest online gambling company as it made its transition from global online poker provider to full-stack igaming provider. The reports, as relevant today as they were when published in June 2017, discuss the group's poker, casino and sports vertical in detail and analyze the operators long-term poker growth strategy and its growth opportunities in Europe and the United States.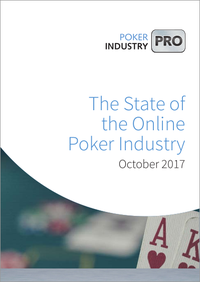 The State of the Online Poker Industry: October 2017 is available for all existing corporate customers of our Poker Industry PRO News and Data service.
If you have not yet received your copy, please contact your account manager or the sales team directly at [email protected].
If you are interested in starting a subscription for you and your team, you can learn more about our services and contact us for subscription details.
This article originally appeared on Poker Industry PRO and has been republished here as a courtesy to our readers. Please visit Poker Industry PRO for more information on the industry intelligence services that are available, or email [email protected] to get a free trial.