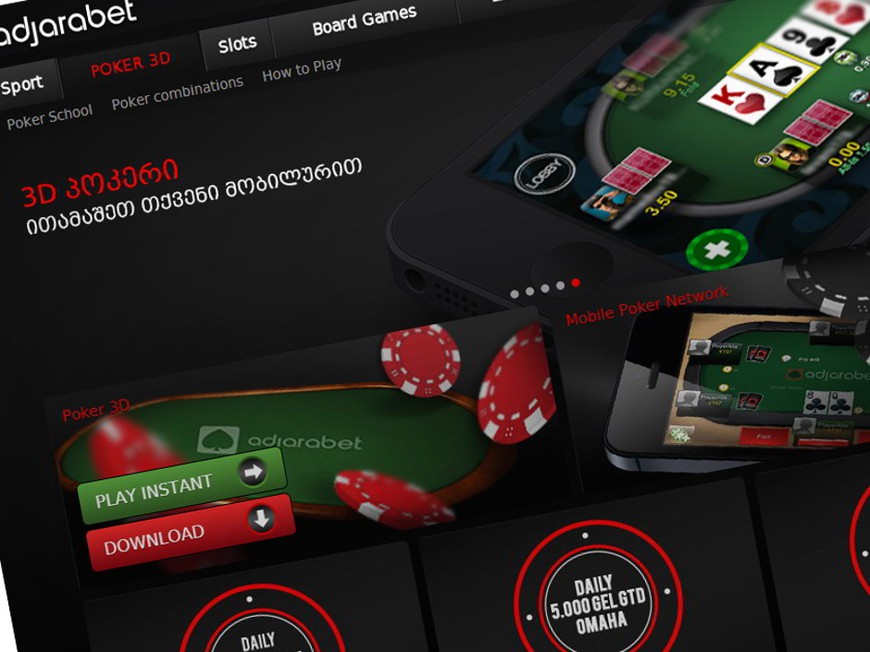 Adjarabet suddenly appeared on the poker industry radar three months ago when it started to be tracked by PokerScout. From out of nowhere, the online poker room based in Tbilisi, the capital of the Republic of Georgia, took position as the 12th most popular poker room in the world.
Alastair joined the company in April last year, after visiting Tbilisi as a rep from Microgaming (MPN) and after a spell as a former professional player.
Adjarabet The Company
"The gaming site launched in 1998, 1999, or 2000, I don't know," said Alastair, who later confirmed it was actually 2001. The online poker room launched in 2011 and within nine months had reached its current traffic position.
Pokerfuse was told that Adjarabet is a privately owned company that has wide interests across Georgia, with hotels and casinos throughout the country. The company now has a gaming license in Kazakhstan and is looking to expand internet poker in the Ukraine and Russia, as well as hoping to attract players from more far flung locations across the globe.
The poker client software itself is the client used by Dollaro Poker, but there is no other relationship between the two companies. Adjarabet tried to migrate to Microgaming software last year, "but our players complained, so we had to switch back," explained Alastair, apparently unaware that such a strategic about-face prompted by player complaints is extremely unusual in the industry.
Adjarabet continues to offer poker using the Microgaming software, but the majority of the traffic chooses to use the Dollaro client.
Recent Problems
Alastair was very upfront in explaining that when they introduced Skrill, they failed to include proper safeguards against fraud. The backend IT system allowed players to cash out to different accounts, and generally failed to protect the company against abuses.
A new IT Core is almost fully developed, and the fraud measures included in that should see Skrill back up as a payment option at the end of February: "Perhaps March, it's a big a development project so, realistically speaking, rollout could stretch if we run into issues." Extra verifications will be introduced to protect players, extending the existing SMS security option .
Visa and Mastercard cash outs remain available through the Bank of Georgia. To have both options is unusual, according to Alastair, since the main card processors are wary of gambling transactions.
Collusion and Cheating
"When I first started here I had to introduce the idea that collusion was cheating," said Alastair, in a shocked but resigned tone of voice. "It was culturally normal … now we have a team of four devoted solely to investigating collusion."
He admits that it goes on but says that now he has joined the team, it is taken very seriously indeed. Accounts are seized, and the funds distributed to any players affected. He explained that the new IT system would further enhance their capability in this respect, but declined to give further details on the grounds of security.
Expansion Plans
Pokerfuse asked how Adjarabet planned to compete against PokerStars and, after the one word answer, "localization," Alastair gave an interesting analysis. He suggested that PokerStars did not like markets where they could not put in a team and make a professional marketing effort. Since this was not worthwhile in the smaller former Soviet Republics, this left a gap which Adjarabet hoped to fill.
Alastair suggested that for Adjarabet, localization meant having a deeper understanding of what their customers wanted. When asked how he was managing to learn the language, Alastair replied that the writing "looked like elvish." Adjarabet understands "elvish" and the people who use it, and believes that this will protect its market position from assault by poker's big boys.
The niche Adjarabet has carved out for itself may be in overlooked markets where incomes are low, but their traffic figures are nothing to be sneezed at—with an average of around 1,100 players, by volume, Adjarabet is bigger than the Nevada and New Jersey markets combined.