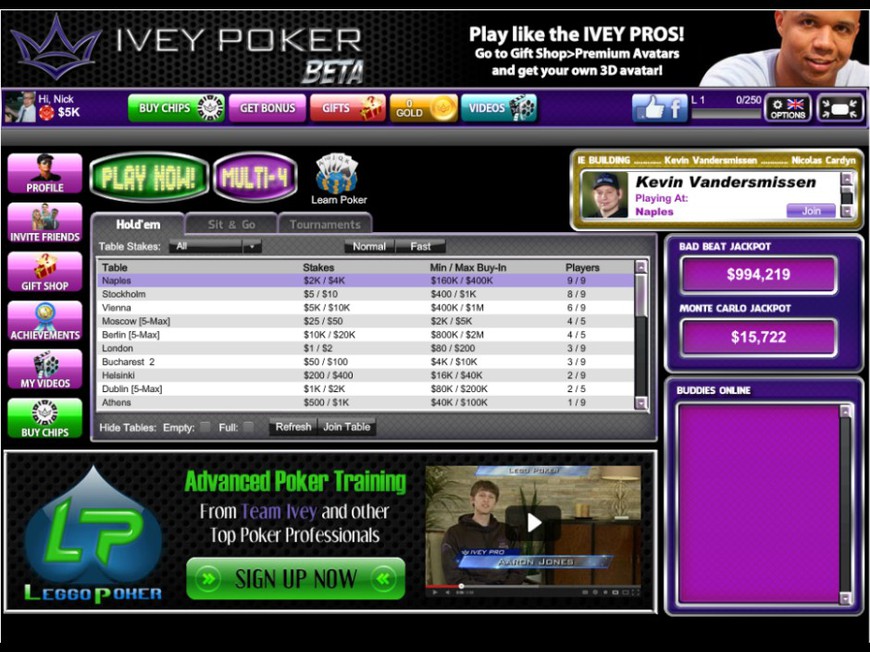 Ivey Poker has finally launched its first product. The IveyPoker app for Facebook launched on Sunday morning, and offers all the bells and whistles you would expect of "social" free-play poker games.
The lobby offers cash games, Sit and Go and multi table tournaments (MTT). On registering, players receive 3,500 free chips and can buy more for real money: 15m chips for $19.99, up to the "best deal" of 150 million chips for $99.99.
Alternatively players can build their stack for free at the lower limits and gradually move up in stakes. Special graphical images such as "Boom" and "OMG" can be bought as gifts in the shop and presented directly to other players at the table. Special avatars are also available for a price.
The gift shop items are priced in chips rather than $, and items range up to 5k chips to send a single red rose graphic, or a "flirt!" symbol.
Special gold chips can be bought which are used to buy premium gifts, and these include training videos from the burgeoning stable of Ivey Team Pros. Gold chips cost from $2.99 for 50, through to $49.99 for 1,500, and videos are priced depending on the level, from free to 35 gold chips for the Pro Insight series. The videos in the beginner sections are all free.
The app is currently in beta testing on Facebook only. When officially launched, the app will be available on iOS and Android mobile devices.