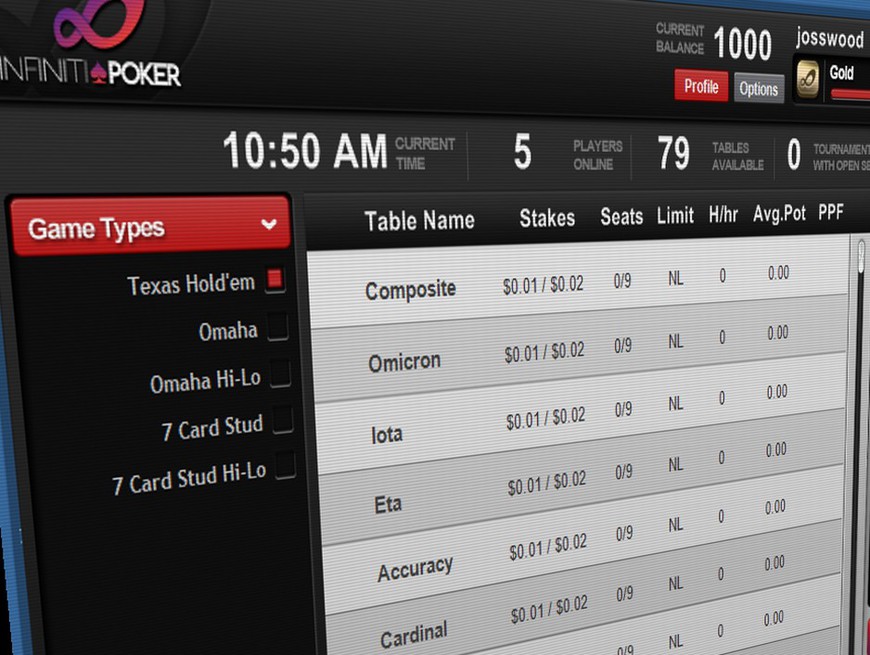 This week, Infiniti Poker is providing a bitcoin incentive to potential beta testers. The test is designed to prove their financial and Prestige Club Point accounting systems "to ensure accuracy, efficiency and effectiveness."
In an exclusive interview with pokerfuse last year, CEO Michael Hajduk said that Infiniti Poker is "all about connections, charity connections, meeting people, seeing old friends." He says he is not attempting to rival PokerStars, but to create "the new paradigm of online gaming" and a platform "more exciting than PokerStars."
He wants to create a poker room that recreates the social experience of a home game with friends—for friends who have now grown up, left university and are living maybe hundreds of miles apart. To this end, he has developed "infinivision" tables—a webcam enabled functionality that provides views of opponents much as a player would see them from a seat at a real table.
A hoped for launch date of October 21 last year has been missed by almost twelve months and, in the current promotion, much of the software has not yet been enabled, including the infinivision tables. To get this far, Hajduk has had to be an incredible optimist and relentless promoter of his vision—his optimism extends to hoping for an October 1 "soft" launch.
Quick Review
The lobby is attractive and simple, with sortable table listings and a limited range of filters. Game types are listed as Hold'em, Omaha, Omaha hi-lo, 7 Card Stud and 7 Card Stud hi-lo. For this promotion only Hold'em tables were available, in their nine seat version. Six max, heads up and infinivision tables are listed separately.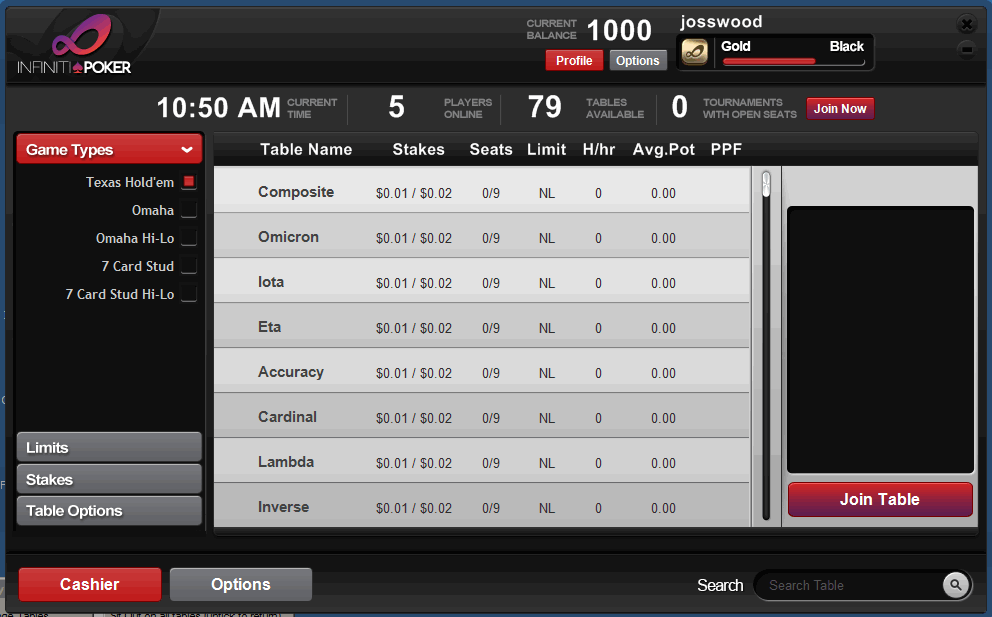 Options for automuck and a four color deck worked well, and game play at the table was quick, with animations that worked smoothly without being distracting. Tables are resizeable, and fonts scale with the resizing. Options for stacking and tiling are available.
Many of the standard options and features ubiquitous in the online poker clients of today are present in Infiniti. The player is automatically seated at the bottom centre of each table with an information panel around the seat showing time remaining to act, hole cards and stack size. Tick boxes to sit out, post blinds and autofold are conveniently located and a red rebuy button brings up a simple menu for topping up chips.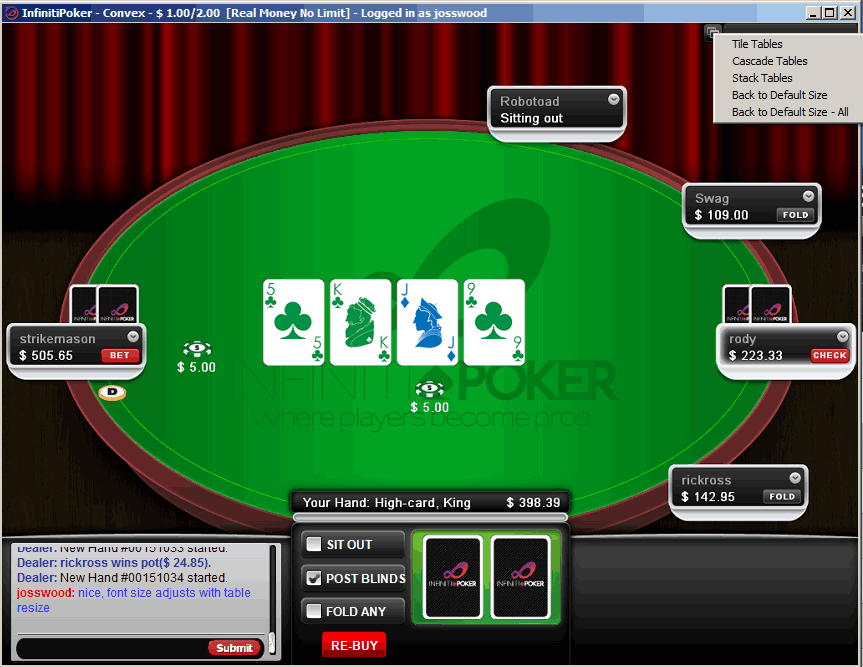 That's not to say there are no issues. One is with the pre-action checkboxes. As is common, tick box options for "check/fold" and "check/call any" are visible at the bottom right of the table, but the The "check/fold" option is misplaced: When it is a player's turn, the tick boxes are replaced by action buttons, attempting to click the "fold/check" option at the moment when the display changes can lead to accidentally clicking the co-located "call" button.
There were a few other niggles. The bet slider could not be dragged with a mouse, but had to be clicked to raise the size in big blind increments. Manual entry of bet sizes refused to accept increments of less than one small blind. Entering $22.22 registered a bet of $20. These are issues which will need resolution before live real money poker can start.
The Vision
But comparing the site with the top sites available today misses the point that Infiniti Poker wants to make, one similar to that of Dusk Till Dawn CEO Rob Yong on launching the new Club Cash Games: Poker is a social game and online poker sites have lost the social aspect which attracts recreational players.
If Michael Hajduk can get infinivision working well, and market his site as the place to go for a social game of poker, he may yet be able to carve out a profitable niche.