EuroPoker: Does Player Fund Protection Really Work?
Players on the now defunct French regulated poker site are still struggling to reclaim their money even though their funds were required to be kept in trust.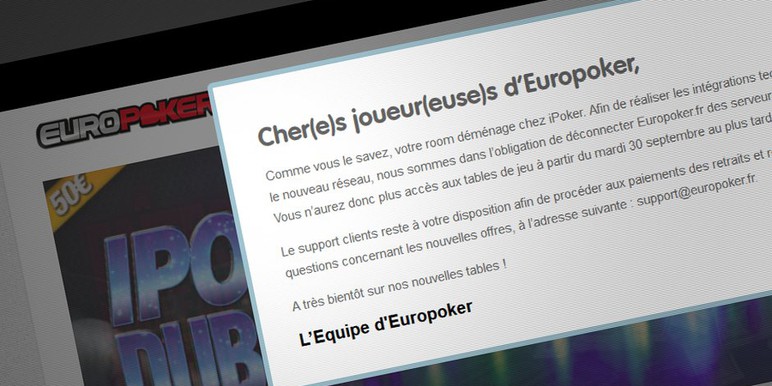 Following the revelation after Black Friday that Full Tilt Poker did not have enough money on hand to cover its players deposits, French regulator ARJEL increased protections for player funds.
Then President of ARJEL, Jean-François Villotte called for a review of the regulator's policy noting that it current protections were insufficient. Player funds require "more than just a segregated account," Villotte commented. "It is necessary to have the legal means to protect player funds and this is the purpose of trusts and trust companies."
However, after EuroPoker failed to make the transition from Ongame to the iPoker platform in 2014 and closed as part of its parent company's bankruptcy proceedings, player accounts were frozen, with no guarantees when (or if) they would see their money again, even though the the French regulator requires player balances be segregated and held in trust.
Players are disputing the balances held on file, and the judge presiding over the EuroPoker bankruptcy case has now heard evidence from the players.
Out of Pocket
Calculations used to determine what a player is owed do not take into account bonuses, tournament tickets and other VIP benefits, meaning many players will be potentially left out of pocket.
Instead, the calculations simply account for the differences between deposits and withdrawals and do not consider rakeback payments that were earned and deposited directly into players' accounts.
Although the players themselves spent only a few minutes giving evidence, it was said afterwards that they were "unconvinced that the judge in the case understood the importance of VIP benefits or play-through bonuses."
The players allege that EuroPoker's terms of service regarding player benefits were changed to state that the perks have no cash value after the company realized it was in financial trouble.
Player Balances in Question
Another key issue is the documentation held by the company on player balances does not match what the players themselves claim they have in their accounts.
As reported prior to court case, one former player posted the calculation for his own account at the French ClubPoker forum so all can see the inner workings of this process.
Even after discounting the deposit bonus and rakeback payments, the total of withdrawals reported by EuroPoker was over €2000 more than what the player's bank records show.
It was said on Poker Industry PRO that if players had been aware of EuroPoker's financial problems, they could have converted their player points to cash, rather than saving them.
Although the French regulatory system has player fund protection mechanisms in place requiring licensees to hold player funds in trust, this still does not provide 100% safety for player's money.
The judge is scheduled to make her decision on the case on May 15.